The Escort
(refer to pages 12, 13, 48 & 49 in On the Trail of the Last of the Mohicans)
National Park Service Linville Falls Trail just off the Blue Ridge Parkway, Burke County
Here is the one error found in the original guide booklet. The soldiers of the 60th Regiment were not walking back the other way. This stemmed from a misinterpretation of information supplied to me by one of the locations scouts, yet which I never could reconcile on site. In point of fact, the troops providing the escort to Fort William Henry for the Munro sisters & Major Heyward were headed "up trail" towards the gorge overlooks.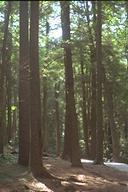 The confusion, in my interpretation, lay in the fact that this location is beyond the scene of The Ambush. If you were to keep walking, from here, in the direction the troops were moving, you would never arrive at The Ambush location. It is in the other direction, and, of course, you have already passed right by it on your way here.
Today, some of the large trees that were standing at the time of the filming are down due to storm damage. A shame. Still, one can get a feel for the ancient forest depicted on film. Look for the decomposing stump to the left of the trail visible as Magua prepares to speak, "Understand English very well."
~~~~~~~
This location, on National Park Service land, is freely accessible & open to all. In season, there is a small Visitors' Center open at the beginning of the trail. Rest rooms are available.
~~~~~~~
or