The Huron Village
(refer to pages 40,41, & 49 in On the Trail of the Last of the Mohicans)
Adjacent to Chimney Rock Park, Hickory Nut Gorge, Rutherford County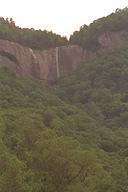 I sat for a good two hours with the owner of Chimney Rock Park. I explained my vision and purpose. I displayed photos, described the forthcoming book. I left with doubts, but an overall good feeling. In the end, though, it was not to be. I would not be allowed access to the site of the Huron Village. Reason? Well, the primary one given was because of safety concerns. The road leading up to the remote setting was subject to washouts. In addition, there was a concern that directing folks' attention to the site might result in looting. Valid reasons, I'd think, yet the very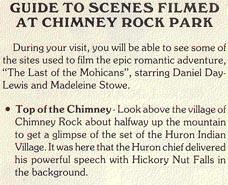 literature distributed to visitors of the Park - by the Park - draws their attention to the wigwams and long houses, barely discernable during the summer months, nestled among the dense green foliage of the steep mountain side across from Hickory Nut Falls.
To top it all off, and I didn't know it at the time, others had been allowed up there to photograph - see our pictorial on the Village in our Mohican Musings. Consequently, when all was said and done, the Huron Village ended up being the only site used in the movie that I wasn't able to get my hands on. An early spring photo from afar, taken on my first trip up to Chimney Rock Park, before the book was really conceived, graces a page in On the Trail of the Last of the Mohicans.
~~~~~~~
This site, owned by the proprietors of Chimney Rock Park, is closed to the public. It can be viewed from across the road on the cliffs of the Park. Only a small mountain side clearing exists to mark the spot today.
~~~~~~~
or