Come help celebrate the 225th anniversary of the signing of the Declaration of Independence with a performance by David & Ginger Hildebrand on June 15, 2001 at the 4th Annual Great Mohican Gathering at Lake Lure, NC. David and Ginger will recreate a wide range of musical styles appropriate to the period around 1776 -- including popular theater songs, dance tunes, and ballads, as well as marches and patriotic tunes. Expect some genuine material from the French and Indian War period, too, of course! The Hildebrands, specialists in colonial/Revolutionary-era music, will perform on authentic and reproduction early American instruments -- violin, Baroque guitar, English guitar, hammered dulcimer, harpsichord, and English flute; they sing also.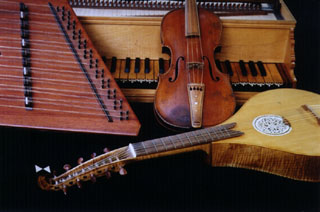 Costumed appropriately, they will employ their musical and historical expertise for a most entertaining and educational presentation. The program, beginning at approximately 7:00 P.M., will highlight some of central themes of early American music, such as the frequent use of parody and recycling of favorite tunes for different functions. The music and explanations will highlight both the formal and less refined aspects of music associated with 18th-century America, both at war and in peace, with some special music for our First President. There will be plenty of opportunity for questions and perhaps even a chance to try out the hammered dulcimer and harpsichord afterwards!
Admission to the concert is ... TBA ... (price will include the Pot Luck supper & horseback riding on Lake Lure)

Music of the Revolutionary Period
David and Ginger Hildebrand are quite active in researching and educating about early American music. They served as period music consultants for the PBS series Liberty! The American Revolution, and they contributed to the soundtrack of C-SPAN's American Presidents series.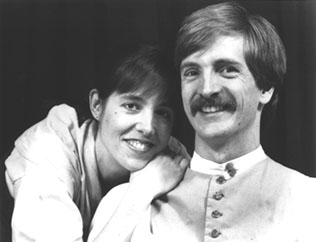 (view the Hildebrand's website by clicking on the above photo)
David is currently putting the finishing touches of the soundtrack for Michael Pack's documentary on George Washington, Founding Father. The Hildebrands have performed at the National Archives, Mount Vernon, Colonial Williamsburg, the National Portrait Gallery, the Smithsonian Institution, and at numerous other museums, historic sites, and educational institutions. Since 1984 they have released five full-length recordings. Their most recent release, George Washington: Music for the First President, has received widespread acclaim.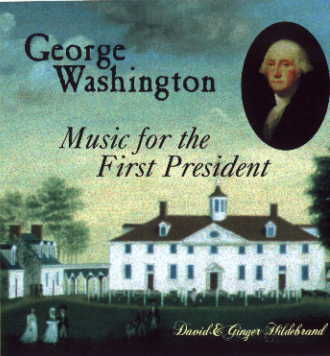 Ginger earned her B.A. in music from Dickinson College, going on to receive an M.M. in guitar performance from the Peabody Conservatory in 1988. She currently teaches classical guitar and does special solo outreach programming for the Baltimore Symphony Orchestra. David, who also received his Bachelor's from Dickinson, earned his M.A. in musicology from George Washington University and Ph.D. from Catholic University. He teaches American music history part-time at the Peabody Conservatory, and he is finishing a history of music in Maryland for the Johns Hopkins University Press. When not involved in musical pursuits, David and Ginger enjoy playtime with their children Paul (11) and Laura (8), both of whom explore the world of music in their own ways!