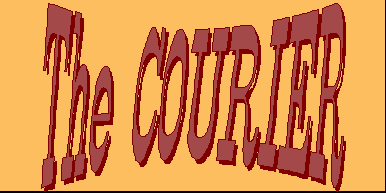 The Mohican Press Courier


All the news that's fit to print ... and then some.

Established 1757

Issue 5
SEDITIOUS WIVES AND OTHER FEMALES STORM BUMPPO'S
Bumppo's Tavern was the scene of a history making riot last weekend. Chosen as the location for the first meeting of the Seditious Wives Club, Bumppo's resembled post-siege Fort William Henry by the time the Females' business was underway. According to the tavern's indentured servant Mrs. O'Reilly, the meeting commenced peaceably and appeared to move along smoothly until Club Presidentess Victoria delivered her fiery speech on seditious tips for Females. "It was plain to me," said Mrs. O'Reilly, "that the menfolk that was present weren't too pleased with Victoria's words. They sat there, drinking and cussing and occasionally mumbling about their displeasure. But when Victoria jumped atop the table, waving her arms and rattling off her how -to's, those menfolk got hotter than hell fire!" Other eyewitnesses supported Mrs. O'Reilly's version of events, claiming the men became wild with rage and threatened Victoria if she didn't "hold her tongue."
The proprietor of Bumppo's Tavern, the uncle of Nathaniel, Mr. Bumppo, had this to say; "I knew there'd be trouble if them Females showed up. I wanted to prohibit them but Mrs. O'Reilly harangued me with threats of an uprising. I figgered I better had let 'em have their meeting. Now, I see the trouble they're up to. Why cain't they just behave and act like women? I don't understand it at all."
The hostilities were further aggravated when New Carol rolled up her sleeves in defiance of accepted mores, and challenged "any man present to step outside." Though there were no takers, a few of the men retorted with patronizing remarks which infuriated the Females. At that point, an unsuspecting Highlander entered Bumppo's, unaware of the ensuing ruckus. Surprised to see so many Females assembled in a "man's retreat," the Highlander offered unsolicited comments about "streetwalkers" and "campers" and mockingly tossed 3 shillings in the direction of the Females. New Carol let him have it, blackening his eye and bruising his "ego." The disabled Highlander has been identified as Duncan MacCampbell, a member of the famed Black Watch. Another exchange of angry words and tossed mugs followed before Mrs. O'Reilly chased out the men and received a promise of full restitution for damages from the Females. With that, she broke open a keg of West Indies rum and told the Club members to "Have one on Mr. O'Leary! God rest his soul!" She then invited the Frontier Females Freedom Fighters to hold their next meeting at Bumppo's and requested that she be allowed to speak on behalf of working women and the wage issue.
While very little actual business was accomplished other than elections, Club Presidentess Victoria said that she felt some important "inroads were made" and "a warning shot fired." She scheduled another meeting for Thursday evening. Guest speakers will include Mrs. Munro, who will be displaying her line of frontier lingerie, chemise cabin casuals, and her husband's sword 'n boots. Medicine Woman Ros will offer an introduction to herbal applications for inducement of trances, sleep, weakness, and confusion. Ros plans to talk about creative ways to use the herbs on "obstreperous husbands" and "obnoxious enemies." Mrs. O'Reilly will address issues of concern for women in labor camps and She-Who-Tracks-La Longue Carabine will perform a Rabelaisian skit called "Doormat Dames." Merriment, as well as business, will be encouraged. Dutch Damsel Ilse expressed her disappointment that the secret initiation rites for new members of the B*tch Brigade had to be postponed due to the riot and hopes to partake in the rituals during Thursday's meeting. The Female public is invited to attend.

CRAZY CANOEIST CAUSES CHAOS, CAPSIZED DORY, AND NEAR COLLISION
- By Associated Mohican Press Reporter She-Who-Tracks-La Longue Carabine
Two British schooners narrowly avoided collision late Friday afternoon in their attempts to avoid a canoe rampaging north at an unprecedented rate of speed through the river traffic at Albany. In an effort to apprehend the renegade canoe, a British Customs Officer was apparently hit over the head with the canoe paddle. His dory capsized, and he had to be pulled from the water by two Indians who were partying on the dock. The dory and several beer kegs then floated into the path of a Dutch trading vessel, which subsequently ran aground. In the ensuing confusion, the canoe escaped up the river and disappeared under the darkening eastern bank.
The Customs Officer remains in a state of shock, and doctors are uncertain as to the full extent of his head injury. The only words he has uttered since the accident are, "Not a bump. Oh, not a bump -- ohhh!".
Due to a general state of pandemonium, witnesses provided conflicting descriptions of the canoeist. However, it appears to be an unusually small, buckskin-clad person, possibly with red hair. Anyone sighting a canoe with occupant fitting this description is requested to contact British Customs at Albany. Reward offered.

MOHICANLAND CRIMINALS RELEASED
Convicted felons C #1, C #2, J, and Rich Fed were all released from the Mohicanland Criminal Rehab and Crisis Center last Thursday. After undergoing intensive therapy for moral depravity, all four were pronounced "fit for societal reintroduction" by Esquire David Gamut. Gamut made his controversial decision after reading the report of family crisis therapist Cousin Eugenie. Cousin Eugenie is of the opinion that the four perps have successfully learned hostility management, communication skills, self control, and the error of their ways.
Though many citizens feel uneasy about the early release, militia authorities have issued a statement reassuring the public that the four are "as dangerous as a toothless wolf." In accordance with colonial law, they have provided each of the ex-cons with a glowing job referral, a horse, and a flintlock.
The fifth person in the crime ring, O'Wara, has been bailed out of the Criminal Rehab Center by the obnoxious Mr. F Lee Bailer. A hearing is set for June. Additionally, a lawsuit filed on behalf of O'Wara against the Courier editors alleging all sorts of silly "wrongdoings and lies" is pending. Not much is expected to result from the lawsuit other than ugly accusations and entertainment for the curious public.

Allegations of cruelty and torture have been levied against the Mohicanland Criminal Rehab and Emotional Crisis Center by an unnamed person. Courier editors received the hot tip in a letter bomb that failed to explode. Militia authorities are investigating both the letter bomb and the charges of abuse. One official said, "We don't need explosive issues around here. Whoever sent this is a demented person and we intend to find him." Courier editors have hinted at the identity of the letter bomber, though they have promised to reveal nothing while the investigation continues.
As for the Criminal Rehab Center, undercover agents are looking into the allegations of "medieval torture techniques" and "poor feeding habits" by pretending to be sadistic killers. The Courier will report any developments in the investigation.

Local Happenings
Mohicanland Welcoming Committee Chairperson Miss Marcia hosted a well co-ordinated, letter themed welcoming luncheon last week. Among the honored guests were Mrs. O'Leary, Lola, Lolita, Lt. Major Effingham, and two Lenape warriors. The Rest Home dining area was beautifully decorated with lilacs, lady slippers, lemon verbena, leftover wildflowers from Massacre Valley, and lavender linen. The luncheon menu included Little Croquettes Cheval Avec Grits, Lamb Stew, Lemon Meringue Pie, Lemonade, and Liquor. The 'L' themed menu and 'L' themed floral arrangements were an ingenious touch by Miss Marcia to honor the 'L' people who have lately arrived to Mohicanland. Miss Marcia heightened the visual presentation by wearing leggings, a lavender striped skirt, and a lynx wrap. "She looked stunning!" said Lt. Major Effingham. She then played the lute. Mrs. O'Leary commented upon Miss Marcia's thematic skills and nice table manners. The luncheon was appreciated and enjoyed by the new citizens, though Lola caused a stir when she began telling lewd jokes and behaving licentiously. Miss Marcia blushed with embarrassment and politely asked Lola to "behave lahk a lady." Mrs. O'Leary leered at Lola, while Lolita leaned forward to inquire of Lola's liaisons. The two Lenape loin cloth clad warriors appeared disinterested in Lola's lurid lure. Aside from Lola's lewdness, the luncheon was lawful and fun.
~~~~~~~
Famed chipmunk hunter Dweebie Day-Lewis has reportedly been courting Miss Marcia. Though the courtship has not been acknowledged by either party, it has not been denied by either, either. Miss Pot Stirrer claims to have seen the "love birds" strolling along Lake James while their chaperone, Miss Anne T. read Harlotquin frontier romance novels on the shore. Other busybodies claim to have seen the two embrace behind the hospital tent after Miss Marcia asked Dweebie Day-Lewis "What are you looking at, Sir?" and he replied, "I'm looking at you, Miss." We'll have to wait and see what develops with this blossoming romance.
~~~~~~~
Zazu has been seen about town in the company of yet another best new friend, Lolita. The fun loving, off color Zazu has reportedly been showing wide-eyed Lolita Mohicanland hot spots and introducing her to the "lively crowd" at Bumppo's Tavern. When asked of the whereabouts of her former new best friend Andromeda, Zazu chuckled, " She was boring. I don't even think she wuz 4 reel! So I dumped her off with some Ottawa. Ha! Ha! Ha! Ha!"
~~~~~~~
Miss Cora Munro and Dr. Mary have reportedly reached an out of court settlement over the issue of Nathaniel. After being advised by her self serving attorney, Esq. David Gamut, that she didn't "have a prayer" of winning her civil lawsuit, Miss Munro offered to settle. Dr. Mary set the terms and then agreed to them. As outlined in the settlement agreement, Nathaniel will visit Miss Munro on occasional weekends when he feels the need to hunt and forage. He will remain in Doctor Mary's possession the remainder of the time. Dr. Mary's attorney, Sydney of Schuylerville, said, "We feel this is best for all concerned. Mr. Poe was looking for a way out and he found it in Dr. Mary, who is, well, way out. She intends to continue her intensive psycho-therapy and to keep him drugged." The somewhat disappointed, embarrassed Miss Munro offered no comment worth repeating other than, "Say nothing to Alice."
~~~~~~~
An hysterical Huron woman has been lurking around Mohicanland asking questions about Huron chief Magua and his "wench Ros." According to Militia officials, the woman has been identified as Magua's ex-wife who, believing he was dead became the wife of another, but upon hearing the news of his survival and upcoming marriage to Ros, abandoned her replacement husband and went searching for her Magua. The Huron woman, who has been tracking Le Renard Subtil all the way from her upscale home in Huronia, vows to get him back and has sworn to kill Ros before any wedding takes place. Ros has taken the hysterics in stride, ignoring the ex's threats to roast her and feed her to the dogs, as well as the attacks upon her life (including a near braining with a tomahawk). Magua's Moll shrugged it off as "child's play" and said she plans to poison the "old news" with crushed foxglove flowers. "That ought to be a heart stopper!" laughed Ros.
~~~~~~~
As expected, all charges of witchcraft against Rebecca of Salem have been dropped. Apparently, the Grand Juryess found the allegations "unfounded, ludicrous, and the result of Reverend Edward's vivid imagination." Public sentiment was very strongly in favor of Rebecca of Salem and it was poignantly expressed when a mob ran the theologian out of town. Some citizens, angered at the unnecessary upheaval and disturbance of their peace, have started a hit list. Names of individuals who had offered testimony against Rebecca of Salem are being inked in and posted on every shopkeeper's door. The public is being encouraged by the list keepers to harass, horse whip, threaten, and terrorize the "scandal mongers" as often as possible. Rebecca of Salem said she is "relieved that the ordeal is over and looks forward to exacting her revenge."
~~~~~~~
A new 'For Men Only' club is being organized in Mohicanland. The "Sedentary Men's Organization" is the brainless child of Elijah Gamut, brother of David. Mr. Gamut decided to create his silly group as a way to counteract the success of the "Seditious Wives Club." Apparently, Mr. Gamut was enraged and offended by the presence and behavior of Mohicanland females at Bumppo's Tavern. "I don't mind women being there if they're working," said Elijah, "but when they start hanging around to talk 'business' or just to have fun, that's gone too far. We men won't just sit around and watch them take over Mohicaan country and ruin our world. That's why we decided to fight back." One "frantic feller" signed on after becoming "agitated" over his wife's participation in the Female's meeting. "I was at Bumppo's. I figgered I'd have me some brandy then go home to a hot supper. Trouble was, my wife wasn't home cooking. She was at Bumppo's attending that dang meeting!" Other Mohicanland gentlemen related similar tales of neglect. Mr. Gamut has not yet outlined a charter or purpose for his club other than to "teach the women a thing or two."
~~~~~~~
Hershey's Chocolatiers, a confectionary company in the Wyoming Valley, has filed a lawsuit against all persons residing in Mohicanland. The lawsuit alleges copyright infringement by the citizens of our town by their frequent use of the term "M & M's." According to Hershey's attorney, the "continued wanton use of said term is in direct violation of copyright laws and name possession." The suit further charges Miss Marcia with the "unlawful possession of Hershey's receipt for chocolate Fu-uudge" which is an "unlawful act of thievery." The Chocolatiers are reportedly outraged that Miss Marcia not only stole the secret receipt, but has been passing it off as a "southern specialty" handed down by her granny. When asked for her reaction to the charges, Miss Marcia replied; " Wehell, Ah fahnd the whowell thing silly. It has increased mah sahells, howevah. Ah guess you maht call it bittahsweet!"
~~~~~~~
Militia Blotter
Colonial Joe was arrested and charged with desertion by Mohicanland Militia officials. According to a spokesperson, the suspect was asked to aid Lt. Major Effingham in his search for French spies in Mohicanland. Colonial Joe, who is known to carry on illegal trading with the Frenchies, refused to help search or reveal the whereabouts of the traders. It is suspected that Colonial Joe has several of the foreigners holed up in his cabin, though not a one has been successfully smoked out. The accused colonial insists on his innocence.

Wise Words of Wisdom for the Week: When a stranger offers a helping hand, ask what's in it for you.

THE POETRY CORNER
Down in the Valley
Down in the valley, the valley so sweet,
Who did we happen with pleasure to meet?
Magua, a leader, a son of his folk,
And Ottawa henchmen who brain with one stroke.
Afraid, but determined to march straight ahead,
We stumbled along and followed where led.
Till down in the valley, our soldiers did flee.
And Magua, the leader, did eat heart-ily.
(The Courier wishes to thank food obsessed Uncle Wiscone for his unusual poetry submission.)

From the Editors' Desk

Though it's been relatively quiet in Mohicanland as of late, there are a few events worth mentioning. The inter-family feuding appears to have died down, and we're glad. Perhaps citizens have taken to heart Cousin Eugenie's expert advice. Nonetheless, there have been some troubling developments on other frontiers.

The ugly mob mentality displayed at Bumppo's Tavern by our own menfolk is inexcusable. The Seditious Women have as much right to express their opinions and drink liquor as do the sedentary males. Why do men find these women so irritating? Is their message hitting too close to camp? Is it a reaction to fear? Whatever it is, we find the men's behavior deplorable. On the other hand, we applaud the Frontier Females for their bravery and willingness to speak out on issues of great importance to all. We also find the Female's enjoyment of jolly fun refreshing. Keep up the fires, ladies!

The early release of the Mohicanland Plot conspirators is unsettling. Though we too would like to believe they've been rehabilitated, it seems too much to hope for. Nonetheless, we feel it is our moral obligation to withhold judgment and allow the cons to prove themselves. Let's all wait and see before running the gang out of town.

Lastly, we are appalled at the cheap, sleazy behavior of O'Wara. Unwilling to accept responsibility for his own actions, O'Wara has filed a bogus lawsuit against the Courier claiming slander and misrepresentation. Though we know the charges won't fly, we are nonetheless irritated with the shameless ploy. Our cut throat shyster, Sydney of Schuylerville, promises to make O'Wara pay for this cheap shot. We look forward to our day in court.

Results From Last Week's Question: The consensus in Mohicanland regarding Tar & Feathering was unanimous. All respondents wish to see Tar & Feathering taught in school houses and resorted to more often.
Question Of The Week: Should democracy in Mohicanland be encouraged or quashed?
Let us know what you think about this political quagmire!

The Mohican Press Courier will be going underground temporarily due to legal entanglements and understaffing. The editors must travel to Philadelphia where they will meet with Benjamin Franklin. The young printer is planning to share some tips and tools of the trade with the Courier Editors. Meanwhile, we will continue to print your classifieds and letters. We thank you for your patience.
Next Issue:
THE COURIER ... SPECIAL EDITION