The Opening & Closing Vistas
(refer to pages 2, 3 & 49 in On the Trail of the Last of the Mohicans)
Greenknob Overlook, Blue Ridge Parkway ... McDowell County
"Somewhere up on the Blue Ridge Parkway." Hmmmm ... by that time, I'd pretty much figured that out. But where? I placed a call to the National Park Service, who administer the Parkway, to inquire. No one there knew, but they said they'd pass the word around. One thing I should note. Everyone to whom I spoke regarding the locations used as filming locales in The Last of the Mohicans, was intrigued ... and enthusiastic about a forthcoming guide. So, I waited.
Meanwhile, after speaking with Michael Bigham, I came to the conclusion that if the book were to proceed, it would have to do so with photographs that simply represented the shots seen on film. So, I called the NPS again and asked them where a good spot might be to photograph the mountains with some early morning fog nestled in their midst. A Ranger informed me that a good spot to go would be what was then known as the View from the Head of Licking Ridge. He told me of an old tree standing there that would make an excellent frame for any photograph taken from there. I decided that was going to be the best I could do.
Lo & behold, just as I had dejectedly decided upon this path, Russell Whitlock called me. Whitlock was with the film crew on the day they filmed those shots, as the NPS representative and guide. Not so coincidently, the actual location, The Greenknob Overlook, was a mere .8 miles away from the recommended photo shoot. That's how close I would have been had he not called! I was elated!
I proceeded to pack my 1990 4-wheel drive Dodge Colt Vista with my camera gear, a hot thermos full of coffee, and my sleeping bag, and headed out from my Marion, North Carolina home up Highway 221 to the Blue Ridge. It was early evening on a July, 1993 day. It was warm and clear. I stopped at a convenience store on the way up there and bought myself some breakfast snacks to go with my coffee. Yes, I was going to sleep up there to be certain I would catch the very first rays of sunshine.
I reached the place as the glow of the setting sun was brilliantly coloring the rolling mountains to my front. It took my breath away literally. I was there. I could hear the soundtrack, the drums ... it was fantastic. What a sight lay before me! I just gazed and gazed. After darkness fell, I remember turning on the car radio and tuning in to the Atlanta Braves baseball game. They had just completed the deal for slugging first baseman Fred McGriff. It was his first appearance in a Braves uniform.
I lay there in the back of my car on my sleeping bag, listening to the ballgame for awhile. It was a beautiful starlit night, and as I peered out the window, looking over the ridge on the other side of the road, it looked just like the night sky at The Burial Ground, when Cora & Hawkeye looked up at it. I suppose my imagination was running away with me.
I slept well that night considering, but awoke while it was still complete darkness. A slight morning chill made me all the more happy I had brought along my thermos of coffee. I sat on the hood of my my car, sipping at the coffee, munching on my store-bought breakfast, and awaiting the sun. It was incredibly peaceful, and this experience rates right up there as one of my most memorable in my locations quest.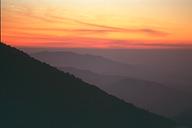 Gradually, I could see a faint glow of the rising sun appearing to my left. Hurriedly, I set up my tripod, checked my camera and camcorder, and got ready for the moment. What a moment! The skyline burst into radiantly gorgeous reds, oranges, and yellows, and my wait was rewarded with what was to become the cover of our first book ... the guide book. I never had, nor have since, seen a more beautiful sunrise. Nature lent me a great hand that morning. The mountains to my front, the south, were covered with sunlight and a low-lying fog. It was all perfect. I shot away, as I had the evening before, ran the camcorder, a clip of which is now viewable on our Web Site, and just took it all in. The book now had all the pieces save one. We'll discuss that final piece a bit later on.
~~~~~~~
This site is freely accessible, an overlook on the Blue Ridge Parkway, and involves no hiking. Just park your car, get out, and gaze. The view you see varies slightly from that on film. There was a fire tower off on the ridge to your rear as you look out over the view. I am reasonably sure filming took place from there. The use of filters and tele-photography also enhances the scene on film.
~~~~~~~
or