A Toasted, Roasted, BBQ'd Bill ... A Glimpse Into The Future!
[ Follow Ups ] [ Post Followup ] [ Mohican WWWboard ] [ FAQ ]
---
Posted by Rich on February 26, 1998 at 04:37:09: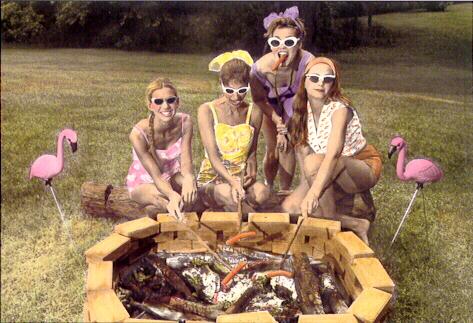 It is the morning after .... smoke from the raging bonfire still wafts through the air, mixing soothingly with the aroma of burnt flesh. The visualizations have become a reality. Below the tower of the huge Chimney Rock, cannabilistic lasses engage in an orgy of feasting. Alas, poor Bill ... he is no more ... not as we knew him. But he lives on, as a part of all who have consumed him. Hey, you are what you eat!
Sorry Bill, I couldn't resist! The bad news here is that this graphic, gut wrenching look at what is to be was presented to me through a chain of your own GGGG's!!! And look at the satisfaction in those poor wayward SYMT's as they feast ... on BILLDOGS!
Can't tell you who sent the picture, you might be feeling vengeful. Hints? OK, twist my arm! It has its origins out in California from a GGGG who is coming to the Gathering with her THREE sisters! It was passed on, in a scanned format, by another GGGG, this one with a letter "M" fixation ... Clear it up any?
Want to join in on all the fun? Hurry to the link below & reserve your places!! It won't be long before we begin to advertise this Gathering a bit more ... we're holding off, trying to let all of you who have been here through its development get first shots, but we will have to enlarge slightly, and soon, to meet our contract obligations. Please, sign on now! Thanks!

---