Putting The Kabosh On The Eric Non-Mystery ... And, Moving On
[ Follow Ups ] [ Post Followup ] [ Mohican WWWboard ] [ FAQ ]
---
Posted by Rich/Mohican Press on August 23, 1998 at 04:48:56: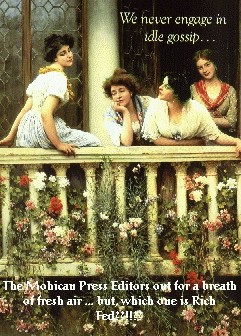 Feel compelled, this morning, to spew forth a bit more regarding our favorite Uncas, Eric Schweig ...
I didn't mean to sound smug, if I did, in my last post on the subject. The simple truth is, there is NO mystery. There is NO intrigue. We have been dealing DIRECTLY with Eric. He is not involved, unfortunately, with the making of ANY movie. The notion that he is, strikes him as funny! The post that claimed otherwise was false. Period. The good flip side of this is, he is VERY involved with the carving of Inuit masks.
Very soon, the Eric Schweig Gallery will undergo MAJOR changes ... there will be new, recent photos of Eric. A much wider sampling of his work will be offered for viewing. And, best of all, Eric has agreed to significantly lower the price of each item. In fact, he has given us the go-ahead to lower the price on his Bird Man Spirit Mask IMMEDIATELY ... to $1350!!
On to the more mundane ... Actually, we are VERY excited to be able to add to the Gift Shop The French Trader's Post ... new this week. Check out the items on display there! With this new addition, the proposed revamping of the Schweig Gallery, future expansion plans, and the rest of the books, videos & other items offered for sale, we feel that The Storefront On The Frontier is shaping up VERY nicely!
Thanks to She Who Tracks & The Mohican Press Editors, The Courier has a new edition for those of you into insanity ...err .. PARODY. Have a laugh on us!
We'll be shifting over to a new system early in the week, but we should be back with you, and working on the Web Site, in no time at all! Till then ... Happy Trails To All!
---