Re: Where is soldier #2 in the film?
[ Follow Ups ] [ Post Followup ] [ Mohican WWWboard ] [ FAQ ]
---
Posted by Rich on July 27, 2000 at 04:13:02:
In Reply to: Where is soldier #2 in the film? posted by Schoolmafter Chris on July 27, 2000 at 00:01:27: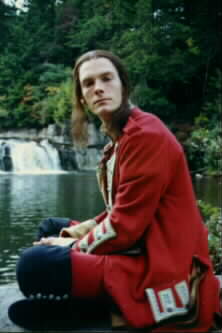 : I read the various interviews &c (enjoyed them) but I am having trouble placing some of Mr. Hurley's appearences in the film. Is soldier #2 the guy on the George Road who gets his face smashed by Magua's tomahawk just prior to the ambush?
Oh GOD, NO!!! That ain't him!! Eric Hurley appears in the film throughout, though most often he's unrecognizable. First time you see him, if you've got a widescreen version, is as the coach carrying Duncan arrives at Webb's HQs. Soldier #2 is off to the left, wiping off his musket. He is, of course, AT the George Road Ambush, in the Fort (that's him hauling a cart up the ramp during a bombardment), & at Massacre Valley. I guess, most prominently, one sees him during the Canoe scenes & Under the Falls, where he's the soldier who gets knocked down by Hurons just before the Munro sisters are captured ...
---