Re: In Pictures & Words ... Another!
[ Follow Ups ] [ Post Followup ] [ Mohican WWWboard ] [ FAQ ]
---
Posted by Rich on July 30, 2000 at 09:58:12:
In Reply to: In Pictures & Words ... posted by Rich/Mohicanpress on July 30, 2000 at 05:37:38: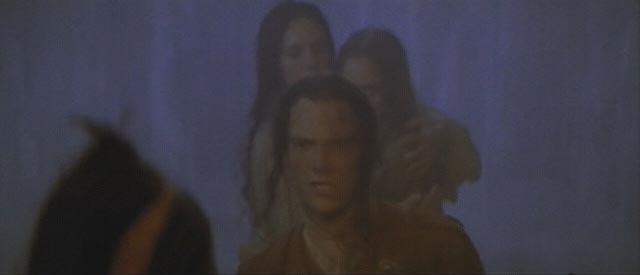 Now ... How'd HE get here??? Actually, we placed this capture amidst the Soldier #2 pages, but he wanted so to be seen TODAY ... :) ... we added him here!
Yes, Vita, the details are amazing! We saw things, too, that we'd never seen. A still picture will do that. These captures are good, but they can be better. We always have to find a safe & comfortable middle ground with photos ... decent enough quality to be able to be enjoyed, yet data-small enough to be space-efficient. So, we compress all our .jpgs with a nifty little program which greatly decreases the size (data wise), but maintains a respectable degree of visual quality. In the case of screen captures, all the more important. The low resolution makes them steal-"proof" for commercial purposes. Considering their pixel size, they load pretty darn quickly, too!
One other little note: we added about six more pages worth of these buggers, but the 3 entitled "The Locations," "The Cast," & "The Scenes," were already up & are from the video tape.
Anyway, glad the reaction so far is so good. Enjoy 'em, guys. Maybe we'll add more down the road ... or shuffle 'em around from time to time ...
---