The River Walk, Space Wes, And ANOTHER DVD?
[ Follow Ups ] [ Post Followup ] [ Mohican WWWboard ] [ FAQ ]
---
Posted by Rich/Mohican Press on September 10, 2000 at 06:13:26: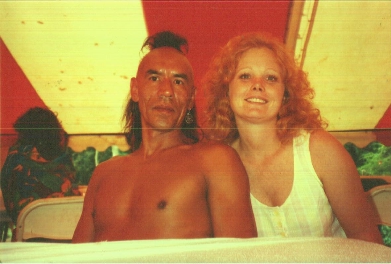 ABOVE: Connie Boyer meets Magua ... from one of our most popular pages, "Under The Make-Up Tent"
First of all, the River Walk falls ... Want to see them ever again? You had better act now! The latest from Friends of the Falls:
"Opponents to State acquisition of the waterfall property have launched a series of ads in local papers which make several misleading statements. We would like to share these with you, along with our responses. Perhaps some of our supporters in the Hendersonville, Brevard, Asheville area can incorporate some of these concepts in letters to the editor of local papers.

You can view our complete Answering the Critics page at:
http://www.main.nc.us/eco/dsf/answer.html

Misleading Statements:
Buying the waterfalls will take funds away from EDUCATION
This is a desparate argument, which is obviously false. Funds for the purchase of this property will come from dedicated funds set aside for land conservation. If not used in Western North Carolina, they will be used in another part of the State. This purchase will not affect education spending in the region or statewide.
The price of the purchase will be $24 million (per Friends of the Falls)
Why do the figures $21 or $24 million keep popping up? Although Jim Anthony has denied offering to sell the property for this price, there are many indications that he is nevertheless the source of these numbers. Friends of the Falls hopes that the State would never believe such numbers without having an independent appraisal done. Considering the "improvements" (if you can call it that) that he has made, we would think that a fair price would be much closer to his original $6.4 million than to his hoped-for value.

If the purchase price ended up at $12 million, for example, this would amount to about $1. 50 for every person in North Carolina.

The State has a plan to purchase or seize 1,000,000 acres
Governor Hunt's Million Acre Initiative is based on voluntary acquisitions or conservation easements. Bill Holman, Secretary of Environment and Natural Resource has clearly stated that any use of eminent domain on this property would not count toward this program. Ironically, Anthony's proposed conservation easements might count towards the million acres, however.
The State (or Mike Easley) might take away your land, too
This rhetorical exageration is intended to stir passions. In fact, columnist Will Haynie went so far as to include your family heirlooms in the scare tactic. But most people realize that this situation is unique, and that landholders rights would not be changed in any way. How is it unique?
* The property is fully surrounded by a State Forest, and contains the area's primary recreational attractions
* The landowner purchased property that was reportedly restricted against development
* The landowner outbid the State, having found a way around these restrictions
* The landowner has reneged on promises not to build a residential development"
So, with a decision expected in the near future from NC Governor Hunt, it would seem the time for procrastination is over. How about it, folks?
Meanwhile, courtesy of Kathleen Walker of the StudiGroup, we have this news ... Wes Studi is embarking on a flight to Germany on the 13th, a trip that might have him abroad for as long as six months. Reason? Working on a television pilot, & six or so episodes, of a Sci-Fi series entitled, "Ice Planet." It is being produced for International release. Hopes for here? Maybe The Sci-Fi Channel. We wish Wes the best of luck in this latest project! A brief synopsis: " ... stars Wes as captain of a star ship that enters a time warp, never to return. The crew engages in quite a bit of fighting with their 'enemies' but then realizes that they must adapt or die."
Last, but not least, another DVD-release of "The Last of the Mohicans" is apparently on the way ... maybe this winter! According to the September 2000 issue of Widescreen Review Magazine, on page 128, a new release of the DVD is forthcoming. Digitalbits Editor, Bill Hunt, states this edition will be in anamorphic widescreen format with DTS. Translation? Even BETTER video/audio quality! So, now, the obvious question everyone wants answered: What version of the film will this be?
Three possibilities, I would think:
1 - The Director's Expanded Edition ... very likey
2 - The original Theatrical version (ie: the THX widescreen VHS edition) ... also quite possible
3 - Still ANOTHER Director's Cut version ... don't hold your breath!
A fourth might be BOTH 1 & 2. Many disks have that. "Glory," for example has both a pan & scan & widescreen version on the same disk. Whether or not there might be any extra features was not mentioned. We're looking into this with various sources. If we hear anything, we'll let you know! Keep your eyes & ears fixed on your duty! Read something on this? Pass it on!
New on the Site? The aforementioned (last week, that is) Online Companion Guide ... an update on the accommodation listings in "On The Trail ...," plus weather, AND a Cast & Crew credits listing (not complete, yet ... anyway!) which also includes links to those portions of this Site that have contributions from that particular cast or crew member. Also, we've moved our TV Guide perusals to a table on the "Dispatches From The Frontier: News & Notes" page.
We are seriously considering expanding the Site to 500mb, with RealPlayer extentions installed ... opening the door for much more audio/video content. Ought to be fun!
Many thanks to those of you who have made purchases from the Mohican Press Cafe! We appreciate that!!!
Oh, and a little note ... I guess it was 3 weeks ago that we added the third aisle to our Book Shoppe, featuring books, videos, DVDs, and CDs with an American Revolution theme, including the upcoming release of Mel Gibson's "The Patriot." Well, one of the videos we showcased was "The Crossing," with Jeff Daniels as George Washington during the crossing of the Delaware. The image we used, a .gif, was called, simply enough, crossing.gif. We have SO many pages with SO many images, it sometimes is difficult to manage. Anyway, long ago, when we first set up the Script pages, we used a blended-back photo we took of the creek crossing during the Elk Hunt as the background image for the Script Index, or Menu, Page. Guess what its name was? Right! crossing.gif! Never gave it athought! Needless to say, the new video image overwrote the old location image and, unbeknownst to us, till the other day, filled the Script Menu with little "The Crossing" video covers, tiled endlessly in red ... making the page illegible & near totally useless. Remember, that particular page is one of our most frequently visited. It took nearly 3 weeks for someone to e-mail us and say, "Hey, what's up with that page?!?"
And so it goes ...


---