RAIN! And, More ...
[ Follow Ups ] [ Post Followup ] [ Mohican WWWboard ] [ FAQ ]
---
Posted by Rich/Mohican Press on November 05, 2000 at 05:00:56: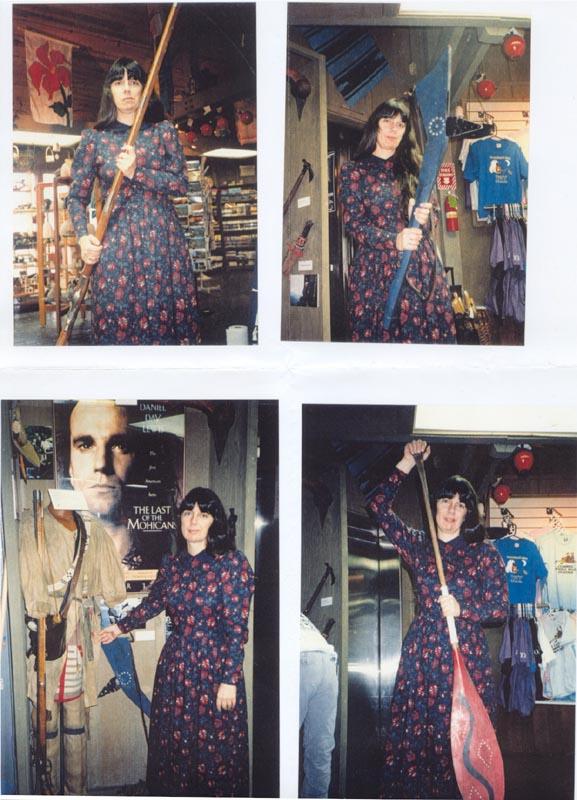 No politics this time!
It rained here yesterday, not too hard, and for only 4 hours, or so, but it did rain, for the first time in a long time. That can only help the firefighters at Linville Gorge, and elsewhere, in this parched area. Was out driving last night. On the 221 bypass, which skirts the edges of Marion, there are couple of vantage points where, in the daylight, you can look right down the Gorge, viewing Table Rock, Hawksbill, and Shortoff all at once. There was an ominous pale orange glow in the night sky over the Gorge.
Between the "What's New" & "News & Notes" pages, there's really no need for me to announce new stuff or TV listings here anymore. Anyone interested can access those two pages ... they are updated frequently. But, I'll probably still mention some new things of note here, all the same. Speaking of TV listings, LOTM was on Cinemax last night, impacting dramatically, as usual, the tail end of our day's worth of accesses. We beat our normal Saturday visitation (the lowest of any day, usually) by 400 visitors! LOTM STILL has power!
So, The 2001 Gathering page has been updated a bit with some new info, most prominently the group lodging facility choice ... thank you very much Dana, Diana & Marcia! Also, a look at the results of our second Gathering survey. That's pretty self-explanatory, I would think, but one thing I wanted to point out ... the results to the question "What's your number one reason for wanting to attend?" ... Those who responded "Seeing Old Friends," were, obviously past Gatherers. Some folks could not choose just one, thus the last category in the poll results. The results prove to me, what I hoped: though the Gathering has, at its center, a great group of Internet friends, it is much more than just that. It is new folks wanting to come & meet others who love the movie and at the same time SEE the locations. That is the essence of The Gatherings! The growing interest, and attendance, reflects that ... Interesting, too, "seeing the film on the big screen" & "hoping to meet a cast member" received zippo votes. It's all about the people & the locations!
Anyhow, all these responses, to both polls, and any future polls, will help us to lay out & plan the 2001 Gathering. Thank you for taking the time to respond!
Some of the comments people added (mostly from those who couldn't choose!):
** I have many reasons for wanting to return to the Gathering. The Gathering was the most memorable experience of my life ... there really are countless reasons for wanting to return. And if we are blessed with another Gathering, you can rest assured that I'll be there! :-)
** It's FUN. It's hard to see how FUN it all is when one is a "planner". But, believe me..IT'S SO FUN.
** Thank you Rich and Elaine for some some of the best moments of my life!
** WAS SO THRILLED TO GET THE LATEST ON THE 2001 GATHERING..AND AS I STARTED TO READ YOUR E-MAIL..MY HEART SEEMED TO SKIP A BEAT AS I THOUGHT YOU WERE GOING TO BE THE BEARER OF BAD NEWS..AS THIS WILL BE MY FIRST, AND FROM THE SOUNDS OF, LAST GATHERING..HAVING HAPPENED UPON YOUR SITE..MAYBE MORE THEN BY ACCIDENT..AND AN AWARD WINNER IN ITSELF MAY I ADD..I NEVER KNEW OF THE OTHERS OR WOULD HAVE BEEN IN ATTENDANCE AT ALL OF THEM AS WELL.. AS I READ ON AND FOUND YOU WERE GOING AHEAD WITH THIS ONE..MY HEART STARTED RACING THINKING HOW LUCKY I JUST MIGHT BE..IF YOU WOULD HAVE SAID THERE WOULD BE NO OTHERS AND THE LAST ONE WAS JUST THAT..I WOULD HAVE FELT LIKE I HAD LOST A CHANCE OF FRIENDSHIP WITHOUT EVER HAVING HAD THE FRIEND BUT KNOWING THEY WERE THERE..
** Thanks for your heartfelt, honest assessment of the Mohican Gatherings. I understand and support the direction you are taking and would not miss this final Gathering for the world!
** I just want to hang out with my LOTM friends. Anything more than this is icing on the cake!
** You ask for ONE reason to attend? How about all of the above? :)
** Thank you for even considering a 4th Great Mohican Gathering!! What a great thing it has become ... i had a hard time choosing between "Seeing Old Friends" and "Experiencing the Film's Locations" and "Seeing the Film on the Big Screen" ... put me down for all of the above!
** I hope that a cast member will be present, this would be a bonus, but if none can attend, WE ARE STILL GOING TO THIS GREAT EVENT. See you all in June.
** Yiiiiipppppeeeeee!...with mixed feelings about current message regarding a "Last" GMG ... Special guests / No guests, 3 days / 4 days, here / there / everywhere... I'll be there and be thrilled regardless, and appreciate every bit everyone puts into it!
** ... I wondered how many people had felt the same while viewing this spectacular film. This event would be a great way to find out.
** A very unique "conference", great scenery, remembering a dramatic time in history and seeing how a film evokes that is fascinating. I will be glad to see a 4th Gathering.
** I have loved every moment of all of the Gatherings that I have attended.
** We Agreed That If You had another Gathering, We Desired To Share OUR Time Together, With This Wonderful Group Of Souls, In One Of The Most Beautiful Places In America. I Have To Thank You For All Your Efforts In Taking On Such A Project. I Know That There Are Many Who Help To Pull This All Together But You Are Definitely The Axle That Drives The Wheel and as Busy As You Are, You Will Make The Time In Your Life To Keep Bringing Us All Together Again....And Just To Think, We All Started Off With The One Common Interest, Liking A Movie, And End Up With Sharing Such A Strong Bond Of Love For Each Other! THANK YOU Rich, And Your Generous Wife Elaine, For Sharing Your Lives With All Of Us, I Am Honored To Call You Both Friends!
WOW! Thanks to all of you! ... And, thanks to those who help them happen!
One thing ... one MAJOR thing that I want to clarify. As can be noted by some of the responses above, there are a few folks, at least, who took my "Gathering Message" to mean this was the L-A-S-T ... and it quite possibly might be. But, what I said:
"We are doing another, with the help of our growing family of friends, in the year 2001. We will not do another, pre-planned, event in the years beyond. So, in effect, this will be the last, a celebration of all that has occurred via the vehicle that this Web Site has become. If another were to happen, with us involved, it will have to do so spontaneously ... just like the first ..."
I can see how it could easily be interpreted to mean "No more," especially if you focus in on one sentence. However, if you take in the whole paragraph, that's actually NOT what was being said. No, this is not to be interpreted as back-tracking, simply a request to re-read it. I said exactly what I meant.
Our focus is on the 2001 Gathering. Let 2002, & beyond, take care of themselves at the appropriate time.
Ok ...
Besides the Gathering Update, Many Flags & Co. have a Fort Ligonier page up ... linked to through the "Chronicles" and "Kittanning" pages in our "Off the Beaten Mohican Path" section, and we added our first Real Media soundclip ... this of the late Mike Phillips, the Huron Sachem. You can hear that off the Mike Phillips interview page. One note: the page has music playing repeatedly in the background. That caused some concern as to whether or not the audio clip of Mike from our interview would come through clearly. Testing it locally, we found that it did, if you crank up the volume on your Real Player. If you have trouble, do let us know, so that we may devise an alternative!
Hope you're all well!

---