LOTM Prints ... The Warrior
[ Follow Ups ] [ Post Followup ] [ Mohican WWWboard ] [ FAQ ]
---
Posted by Rich on November 12, 2000 at 06:21:00: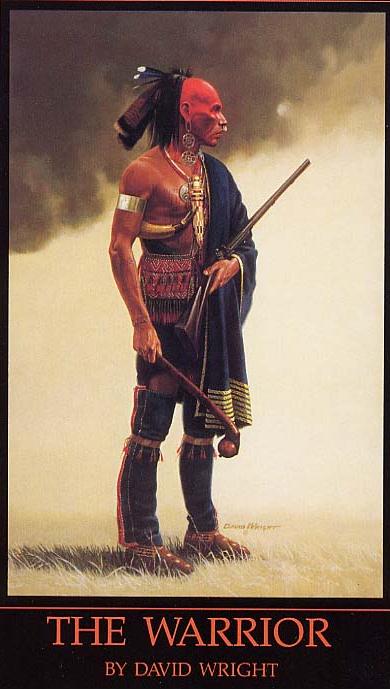 H. David Wright ... frontier artist. He did the foreward & sketches in Mark Baker's, "Sons of a Trackless Forest." He was on our Gathering Mailing List last year, but, in the end, couldn't come. Just the other day, when letting us know of his new E-Mail address, he inadvertantly, used our CCs, resulting in many of you getting E-Mails from him and exclaiming, "Who the f-ck is H. David Wright?!?" (Sorry, Ilse ... you HAD your 15 minutes! :)) Well, now you know.
While on the set of "The Last of the Mohicans," he did some work. In his own words, "I did the painting after I came back from working on Mohicans. One morning, after working all night, Wes modeled for me and I shot a bunch of photos of him. From those, I did the painting."
So, we now will have this print (above) and another (to follow) for sale through our Web Site. The quantity is very limited & we wanted to give you folks, readers of the Board, first shot. This one is called, "The Warrior." They sell for $125 each, plus $15 for shipping & handling for up to 10 prints (per package). We don't have all the details yet, but will post more when we know more. If desired, each print can be personalized. They are already signed & numbered.
Whatcha think?

---