A Look At The Gorge ... Post Fire
[ Follow Ups ] [ Post Followup ] [ Mohican WWWboard ] [ FAQ ]
---
Posted by Rich on November 13, 2000 at 10:57:53: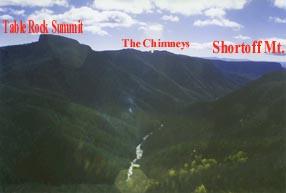 Looking southeastward down Linville Gorge, about 10 AM on Friday, November 10, 2000.
Not bad, eh?
This could have been a total disaster, aestheticly speaking. It wasn't!
We'll post a small album of shots, linked off of the 2001 Gathering & the Frontier News & Notes pages a little later on today ...

---