Re: The LOTM Gathering 2001
[ Follow Ups ] [ Post Followup ] [ Mohican WWWboard ] [ FAQ ]
---
Posted by Rich on December 30, 2000 at 13:58:53:
In Reply to: The LOTM Gathering 2001 posted by Lynn and Glenn on December 30, 2000 at 13:07:43: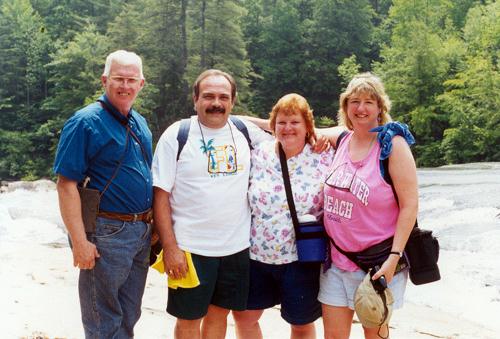 ABOVE: Glenn & Lynn, in the center, with John H. (L) & Donna (R) - Lynn & Glenn were at the first two Gatherings. John & Donna, all 3 ... and I know they'll both be back for the 4th!
I LOVE it when "wayward" Mohicanites, long lost in the exterior haze, return to the cozy confines! Hi Lynn & Glenn! Big Mohican hugs!
See you in June!!!
Anyone else interested? Follow the link below!
: Hey!
: Yep, it really is Lynn from Ohio. Helloooo to all our old friends and fellow Mohicanites! And a big Hi! to the Mohicaners we have not met as well.
: We missed the Gathering 2000 due to scheduling conflicts with that last weekend in June. Since ya'll have moved it to earlier dates - -
: WE PLAN ON VENTURING TO MOHICANLAND ONCE AGAIN!!!
: Our calendar is marked....we'll be scouting the page for more updates. BTW, you have already done a fantastic job.
: See ya on the trail!
: Lynn :)
---