Killdeer Arrives ... Finally! And, Other Stuff - The Weekly Update
[ Follow Ups ] [ Post Followup ] [ Mohican WWWboard ] [ FAQ ]
---
Posted by Rich/Mohican Press on June 27, 1999 at 09:12:03: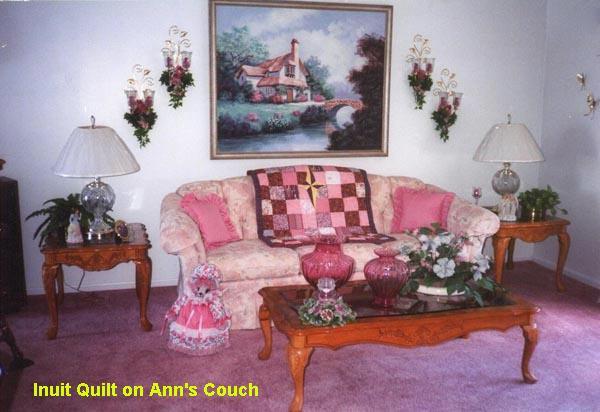 After plans, expectations, & good will ... after warring, name-calling, & fueds ... we have come full-circle! Killdeer, crafted by Bill Rooks, has arrived, finally, in our Gift Shop! We are most pleased at this welcome addition to the Storefront on the Frontier! Thanks, Bill!
Also new on the Site ... yes, still another poll (that makes 5!). Please vote on ALL the topics, but please, ESPECIALLY on this new one. It has to do with how you first found our Web Site. We would appreciate the feedback! Too, we have added a few more photos to the 3 '99 Gathering Pages, so take another look! Thanks to all of you who have contributed your pics! All 3 of those new additions can be accessed via our opening page!
By popular demand, the attached photo is of the now almost famous Inuit Star Quilt, created by Kate, and now proudly comforting the couch of raffle winner Ann!
Also, in case you missed it in the middle of the week, we've included a link to my mid-week post below. That post includes a local newspaper report of the Gathering, and, more importantly, info on where & who to write to "save" The River Walk location. PLEASE, get a letter out soon! All of you who were there KNOW its value!
I read with amusement the "Mohican Chicken Dance" thread regarding the "Don't Ask" photo we included on the Gathering Pages. Explanation? It's really very simple ... Karen was experiencing a "Sweetser Moment," one of MANY such moments we have been treated to over the 5 days of the two Gatherings. I very much thought the photo captured the essence of life with the Sweetsers!
Oh, The Directer's Cut ... rumor has it that a DVD edition of LOTM will be released by FOX "next October." Whether that is '99 or 2000; what it will or will not include, we don't yet know. Keep them fingers crossed!
Two weeks without Lainey for me, so far! I'm still here! It ain't easy. A lot of you may not realize that Elaine is truly, literally, %50 of this Site. She handles most all our Eric Schweig related stuff, nearly the entire "Off The Trail" section, %90 of "The History" section ... she is the one who researches the actors' backgrounds for our interviews (we write & do them jointly), is right in the middle of "The Musings," and handles a bunch of our e-mail responses (among other thing!). Needless to say, without her here, things are a bit more difficult ... bear with me! So, COME HOME, Lainey!
For the FINAL time, I want to extend GREAT thanks to MMMMarcia, Ilse, Eric, Jo & Sarah Z. for all their assistance in putting the Gathering together, and to everyone who came for making it such a wonderful 3 days! Thank you, thank you, thank you ...
Happy Trails!
---