Re: Lacrosse Game ... A Photo
[ Follow Ups ] [ Post Followup ] [ Mohican WWWboard ] [ FAQ ]
---
Posted by Clabert on July 05, 1999 at 13:17:27:
In Reply to: F&I Encampment at Fort Ticonderoga posted by Sarah M. on June 29, 1999 at 04:01:38: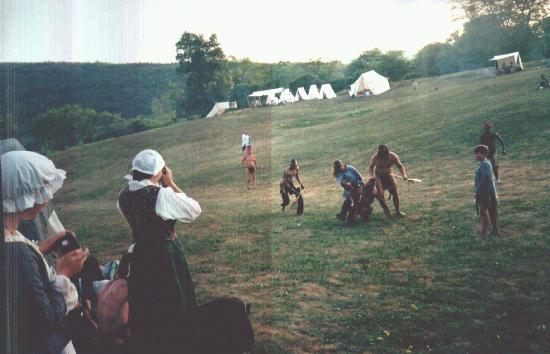 :... I must say that the Indians seemed to be having the most fun. When the French sat in small groups (and by the way, many WERE French, come down from Canada -- and the commands to the army were in French) and the British sat in small groups, the Indians all came together and had a rousing game of lacrosse. All of them had a go, on a rotational basis ...
: LHK,
: Sarah
This is me in the light blue shirt playing Lacrosse with the Natives at the
Grand Encampment at Fort Ticonderoga. The woman in front, taking a picture, IS Sarah!
Clabert
---