Re: 'Ghost Dance Shirt' from Battle of Wounded Knee
[ Follow Ups ] [ Post Followup ] [ Mohican WWWboard ] [ FAQ ]
---
Posted by Rich on July 30, 1999 at 12:32:25:
In Reply to: 'Ghost Dance Shirt' from Battle of Wounded Knee posted by Kate on July 27, 1999 at 18:08:30: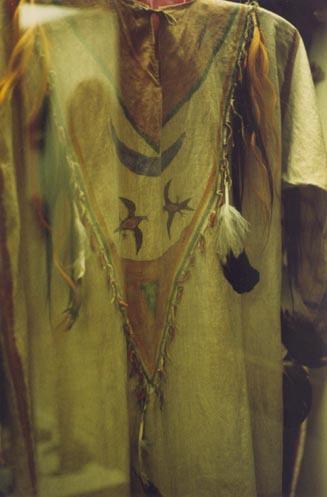 For the uninitiated, above is an example of a Ghost Dance Shirt ... this on display at the Sioux Museum on the Rosebud Reservation in South Dakota.
So, what WAS the Ghost Dance?
Simplified ... in the "post-conquest" years, the Plains Indians were desperately seeking a return to the old ways. A Paiute Indian, Wovoka, claimed to have had a vision ... In it, it was learned that by dancing this dance the buffalo would return, the White Man would disappear, all dead Indians would return ... the good, old ways would be again. Many tribes, the Lakota included, sent emissaries to hear, and in some cases experience, this first hand. Kicking Bear & Short Bull, of the Lakota, brought back this story which gave the people hope. However, they perverted it by introducing violence into the mix. It was believed that the shirt would protect the wearer from bullets. The Dance spread. The white reservation administrators & the Army became alarmed at the apparent increasing agitation among the Indians ...
One thing led to another. Sitting Bull was murdered by Indian police. Big Foot's band of Miniconjou Sioux were intercepted by the Army & herded to Wounded Knee ... In the freezing snow, a proposed weapons search resulted in disaster.
Brief, I know ... I'm on lunch break & have to go!

---