There IS Joy ... (and Jay!) ... In MohicanLand!
[ Follow Ups ] [ Post Followup ] [ Mohican WWWboard ] [ FAQ ]
---
Posted by Rich/Mohican Press on August 29, 1999 at 09:58:01: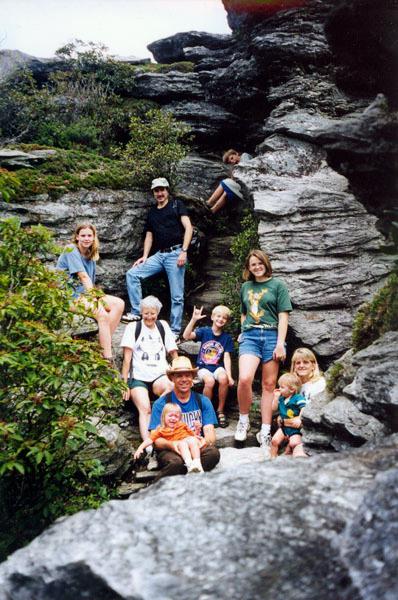 Well ... WHERE to begin? How about the photo! Taken a month or so after the Gathering, that's Chris (LONG time Board visitor, '98 Gatherer, & friend) & hubby Earl (a super good guy) towards the lower left corner ... all the way from Alaska! Of course, we're at Table Rock & you should recognize Sharon & me. The kids belong to either Eric or Sharon. Pic taken by Eric ... A good time had by all!
Speaking of Eric H., good luck in your second sojourn to SC to continue the preparations for the filming of "The Patriot." We really look forward to seeing you on the screen ... this time AFTER getting to know you!
So many things to talk about this week! Forgive the rambling that's sure to follow ... those that choose to see this as a "pompous" post, so be it.
I mentioned last time that there were a few things troubling us. So much occurs around here from week to week, it's hard, I think, for most of you to get a feel for what we go through at times ... here are some low lights:
1 - Stolen property! Yep! Would you walk into someone's living room & take the things you like? Hardly! Yet there are some folks out there who think little of it when it comes to the Internet. Like it? Take it! We're not talking about downloading stuff to your computer for your own personal use. We ALL do that. Here's an example of what we DO mean ...
The person who runs this particular site has a very clear message posted on the site telling others not to use the images on the site without permission. So, this same person goes out & TAKES an image of ours, alters it, and uses it! Without ever asking ...without ever saying where it was from ... Matter is resolved, but it shouldn't ever happen! The formula is so simple. ASK for use & give CREDIT to the source! We use it, and anyone who has used that formula with us has received permission, as far as I can remember. That doesn't mean that would always be the case, some of our material was granted for exclusive use on our Web Site, but it certainly gives you a fighting chance. Bewilders me.
2 - Woke up one morning to find "Hack, Hack, Hack" ... FLASHING, no less ... where our Opening Page should have been. It happened early in the morning, I guess about 3 or 4, and I had it fixed by 5:30 or 6, so I don't know if any of you even noticed ... but sure enough, it happened. We traced the culprit(s) to 2 ISPs in Holland & took the necessary steps to warn them & prevent it from happening again, but, as our tech guy said, they were probably using hacked accounts. Who knows?! It was basically harmless ... kind of an "I can do it, so I did" kind of thing ... no real harm done. Tools, clothing, mirrors ... all there. (Jo, I'm not so great at that line thing, either!) We've got the Site backed up all over the place, so it really couldn't ever be too serious, just a hassle. It feels, too, like someone broke into our home, invaded our privacy. If you've ever been robbed, you know the feeling.
3 - A negative turned positive ... will have to bite my tongue on this one ... OUCH! ... and not speak. Sorry!
OK ... Pendants! The most recent batch of orders is completed & en route to us from Eric S. The orders that missed that batch are now placed & Eric should have them done reasonably soon. We know a lot of you are wondering about a new film. Again, we have to bite the bullet. Sworn to secrecy.

A zillion things to touch upon! In no particular order ...
A couple of people from our "distant" past have resurfaced. Jay Propst, who all in attendance at the '98 Gathering should remember, was in touch to buy a book and say hello. Good to hear from him! Then, someone who you long-time posters know, Joy Landry, made contact. Joy was a frequent poster in the early days, and helped out on the first of our two Director's Cut Drives. She sent along a whole slew of sound clips, many of which we have incorporated into today's upload. Thanks Joy! She said, "I've benefitted from so many others' Mohican generosity, especially yours, I was hoping to contribute something back!" And that makes US all fuzzy inside! You can find the new clips (as well as the old) within the Script Pages, plus those, & others, have been added to the LOTM Downloadable Sound Files Page. From the looks of things, that page received a lot of hits yesterday. Go back! Many new things there now!
And Bill ... good to HAVE you back! Hey, we're easy! Live & learn! Your comments, though, make me realize that you all need to use our navigational tools to see what's here! The Musings Index, The Search Engine, The Table of Contents, & Navigating This Site are all there to help everyone not miss anything. Hey, the Site is huge! We use them ourselves sometimes! And the part about trust ... that's what makes MohicanLand tick!
The DVD Director's Cut release promises to be a boon to this Web Site. It figures to drastically increase interest in the subject (not that 800 - 1000, or more, individual visitors every day would seem to indicate a LACK of interest!!!) ... so, we're scurrying to make sure everything is just right! MUCH to do! Forgive us, please, if our E-Mail contact wanes a bit. Nothing personal! Will do our best to maintain all relationships!!! The slight delay in the release date (familar scenario, as the film release experienced similar delays) will actually help us! Who cares anyway? We've all waited this long, what's a few more days or weeks? As Caitlin said, all the more reason to make it a Christmas Gift! Speaking of Cut-Lean, nice pics of you & Jeff!!
That Entertainment Weekly thing? What do they know!?! #96 INDEED!!! Actually, I'm quite surprised it made such a list at all! A non-mainstream made film, with a non-mainstream setting, and a generally little-known cast! I wonder how many films that finished ahead of it have given birth to a "community" bearing their name?!
We received our Barcole Foundation "Winds of Change" video this week. NICE job! Put together by the Seminole Indian tribe, the video is professionally done with extended segments of just Wes Studi & Eric Schweig in separate interviews, plus a song from their jam session & a part of the autograph session ... In addition, there's some traditional-style flute playing, art, dancing, & more. All in all, we really enjoyed it. Seems like a most worthwhile cause and we urge you all to try to attend next year's event (see our Eric Schweig Pages). Foundation spokeswoman, Tracee McCreary, had this to say to us, "I have to tell the two of you, fooling around with this festival business, I've checked out a lot of web pages, and your web page is one of the best promotional pieces that I've come across yet! It's very tastefully done." Aw SCHUCKS! See? The GOOD stuff DOES outweigh the BAD stuff!
While I'm "Tooting Our Own Horn" we also received our FIRST award! Awards seem to be all the rage these days ... EVERYONE is giving them out. Most all are either of the tongue-in-cheek variety or one of those "get-all-your-friends-to-stuff-the-ballot-box (and YOU can help while you're at it!)" types so prevalent today. This one, we are pleased to say, is a genuine & heart-felt award from the AHG publication. We are extremely pleased to have received it ... PROUD, in fact ... and contrary to our usual policy, have it posted on the Web Site. Thank you, Stephanie Ann Gritts, Editor. The words mean much to us!
The Biltmore Estate package proposal for the Third Annual Great Mohican Gathering 2000 seems, to us ... and apparantly to most of you on our Gathering Mailing List ... a good idea. We haven't finalized it yet, but it's one of those things that is custom-made for us, and that helps to make The Gathering special ... much like The River Walk & the ES raffle this year. Expect it to happen!
Did I cover it all??? I think so, except to point out what's new on the Site ... well, I did tell you about the Sound Files & the AHG Award. The Gift Shoppe continues to grow, as well ... it's fast becoming a real market place with EXTEMELY unique items offered! Now, you can also find ... a smaller sized traditional Dream Catcher for hanging in your car, real, period trail provisions, and some custom-made strung wampum jewelery ... in addition to books, videos, cd's ... a LOTM Playset ... Killdeer ... an assortment of clothing, props, hats, health & medicinal items & jewelry ... screensaver ... and, of course, Eric's art!
As always, we are so very thankful that you all are a daily part of our lives. The negatives, sampled above, are sure to continue in the future, but you guys truly make it worthwhile. I don't know about you, but when the going gets tough in regards to MohicanLand, I look to the Gathering Pages to get rejuvenated. Whether there in body or spirit, the Gatherers do me good!
Happy Trails!
---