Reflections
[ Follow Ups ] [ Post Followup ] [ Mohican WWWboard ] [ FAQ ]
---
Posted by Rich/Mohican Press on October 17, 1999 at 07:58:35: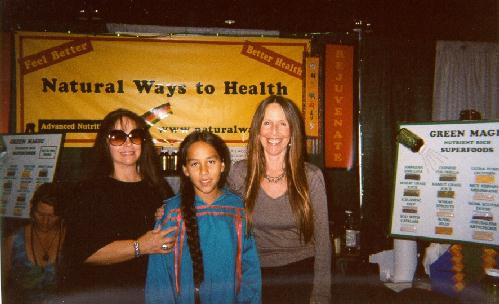 Good morning, all!
The above photo, sent to us by Ayesha from her recent Arizona trip, shows her friend, NaHumma, an 11 year old Papago Indian lad, with his mother, Hashi, and of course, Ayesha.
Thanks!
OK ... off on a tangent ...
I rembember, in my transitional years - moving from a sports minded adolescent into a politically active adult - 1966-1974, in the Vietnam War era ... I remember July, 1970, at my Grandfather's wake, just 6 months after I had lost my own Father ... I remember two of my uncles engaging me in a political debate. I thought it odd, still think it odd, that they chose such a time to discuss politics & ideals, but they did. We argued, vehemently, about long hair, about Nixon, about the Vietnam War ... we argued about freedom of speech, about my choice of clothing, about my PATRIOTISM ... it got very loud, very heated, and it ended with an 18 year old, idealistic, boy walking out in disgust, after being labelled a Communist! ... accompanied by the guffaws of his two Veteran uncles. I remember my Grandmother following me out in front of the Funeral Home & calling to me, in her heavy Italian accent, "Richia, come-a-back." I kept going. I was very sensitive to these type arguments back then; insecure, I guess in my own beliefs ...
Things have never been the same between me and those two uncles, one of whom still survives. I had endured similar battles with my deceased Dad.
These painful memories have lingered with me, all through the years. I wish it could have been different, but I wasn't then mature enough to handle it any better ... there is no changing the past. It happened.
So, it happened here on this Board. So very similar, to my way of thinking. What could have & should have been an honest & open discussion ... an opportunity for learning ... fell apart into hard feelings, misunderstandings, judgments, and folks going away mad.
Again, I find myself wishing it could have been different. Here, though, there is hope. Everyone participating should be mature enough to re-access what happened & attempt to see it differently. Yes, it happened, there is no changing that, but it happened recently enough that it's not too late, I would hope, to patch up the differences & move on ... together.
This is merely a Board. Things are said, sometimes no one is spared, but more often than not, it's a humorous, good-natured place of sharing information, ideas & chit-chat. The posters make it that ... or not. It's ALL in the hands of the posters.
Oh sure, our opening statements outlining the Board's premise & guidelines still stands. But it IS just an outline! It is not meant as some imperialistic, authoritative manifesto. Our intention is to let the conversation flow. If we were to intercede in everything, I can guarantee that charges of "censorship" would soon follow. We hear that as it is! It's not what we want to do!
Doc Mary saw it coming. I tried to let my feelings be known without taking any sides or alienating anyone. Elaine tried to make the person being singled out feel more comfortable. We tried, but still people went away mad ... we can only hope, temporarily. People were offended .. Let me say, that Elaine & I, too, have been offended here, on this Board, several times, but, till now, have never mentioned it ... that would be in the area of Catholicism ... it has been poked fun of right here, and it is our religion. We're still here. People are people, we all say things, we all see things differently. It rarely pays to get all bent out of shape over opinions, especially if no personal attacks are involved.
I think we all should re-read those threads, and try to see it in a better light ...
On a somewhat related note ...
I talked of this privately with one or two of you. We have decided that dealing with our "problems" here on the Board, is generally counter productive. Not because of the validity of the issues, but because most of you have little idea what we are talking about.
We find ourselves talking to 3 groups of people, similtaneously. One group, a relative handful, intimately knows what's going on, a great majority of you know isolated bits & pieces, maybe have seen some first hand, and then there's the few who have absolutely no idea what we are talking about. So, we try to say something, but everyone reads it a different way, depending on the extent of that persons awareness of the situation. The result, it would appear, leads to confusion, misinterpretation, and unneeded suspicions cast about. Except when absolutely necessary - hopefully never - we will do that no more.
Hopefully, if you do your part, and we do ours, posts like this one will cease to be necessary, and we can all go back to doing what we do best!
I truly hate to see folks I have considered friends disappear over words on a Board. Marcia, by the way, is on her way up here to NC, as I type ... so you won't be seeing her around the Board for the next week ... we have a rendezvous planned on Top Of The World!
For those who may have missed it during the week, reportedly the soon-to-be-released LOTM Director's Cut will include theatrical trailers & extras, at least TWELVE new scenes of never-before-seen footage, and more! Sounds GRAND! Release date is still scheduled for November 23.
In the near future, we will be adding absolutely beautiful Inukshuk earrings, from Northern Canada, to the Trading Post. Do look them over. Very special!
Other things are in the works, including Sarah M's Musical Musings ... we'll have them for you as soon as we can ... Too many distractions, everywhere, of late!
Oh, don't take our silence regarding the mentioned Book Club as a sign of our non-approval ... to the contrary. Though we have, already, too many irons in the fire, if such an idea were to take root, you are welcome to use this Board for that purpose ... no problem at all.
Off to pester Bill & the 3 Piggies and anyone else I can think of ... :)
Meanwhile, an oldies page of note you might like to re-visit:
---