Coming Soon! ... Eric Schweig's Gift(s)! ... Updates!
[ Follow Ups ] [ Post Followup ] [ Mohican WWWboard ] [ FAQ ]
---
Posted by Rich/Mohican Press on November 28, 1999 at 07:05:44: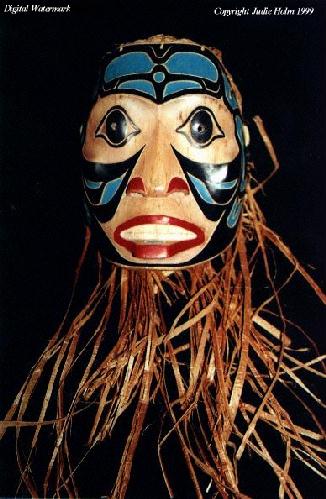 Coming Soon! The above mask, plus other great art items, courtesy of a well-known Native Pacific NW artisan. Keep an eye-out on the Northern Trading Post Page. The auction for the Agnes Thrasher painting is set to begin soon, as well ... Best of luck to all who'd like to own it!
Hope everyone had a wonderful Thanksgiving. Ours was fine; Elaine being a chef extraordinaire ... Turkey, stuffing, giblet gravy, mashed potatoes, corn, brussells sprouts w/chestnuts, sweet potatoes, carrots, cranberries, creamed onions, turnips, pumpkin, coconut custard, & pecan pies, apple cider, egg nog ... I'm getting hungry again ... Plus, my Cowboys stuffed the Dolphins ... doesn't get much better!
Good to see Connie Boyer back again ... she of "Under The Make-Up Tent" fame ... Maybe she'll stick around a bit!
Ok ... Eric Schweig had intended this new mask "special" we had advertised to be a one-time only deal. Due to a special request that sort of touched the heart of Eric, and being the genuinely good guy that he is, he's now doing two. Meanwhile, a very special gift TO Eric has been received, courtesy of one Mohican Gatherer, on behalf of all, and is now on its way to him! Thanks to Eric! Thanks to the "Mysterious" Gatherer!
Nothing new to report on Gathering 2000 yet.
Updates, this week:
Mohican Press Visitor Polls (new poll on your reaction to the new Director's Cut release)
Eric Schweig: Actor & Artisan
Dispatches From Around The Frontier: News & Notes
The Director's Cut Page
AHG Page ... New back issue available. It includes our Wes Studi Interview. (Now the 4th article from our Site to make it to print, including the Eric Schweig Interview, Wampum: America's First Currancy, & The Daniel Kanipe article from "Against All Odds," plus, Kihew's DreamCatchers are to be in a text book!)
Northern Arts Page
Killdeer Page
Six Degrees To LOTM
The Courier Classifieds
Thankful Daniels' Notes From The Trail
Please, look around!
Meanwhile, take a peek at the following link to get a little notion of how the LOTM Road Map page will develop. Then, keep an eye out and send 'em on to us!
Christmas Page donations, anyone?
Enjoy!

---