The End Of An Era?
[ Follow Ups ] [ Post Followup ] [ Mohican WWWboard ] [ FAQ ]
---
Posted by Rich/Mohican Press on January 23, 2000 at 07:16:45: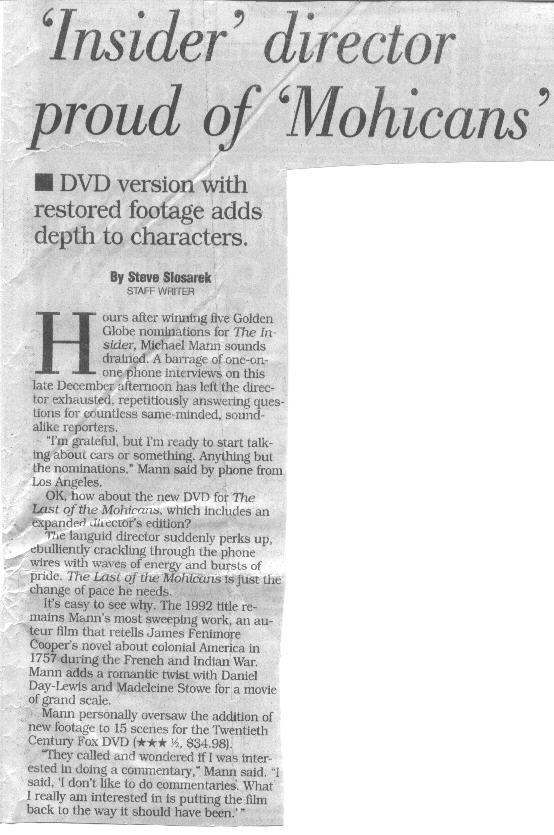 Well, make that "Error!" Caught your attention, though, didn't I?
Actually, I thought it WAS the "end of an era" for a bit there. Received an e-mail from a visitor stating that our link to the LOTM Soundtrack CD no longer operated. Checked it, and it didn't. So, I searched Amazon.com for it. Nothing! Only the cassette version. I began to think it had been discontinued, though I was able to locate the CD on CDNow. Thought that meant only that they had a few left in stock, but I went back to Amazon & began reading the reviews ... Many referred to a "binding" version???? So, I clicked on that. There was the CD version ready for purchase. Quickly we updated our link! Whew! What does this all mean? We're snowed in here in western North Carolina, there's NO TV Guide, and I find myself with WAY too much time on my hands! Seriously, though, it was scary there for a minute to think the Soundtrack would no longer be available. Moral? If you see it, BUY IT!!!
So, after killing time on that, I decided to watch our DVD version of "The Last of the Mohicans" again last night. (What better thing to do on a snowy, winter's night in the mountains?) Before doing so, I printed out Myrrh's review of a couple of weeks ago ... Did so because I thought it a very reasonable & thoughtful analysis, differing, on some points, from my own. So, review in hand, I watched my favorite movie again to see if Myrrh could convince me to her way of thinking. I PROMISE, this will end my commentary on the DVD (well, at least till the NEXT time!) ...
First of all, we AGREE on many things regarding the new additions, and even the omissions! Given a choice, I still, though, would much prefer to watch the new version, just adding in, in my mind, the deleted lines (or some of them, anyway).
First thing I noticed was that there ARE, indeed, defects in the production, as Myrrh pointed out. I guess it's a matter of which details you most pay attention to, but I totally missed them while watching the first few times, other than the slight jump at the very end of the first Cameron's Cabin segment at the table. But, with Myrrh's notes, I focused in on certain things and they ARE there (as per the DVD label warning!) ... There IS some jumpiness at the end of the burned out Cameron's Cabin segment, there IS a noticeable, though momentary, pause as Cora tends to the dying man in the infirmary, and there IS the same as the Hurons enter the cave. All in all, I found them minor distractions that I had to look for, and in the overall scheme of things, worth dealing with for the obvious advantages of DVD that are found THROUGHOUT the film.
Myrrh says: The dialogue between Duncan & Alice at Albany is "Clunky" and "an attempt to telegraph messages".
Rich says: The latter may be true, but it's the ONLY time we get to see what Alice was REALLY like BEFORE all the trauma that was to befall her & is welcomed. It addition, like the Cora added line earlier, it goes a long way towards establishing the friendly, long standing relationship these 3 had prior to the film's beginning.
Myrrh says: Some music wasn't the same.
Rich says: True. It can't be, however. Not with changes being made to the film's content. It comes down to simply being SO used to what was, that what is here on the DVD sometimes sounds strange. No doubt about it, the music is mixed differently, especially during the Fort Battle & Massacre Valley (for the better, as I hear it. I enjoy hearing the additional SOUNDS) & Clannad's "I Will Find You" is no longer found (I'm 50/50 on that ... Enjoy it both ways!).
Myrrh says: Duncan interprets the line "What are the Huron to do," BEFORE the Sachem actually says it.
Rich says: Indeed he does. The whole scene, however, is surreal. NOBODY could translate as fast as Duncan does there in that village. It's all done for effect. That doesn't particularly bother me. It's all so quick.
Myrrh says: Chingachgook's final "speech" is awkwardly delivered at its onset.
Rich says: Well, here it's all a matter of opinion. Mine is this ... We now have TWO endings. Chingachgook delivers his prayer for Uncas (much more a "speech," I feel, than what follows.) Powerful, to be sure. It is followed by a long period of silence, other than the soundtrack, though heavy breathing is MUCH more audible ... to great effect. The impact of the prayer is allowed to sink in to the viewer, and then there's that killer exchange between Ching & Hawk, that still blows me away, and compounds the power of the original ending, which is still there in its entirety. I think Russell delivered the lines very naturally, conversationally, almost ... they tie the story together beautifully, give meaning to so much, make Chingachgook the man he was supposed to be ... Oh, and that last line. Having watched this film so many times, & dissected it from so many angles, it is difficult for me to watch it & feel the intensity & emotion I once did. This ending changes all that. It makes me feel again. Bravo!
Two other things I noticed while watching last night. Continuing with the "lack of feeling" thread ... I came to the conclusion that my very favorite scene of "The Last of the Mohicans," is the Magua/Alice segment on the cliffs of Chimney Rock. Still, after all these viewings, it draws my complete attention ... VERY riveting! The other thing, and someone has mentioned this here, is the shot of Hawkeye, Uncas, and the Colonial Man (Mark Baker) during the Courier. With that now VERY strikingly noticeable sunset (or is that, sunrise?) in the background by Shortoff Mountain, we now have what would make a perfect painting. Such imagery!
Anyway, Myrrh, thanks for allowing me to "debate" with you. Feel free to return the favor! The thing to remember here is that we are lovers of the film. All criticism should be considered in that light ... VERY relative!
So, in keeping with my newly founded position on Michael Mann's payroll, we present you here with some of HIS thoughts on the DVD. Actually, the article (above) comes courtesy of the January 21, 2000 Indianapolis Star, and our own, Dana S. Very interesting. Will link to part 2 of the article in a followup post.
OK ... enough of that ... The 2000 Gathering has landed a home. A place to replace The Bunkhouse as the "center of operations," and that is, The Bear Den Campground up along the Blue Ridge Parkway near Linville Falls, Greenknob, and other LOTM special places. We're still not ready to begin taking reservations (close, but some logistics to work through), but we did set up a page of photos so that you can see the place & begin to make up your minds as to whether that will be YOUR lodging place or not. I must stress that not EVERYONE can stay there in the cabins ... it will be first come, first served. Judging from past experience, that works out fine as many folks prefer their own, more private, accommodations in area motels. Bear Den is merely an option, albeit a good one as it is economical, convenient to some of the locations, will be the site of the Trading Post & Sunday bonfire, & figures to be the location of the single largest concentration of Gatherers.
I didn't mean to run on for so long ... Is your coffee still hot?
---