LBH Recommended Reading & Viewing
---
Sources & Enjoyment!
Books
Archaeology, History, and Custer's Last Battle, by Richard A. Fox, Jr. (University of Oklahoma Press) ... The latest archaeological findings blended with first person accounts to provide a precise account of Custer's final moments.
The Arikara Narrative Of The Campaign Against The Hostile Dakotas, June, 1876, Edited by O. G. Libby (J.M. Carroll & Company) ... Invaluable accounts of the Arikara Indian scouts who accompanied the 7th.
Cavalier In Buckskin, by Robert M. Utley (University of Oklahoma Press) ... Fine biography of the General. Concise!
Centennial Campaign: The Sioux War of 1876, by John S. Gray (University of Oklahoma Press) ... Excellent overview of the entire campaign. Includes detailed analysis of the Indian village's size and movements.
Crazy Horse: The Strange Man of the Oglalas, by Mari Sandoz ... Excellent and moving biography of the Great Lakota leader.
Custer Battlefield, by Robert M. Utley (National Park Service Handbook) ... Superb little booklet that gives a fine overview of all the events and personalities. Lots of photos & drawings.
The Custer Battle Casualties, by Richard G. Hardoff (Upton & Sons) ... First person accounts of the condition of the dead.
Custer's Fall: The Indian Side of the Story, by David Humphreys Miller (Bison Books) ... The story of 71 warriors, who were there, blended into one.
Custer In '76, by Walter Camp (Brigham Young University Press) ... First person interviews with soldiers, scouts & Indians.
Custer's Last Campaign: Mitch Boyer and the Little Bighorn Reconstructed, by John S. Gray (University of Nebraska Press) ... A biography of the mixed blood scout who died with Custer, PLUS an excellent time/motion analysis of the final day that puts everything into sync!
Custer's Luck, by Edgar I. Stewart (University of Oklahoma Press) ... Somewhat dated, but smooth flowing, narrative of the whole story. Once was THE definitive account.
The Mystery Of E Troop, by Gregory Michno (Mountain Press Publishing Company) ... Some new light on the "missing" evidence of dead in Deep Ravine.
Reno Court Of Inquiry In The Case Of Major Marcus A. Reno, Edited by Ronald H. Nichols (CBHMA) ... Testimony of officers & men during the inquiry into Reno's actions at Little Bighorn.
Sitting Bull: Champion of the Sioux, by Stanley Vestal (University of Oklahoma Press) ... A biography of perhaps the greatest of all Sioux leaders.
Son Of The Morning Star, by Evan S. Connell (Harper & Row) ... Tapestry of personalities and events that will engage even the casual reader.
Little Bighorn Remembered, by Herman J. Viola
Times Books, October 1999
ISBN: 0-8129-3256-0
$45.00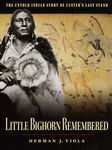 Lavishly illustrated with more than two hundred maps, photographs, reproductions, and drawings, this remarkable book also includes:
* An account of the battle, including startling descriptions of Custer's conduct, collected from the Crow scouts by the famed photographer Edward S. Curtis in 1908. Curtis never published this report--President Theodore Roosevelt advised him not to--and it remained a secret until his ninety-year-old son recently gave the material to the Smithsonian.
* New archaeological evidence from the battlefield that casts fresh light on the Seventh Cavalry's movements, along with discoveries from the site of Sitting Bull's village--including the complete skeleton of a cavalry horse with its rider's well-preserved saddlebags and personal items.
* A series of illustrations made soon after the battle by Red Horse, a remarkable tableau that is reproduced here in its entirety for the first time.
* Three letters written by Lieutenant William Van Wyck Reily just days before he died at Little Bighorn that provide key and potentially controversial insights into the conduct of the cavalry under Custer's command.
In short, this landmark book takes us much closer to knowing what really happened on that June day in 1876 when Custer died and a legend was born.
Videos
Son Of The Morning Star - Stars Gary Cole, Rosanna Arquette, Floyd Red Crow Westerman, Rodney A. Grant ... Despite some continuity problems with Custer's hair length and a few relatively minor factual errors, this film presents a balanced, historically true, telling of events. Told from the perspective of two women, Libbie Custer, the General's wife, and Kate Bighead, a Cheyenne witness.
They Died With Their Boots On - Stars Errol Flynn, Olivia De Havilland, Anthony Quinn ... Factually inept, Flynn's performance as Custer remains a favorite!
Little Big Man - Stars Dustin Hoffman, Faye Dunaway, Chief Dan George ... A survivor of Little Bighorn recounts his tale years later. Forget history, just have fun!
Games
Now Available!

Custer's Last Command - Updated, revised version of this classic game for Windows. Is a real treat! Available right now! NOTE: Newly released updated game called, "Desperate Glory"!
Links
Company F, 7th Cavalry Re-enactment Unit
---
Anything sound appetizing? Search it out, and order on-line, using the Amazon.com search engine below!
"We've Caught Them Napping!" ... Custer's Last Stand || Little Bighorn Photo Gallery || LBH Maps || Sgt. Daniel Kanipe
---