FILM:


The Missing

(2003) ...... Pesh Chidin
The JJ Harper Story (2003) ......Harry Wood
Mr. Barrington (2003) ......Samuel
Skins (2001) ...... Rudy Yellow Lodge


Big Eden

(2000) ......Pike Dexter
Red River ...... [Napolean] ...... Karukera Productions
Tom & Huck ...... [Injun Joe] ...... Painted Fence/Disney
Follow The River ...... [Wildcat] ...... Signboard Hill
Squanto: A Warrior's Tale ...... [Epenow] ...... Disney Productions
The Scarlet Letter ...... [Metacomet] ...... Scarlet Letter Prod.
Pontiac Moon ...... [Ernest Ironplume] ...... Dysphunkshonal Films
The Last Of The Mohicans ....... [Uncas] ...... 20th Century Fox
Chaindance ...... [Featured] ...... Chaindance Productions
The Shaman's Source ...... [Robert Crow] ....... Dr. Robert Bouvier


TV:
Dead Man's Walk ...... [Buffalo Hump] ...... RHI Entertainment
Due South ...... [Inuit Man] ....... Alliance Productions
By Way of the Stars ..... [Black Thunder] ..... Sullivan Films/CBC
For Love & Glory ..... [Moses/Guest Star] ..... CBS
Broken Chain ..... [Joseph Brandt/lead] ..... TNT Network
Black Stallion .....[Jimmy] ..... Alliance Entertainment
Glass Tiger - video ...... [Featured] ...... D'Allen Film 7 Video
Heritage Moment ...... [Mohawk Warrior] ...... Partners Films
War Of The Worlds ...... [Principal] ..... Triumph Entertainment


VIDEO:
Glass Tiger ...... [Featured] ...... D'Allen Film 7 Video


COMMERCIALS:
Lipton Soup ...... [Tonto] ....... Lipton
Wheatabix ...... [Warrior] ...... Nabisco


THEATRE:
The Cradle Will Fall ......[Shaman] ..... Theatre Of Change


VOICE:
500 Nations ...... [Voice Over] ...... Pathways Productions
Morningside ...... [King] ...... CBC Radio
Jenny's Song ...... [Len] ...... Tamarak/Gary Farmer
Image Work ....... [Spock] ...... Excel Entertainment

Simultaneous to the 18th century clashes between the French, English, and Indian peoples of eastern North America, the Inuit and Aleuts of the western continental coast were being invaded by Eurasians ... the Russians were coming. Resulting from the 1741 explorations of Vitus Behring, a Russian interest in North American furs piqued. Promyshlenniki (fur traders) rushed to the Aleutians seeking otter and seal furs. Thus began the Russian-North American fur trade/colonial period ... and consequently, the destruction of Aleutian and Inuit villages.

For the next century, the Inuit and Aleutians suffered degradation, abuse, and tragic decimation at the hands of the Promyshlenniki. Entire villages were forced into labor during the hunting seasons; men, women, and children. When the desired amount of furs were gathered, the majority of traders would return to their homeland ... 'til the next season of the hunt began again. Often they left not only with the prized pelts, but with various cultural articles they "acquired". Among the items taken to Russia were the spirit masks of the native people ...

Only at night he clears the path.
If he does it during the day,
letting the people see him,
already then,
through the people he has his reward.

But if he does that with no one watching him
and nobody is aware of him,
only The One watching him,
the ocean or the land,
the Ellam Yua will give him his reward.

- Inuit admonition to perform charitable works for elders quietly, seeking no glory or reward.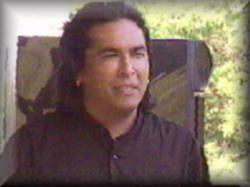 Canadian actor/musician/artisan Eric Schweig has carved in one form or another nearly his entire life. Under the tutelage of notable Tahltan carver Vern Etzerza, he studied traditional Pacific Coast carvings before refining and directing his talent specifically towards the recreation of the traditional Spirit Masks of his own ancestors, the Inuit. Immersing himself in available notes and photographs of various Beringian pieces acquired during the 19th century by Russian ethnographer and "collector" I. G. Voznesenskii, Eric Schweig began carving and recreating the ceremonial masks of his roots.
In what has developed into a personal journey of rediscovery of his own cultural heritage, the 32 year old Schweig has accelerated and carried his art to new heights. Corroborating with renowned West Coast painter and master carver Art Thompson of the Coast Salish and Nuu-chah-nulth nations, Schweig has created his own, "intensely personal" series of Adoption Masks. Born from the tragic victimization he experienced at the hands of abusive adoptive parents, the Adoption Masks - titled Inuit Man Screaming - are powerful, expressively carved images of the human spirit; beautifully married elements of aesthetic beauty and vivid expressions of pain. Influenced by the artistic style of Indonesia and inspired by a child's suffering, the masks are dedicated to all who have been uprooted from their culture and tragically victimized.
Born in Inuvik, NWT, Canada on June 19, 1967 to an artistically gifted family of painters and carvers, Eric Schweig was adopted at age six months. After residing six years in Inuvik, the family relocated and finally settled in Toronto. Eric demonstrated both a love and a gift for carving at an early age. It was, says Schweig, "... something that came naturally to me. I've been working with wood since I was knee high." As a child, Eric frequently carved Inuit figures, kayaks, knives, guns, and various toys for other children. A source of pleasure in childhood, it was a skill he was to retain and nurture into adulthood.
Schweig left home at the age of 16, relying upon his woodworking skills to support himself in Toronto by seeking renovation and framing work. In 1987, while still in Toronto, the 20 year old Schweig was approached by a stranger and encouraged to audition for an upcoming production called The Shaman's Source. Despite having had no prior acting experience, Schweig decided to audition. He won the role and thus began his film career. He continued to support himself both through Toronto theatre productions and as a musician until the pivotal year 1992 offered new opportunities. In that year, he auditioned for and won the role of "Uncas" in Michael Mann's film The Last Of The Mohicans. The success of the film and the publicity it generated afforded the actor visibility that opened new doors in the film industry. Schweig went on to star in numerous major film productions.
After ten years of film, video, and theatre work, Schweig decided to refocus on his primary, life long art form, carving. Having dedicated himself to the study and carving of Inuit Masks, Schweig has truly excelled in this field. His work is gaining increased attention worldwide and has been sold in Canada, the U.S., Asia, and Europe.