FORT WILLIAM HENRY ... Digging for Clues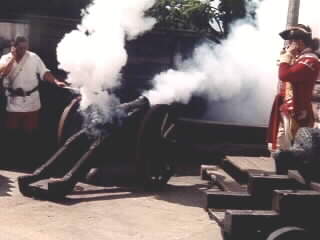 Fort William Henry re-enactors demonstrating how to fire a cannon.
(Photo courtesy of Sam Fruner)
Archaeological Updates
Life at Fort William Henry...what was it like? While it is a foregone conclusion that daily living at the fort was difficult, and victims of the massacre suffered brutal deaths, the grim reality surpasses any imagining. From excavations and forensic examinations of corpses, much information has come to light regarding the conditions of the fort during its brief existence. From this data a picture of horrific suffering emerges. Filth, disease, malnutrition, and injury were the lot of these soldiers, many of whom were mere boys. The following notes offer a sobering view of many a soldier's life and death at Fort William Henry during the years 1755 to 1757.

Archaeology at Fort William Henry
Notes on lecture given by Brenda Baker, Bio-archaeologist
October 15, 1995 Johnstown, New York
The property upon which Fort William Henry had stood and later reconstructed was bought in 1952. As part of the reconstruction, excavations were done and skeletal remains located. Of these, ten were displayed outside the fort in a sheltered building to the southwest. No field notes exist and the skeletal remains were not well maintained. They were covered with a preservative that left many as just shells of preservative. Two years were spent just removing the preservative with acetone. Some skeletons had bones switched. Others had their feet removed because the wall of the building interfered with their grave position. One thirteen or fourteen year old boy had his feet removed and lower legs that were not his.
Inside the fort, five other skeletons were found in a mass grave that were supposedly victims of the 1757 massacre. Four of these ended up on display in the "Crypt" and had bones switched as well. Some skeletons had been drilled and wired, doweled or nailed together. All skeletal remains were removed from display in 1993. The five individuals in the mass grave may have been left behind when the British evacuated the fort after the surrender. Three of the five had their legs fractured so that they were disabled. One, designated as Crypt #1, was an eighteen or nineteen year old. Another, designated Crypt #2, had an amputation above the right knee. The fifth individual displayed no evidence of injury that would have caused him to remain behind.
Eyewitness accounts are borne out by archaeological evidence. One bone indicated four hacks at the person's neck just below the skull resulting in his decapitation. The Jesuit priest from St. Francis, Roubaud, wrote of a head brought out of the fort by an Indian dripping with blood. This same person was also stabbed in the back. Evidence also indicated that various weapons were used. There was also hacking, probably done with a belt axe, at the pelvic areas. Bodies were probably disemboweled. Hearts may also have been removed, in addition to heads and scalps. Three of the five had musket ball wounds to the knees. Two were also shot elsewhere; one in the chest and the other in the right elbow and ankle, in addition to the knee. The oldest, thirty to thirty-five, may have survived long enough to attempt to fight off blows (he was hacked on his right foot and an arm). One that had no trauma, an amputee, was not shot in the knee.
Trauma was also found on the skeletal remains in the cemetery outside the fort. One femur showed evidence of a partial amputation that wasn't completed due to the death of the victim. Another skeleton showed evidence of having been hit with canister shot. There was evidence of scalping, wide spread fatigue, over-exertion and stress, arthritis, and pressure erosion of herniated disks. One of the crypt victims (about twenty years old) showed evidence of torn ligaments on the thigh bone. Bones also revealed the use of crutches.
In 1756, Lt. Col. Ralph Burton wrote of the unhealthiness in the fort; "...about 2,500 men, 500 of them sick, the greatest part of them what they call poorly. They bury from five to eight daily, and officers in proportion. Extremely indolent and dirty to a degree (that) the fort stinks enough to cause an infection. They have all their sick in it. The camp (is) nastier than anything I can conceive. Their necessary houses, kitchens, graves and places for slaughtering cattle, all mixed through the encampment." Quoted in A People's Army by Fred Anderson, p. 95.
The cemetery at Fort William Henry saw the burial of over 1,000 persons in two years of use. Skeletal remains show evidence of poor dental care with infections, abscesses, and cavities. Fifteen of sixteen intact skeletons showed infections which had to be long term or severe in order to show in their remains. Ear infections were also found in three of the sixteen. Additionally, evidence of chronic tuberculosis, respiratory tract infections, lesions, and nutritional stress was present. Most tuberculosis victims did not succumb to the disease. One skeleton had a bandage pin in the left shoulder. All skeletal remains prove unsanitary conditions were prevalent, and show a lot of battle trauma.
Further excavation of the cemetery has been done since this time with an additional grave having been discovered.
Lecture notes courtesy of Major George Bray

Fort William Henry Excavations 1997
Dr. David Starbuck recently returned to Fort William Henry for further examination of the well. Previous work earlier in the season was stopped due to the danger of shifting sands. Digging from September 23rd to 25th, Dr. Starbuck "retrieved numerous artifacts from the 30-foot deep well, including musket balls, French gun flints, animal bones and pieces of pottery." Starbuck is quoted as saying "What we hoped for was some indication, one, of how the well was constructed, and, two, we wanted to know whether or not the well was deliberately trashed at the time of the massacre. It shows no signs of being trashed or polluted deliberately. They preserved that water supply even as they burned the fort down."
~~~~~~~
The best-known British fort of the French and Indian War was Fort William Henry, located in what is now the village of Lake George, N.Y. The so-called "massacre" of British soldiers and civilians in late 1757 became the basis of James Fenimore Cooper's novel The Last of the Mohicans. Portions of the fort were excavated in the early 1950s in order to permit a full-sized reconstruction, which has been a prominent tourist attraction ever since. In the summer of 1997, Dr. Starbuck conducted extensive new excavations inside and outside the walls of the fort and in the fort's well, which will form the basis of his lecture.
Dr. David Starbuck has excavated military sites from both the French and Indian War and the Revolutionary War since 1985 and has been the staff archaeologist at the Saratoga Battlefield since 1985. He has appeared on The Learning Channel's Archaeology program and has published approximately 80 articles, books and chapters in books, many of which deal with archaeology at military sites. Dr. Starbuck received his Ph.D. in archaeology from Yale University and currently teaches anthropology and archaeology at Plymouth State College, part of the University System of New Hampshire.
Courtesy of Major George Bray

An article in the Milwaukee Journal Sentinel of November 2, 1997 contained the following additions on Dr. Starbuck's excavation at Fort William Henry:
"After digging through those several layers of modern life, Starbuck reached the bottom of the 30-foot well in September. It wasn't easy.
The dry, stone-lined well built with the fort in 1755 is just 3 feet across. An excavation in 1960 was halted by rising water and shifting sands. Starbuck encountered similar problems, though he had the benefit of electric hoists, pumps, and video cameras. At points, he needed steel inserts to bolster the well's fragile sidewall...
Although the well failed to yield bones or booty, Starbuck filled holes in the history surrounding one of pre-Revolution America's more infamous massacres.
He found the original wooden staves driven vertically into the well's bottom, forming a barrel-like tub."

Next in the History Series Pages: THE MAHICAN CHANNEL ... Forts, Tales, and Legends
Looking for related books? Go to the MOHICAN PRESS BOOK SHOPPE. Includes A New Book By Dr. Starbuck!