THE FRENCH AND INDIAN WAR ... Mohicans History Links


As we hope this site will help to promote a greater interest in the colonial period, and specifically the French and Indian War, we've added this History Links page.
The French and Indian War had uniquely complex qualities, matched by the gravity of its outcome. The myriad of cultures involved; French, Canadian, American, English, Algonquians, Iroquois, etc., make this era fascinating. The multi-ethnic element made it a war built upon fragile alliances, often undermined by factional disputes and shifting fortunes. Violent as it was, its battlefields encompassed some of the most beautiful country to be found anywhere. Its richness in diverse cultures, the severity of its bloody violence, and the beauty of its landscape; all combine to make this an era with great depth of interest. We've tried to include links that reflect these qualities and varied perspectives.
Additionally, you'll find links to French & Indian War re-enactor sites. On this ... a word. The men and women who recreate historical events are often overlooked and very underappreciated. While it is entertaining and educational to witness a re-enactment event, there is a lot more involved with this craft than meets the eye. There is tremendous dedication on the part of these "living historians"! The best historical films are brought to their successful completion with the participation of re-enactors, ... and that includes The Last of the Mohicans! Take a look and discover a path to the 18th century!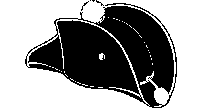 Remember to find the trail back!

We invite you, too, to visit our WWW Board, where LOTM devotees bare their souls. Feel free to start your own history related threads and add another color to the Board! Go To The: MOHICAN WWW BOARD!

Invariably, sites will move or disappear altogether. Though we periodically update this page, we need your help. Find a dead link? Please let us know!




The Coalition of Historical Trekkers
"We, the Coalition of Historical Trekkers, are living historians dedicated to the preservation and study of the pre-1860 frontier people in America.
We see ourselves as experimental archaeologists, involved in one or more eras of the historical time frame from 1600 to the year 1860."
Major George Bray's Company Of Rogers' Rangers ( ... a nationally known expert on the French & Indian War, Major Bray has created a web site to disseminate information regarding Rogers' Rangers. Find out more about re-enacting, or get answers to F & I War questions. Recently updated, the site now offers a Rangers Newsletter.)
The Northwest Colonial Reenactors Association ( ... Where friends connect with each other and with our country's colonial past.)
Third Battalion Pennsylvania Regiment of Foot "The Augusta Regiment," Burd's Company ( ... at the forks of the Susquehanna, in central Pennsylvania, stood Fort Augusta. This is the story of that garrison ... then ... and now!)
35th (Royal Sussex) Regiment of Foot ( ... a history of the Regiment made famous by The Last of the Mohicans ... The 35th!)
Rogers Rangers( ... Rogers Rangers Reenactment & Living History Group.)

French and Indian War 1754 - 1763 - protected by the American Battlefield Trust
Fort William Henry Museum ( ... a look at the real Fort William Henry.)
Old Fort Niagara ( ... just minutes from Niagara Falls, this historic fort represents more than 300 years of history. Among its structures is the oldest building in the Great Lakes region, the 1726 'French Castle'. One of the largest North American French & Indian War re-enactments is held here annually; the 1759 British siege. Tour this site.)
Lake Champlain Maritime Museum ( ... the Lake Champlain Maritime Museum is not focused JUST on the French and Indian War, but on the history of Lake Champlain and Champlain Valleys. They do have some watercraft representing the time period such as:
* Dugout Canoes
* Birchbark Canoes
* French & Indian War-period Bateau modeled after one found in Lake George
* French & Indian War era lean-to (campsite) with a dug-out canoe
Take a peek into the past!)
Lake George Bateaux Research Team ( ... view photos of a nearly perfectly intact 1758 radeau, discovered, in 1990, in the depths of Lake George. Fascinating!)
First Nations Histories ( ... an excellent compilation of American Indian nations. These comprehensive histories currently include more than 200 nations; Mohicans, Abenaki, Iroquois, Delaware, Huron, etc ... it's all there.)
Seven Years War ( ... primarily a site geared towards historical reproductions and re-enactors, the "Discriminating General" also has articles, great graphics, re-enactment listings, and more. Any French & Indian War buff should find this site interesting.)
Fort Loudoun ( ... the South weighs in on the French & Indian War!)
18th Century History ( ... a great links & resource site, not to mention the many articles & other pertinent news about ... yeah, the 18th Century!)
Old Fort Johnson ( ... a website for Old Fort Johnson, Sir William Johnson and the history of the Mohawk Valley. A National Historic Site!)
New York Independence Trail ( The New York State Independence Trail provides your roadmap for a self-guided tour of some of the most important sites of the French and Indian war and Revolutionary war — from authentically restored forts and historic battlefields to grand government buildings and period homes.)
Fort Klock Historic Restoration


THE BATTLE ON SNOWSHOES
30 minute documentary, filmed on location in the Champlain valley! Excellent presentation of Robert Rogers' debacle in March, 1758 against the French & Indian enemy. Features Mike Fitzgerald's [2001 Great Mohican Gathering participant] Company of Rangers, along with several other On the Trail contributors ... including commentary from George Bray [site historian and author of The Delicate Art of Scalping], reenactor "Pvt. Chauncey" [Mohicanland Musical Musings], and musical score by Tim Cordell [From the Ramparts].
ORDER DIRECT FROM MINDLAB!
Living History OnLine ( ... a living history magazine with a quality web site filled with interesting pages. Preview their magazine, read about upcoming events... Quite a lot of stuff there!)
On The Trail Magazine: Journal For Authentic Frontier Living ( ... a visit to On The Trails' web page is an experience in itself. Early American life, the magazine, an updated photo gallery ... take a look around.)
NWTA Courier ( ... colonial America on the Web. Many, many articles on just about anything you'd want to know about 18th century America. You WILL get lost here.)
Muzzleloader Magazine ( ... among other things you'll find back issues of Muzzleloader magazine and featured articles. Most are available for purchase.)
Smoke & Fire News (. .. excellent source of 18th Century garb & patterns. Also, includes comprehensive re-enactment schedules!)


Next in the History Series: F&I WAR SOURCES & REFERENCE CORNER

Looking for related books, videos & gifts? Visit MOHICAN PRESS TRADING POSTS ... Storefronts on the Frontier





Last Update: 11/21/2012