Re: Fire In the Gorge ...
[ Follow Ups ] [ Post Followup ] [ Mohican WWWboard ] [ FAQ ]
---
Posted by Rich on November 07, 2000 at 09:53:42:
In Reply to: Re: Fire In the Gorge ... posted by Jeri on November 07, 2000 at 06:40:54: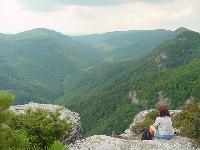 : They say that fire is nature's way of clearing away the 'old' to make way for the rebirth of the forest , but oh, what a loss! We've experienced many such fires in Northern Ontario and it just tears at your soul to see the devastation that a large scale fire leaves in it's wake. The loss of wildlife, the loss of the beautiful great trees that took hundreds of years to grow, not to mention the impact on the lives of those individuals whose homes are threatened by these fires!
: My thoughts and prayers are with everyone in the area.
Well, luckily for people, Linville Gorge is a designated Wilderness Area, so no homes are endangered ... "just" habitat, animals, and one of the most beautiful areas I've ever seen. I feel lucky to have experienced it so many times, sad ... very sad ... that it will never be the same again in our lifetime. For my own very selfish reasons, I am hopeful that maybe, just maybe ... seeing as how high it is, the few trees up there at the Top of the World will miraculously survive this ordeal ... I can't even imagine how horrible it must all be to gaze upon. I aim to find out as soon as I can.
It rained last night ... is raining at the moment ...
---