SgtMunro
Soldier of the King











USA





Bumppo's Patron since [at least]:
September 23 2002

Status: offline

Donating Member

Posted - May 23 2017 : 9:59:38 PM



---
Well, it has been a while since the Old Sarge has contributed social commentary on the sad state of Western Culture. I would like to dedicate this installment to the 'Gender Fluidity' crowd. The way I see it, there are only two (2) genders, to wit: male and female. If you listen to the ranting of Femi-Nazis, Cultural-Marxists, SJWs, Snowflakes, Commie-Cucks, etc., there are more than several-dozen so-called 'genders', and the little darlings even created corresponding gender-symbols for the assorted deviants...

...Without further adieu, I wish to add my own version of this non-binary gender chart:
Image Insert: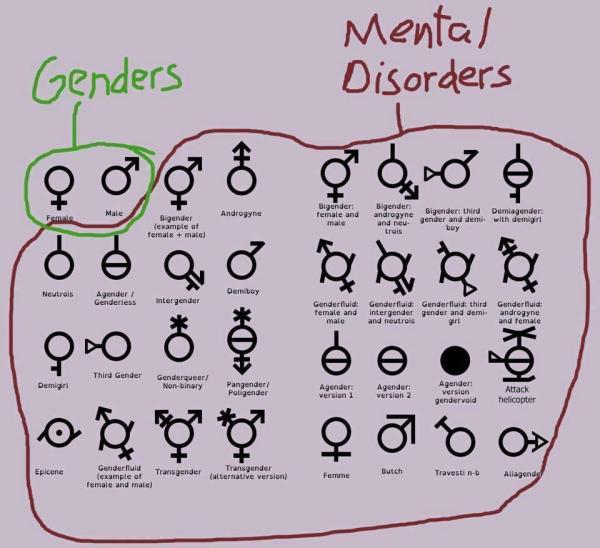 47.86 KB




YMH&OS,
The Sarge


---
Serjeant-Major Duncan Munro
Capt. Thos. Graham's Coy.
42nd Royal Highland Regiment of Foote
(The Black Sheep of the Black Watch)

"Nemo Me Impune Lacessit"
-Or-
"Recruit locally, fight globally."
report to moderator
Fitzhugh Williams
Mohicanland Statesman












Bumppo's Patron since [at least]:
July 17 2005

Status: offline

Posted - May 24 2017 : 08:04:08 AM



---
The way Anthropologists define it in other cultures (mostly primitive cultures) there are two sexes and two genders, but the two are not necessarily the same. And sex has nothing to do with gender. So a man, because of his age or health may be assigned a feminine gender and do some of the roles a woman normally does. However, this has nothing to do with sexuality and he is still a man in that sense. Complicated, but that the way it is done among the Gabra Camel Traders of Sub-Saharan Africa. If one of those camel traders took a look at our society, he would say that the stay-at-home dad who keeps the kids has assumed a feminine gender. I am not sure what he would say about some of the others. He would probably just go back to Sub-Saharan Africa.
---

"Les deux pieds contre la muraille et la tete sous le robinet"
report to moderator

Monadnock Guide
Council of Elders










USA





Bumppo's Patron since [at least]:
March 14 2005

Status: offline

Posted - May 24 2017 : 3:10:37 PM



---
LOL - After looking at that Sarge - I think I need a "safe space" ... Talk about sick.
---
you can keep "The Change"
report to moderator