MOST RECENT [UP-TO-THE-MINUTE] POSTS ON OUR MOHICAN BOARD!
JOIN THE DISCUSSIONS!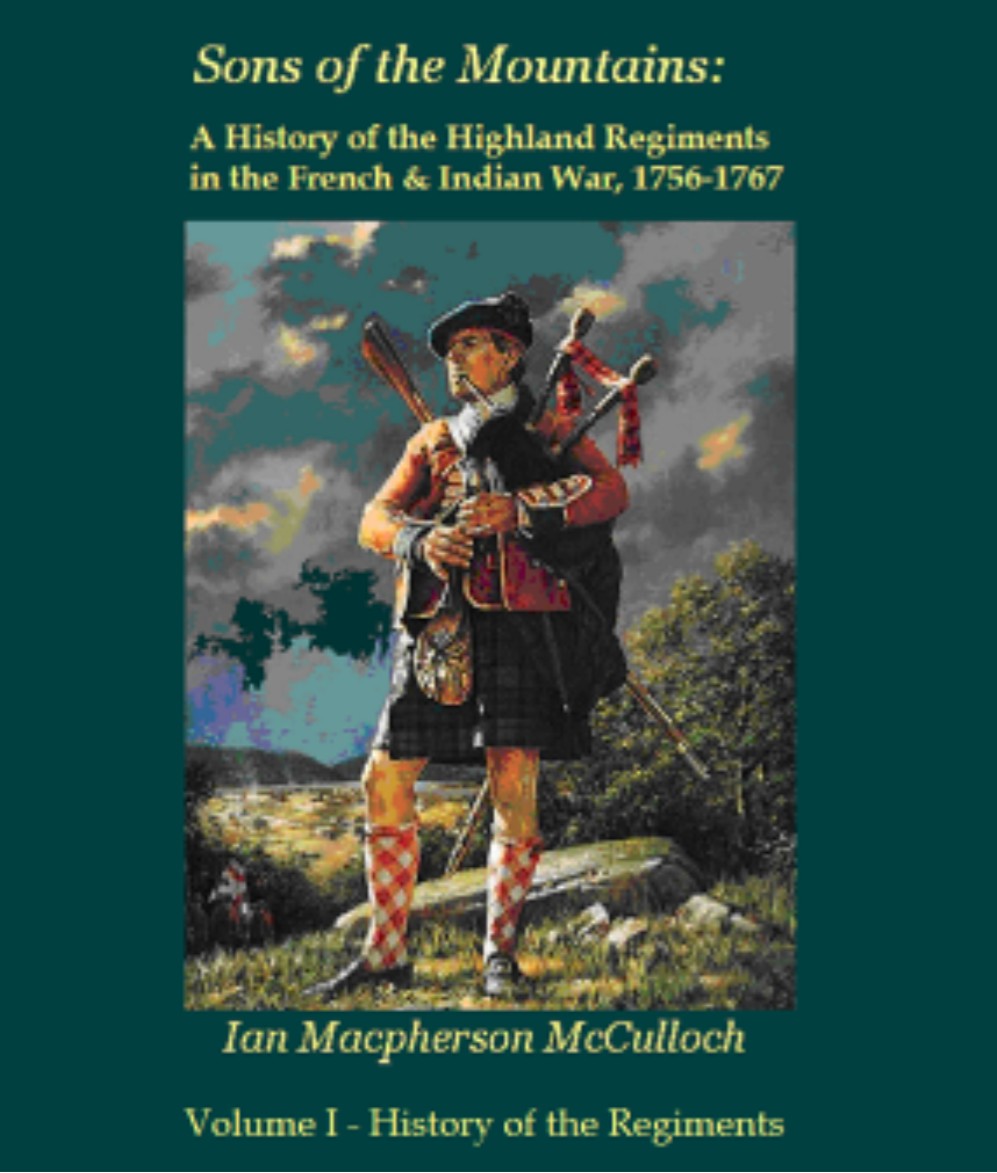 http://www.catskill.net/purple/sons.htm
Slainte bha
Ian Macpherson McCulloch
Lt Colonel, The Black Watch (RHR) of Canada
VOLUME ONE: 392 pages, illustrated, 8.5 x 11, $29.00, paper, 2006
VOLUME TWO: 208 pages, illustrated, 8.5 x 11, $19.00, paper, 2006

This section will be featuring recent photos of many of the historic sites spotlighted in The Last of the Mohicans. In addition, there are biographies of the true life characters, historical retellings of some of the events in the book/film, information on James Fenimore Cooper, and more. It, like some of the other pages in this site, will continue to grow over time. Any requests? Let us know.
For Posting Your Own Messages Regarding The French & Indian War, As It Relates To LOTM,
Use Our
[NOW FEATURES FREE CLASSIFIED ADS! SELL YOUR WARES!]


For Upcoming Film Releases, Re-Enactments, and Other Colonial Related Events, Check Our DISPATCHES FROM AROUND THE FRONTIER: NEWS & NOTES Page!
Know of an Event? Drop us an E-Mail with the particulars!

~~~~~~~
These pages are designed to give a brief introduction to the history behind LOTM and the French & Indian War in a readily available ... and easily digestible ... format ... the Internet. However, they are not meant as a substitute to the value of reading about this historical period personally. There are hundreds of fine books dealing with this subject. We encourage you to seek them out. History through fiction is a great window to a whole other world!
You can find extensive lists of F & I War books on many sites, including some we've linked to. Realizing, however, that many of you are seeking more information and have questions pertaining to this period, we've 'hired' a professional historian!
Major George Bray is an author, historian, and French & Indian War re-enactor. He has graciously taken the time to answer our endless questions! His help has been invaluable and very much appreciated. If you're seeking answers please e-mail him at:
george@frontiernet.net
He will be more than happy to help with research questions or steer you in the right direction. Interested in finding out more about re-enacting? He can help with that as well!
Many thanks to our official LOTM historian!
Note: Any errors, biases, or lies found within these histories are our own! Unless otherwise noted, all text pages on this site are authored by Mohican Press.
~~~~~~~
If History is not your interest, the last stop on this site is MOHICANLAND LINKS ... To Other Sites. Don't forget to come back! Or, visit MOHICAN PRESS TRADING POSTS ... Storefronts on the Frontier where you'll find books, videos, and gifts!
A computer war-gaming fanatic? See our EARLY AMERICAN HISTORICAL SIMULATIONS! Recreate Washington in Pennsylvania, Braddock's Campaign, the Siege of Quebec, and many, many more! See if you can alter history. Hours of fun!
~~~~~~~


Fort Necessity - Don Griffing Painting
THE MENU!
PHOTO GALLERY
JAMES FENIMORE COOPER
LE MARQUIS DE MONTCALM ... Adieu a France et Candiac
LE MARQUIS DE MONTCALM ... et le Canada
LE MARQUIS DE MONTCALM ... Lac du St. Sacrement
LE MARQUIS DE MONTCALM ... Carillon et Les Plaines d'Abraham
COLONEL MONRO ... The Scotsman
DANIEL WEBB ... A General Webb of Deceit?
FORT WILLIAM HENRY ... The Siege & Massacre
FORT WILLIAM HENRY ... Digging for Clues
THE MAHICAN CHANNEL ... Forts, Tales, and Legends
COLONIAL VOICES
EASTERN WOODLAND INDIANS
WAMPUM ... America's First Currency
THE DELICATE ART OF SCALPING
1750's TRADE GOODS
ISHI: A Real-Life Last Of The Mohicans
BRADDOCK'S DEFEAT
BATTLE OF BUSHY RUN
COLONIAL ERA PHOTOS ... Glimpses Into The Life & Times
THE FRENCH AND INDIAN WAR ... Mohican History Links
F&I WAR SOURCES & REFERENCE CORNER
FRENCH & INDIAN WAR HOT SPOT MAP

View the results of our
MOHICAN PRESS VISITOR POLLS

Last Update: 10/01/2012


Copyright © 1997 - 2014 by Mohican Press - ALL RIGHTS RESERVED - Use of material elsewhere - including text, images, and effects - without our expressed, written permission, constitutes copyright infringement! Personal use on your own home PC is permissible!