PHOTO GALLERY

BELOW ARE RECENT PHOTOS OF ACTUAL SITES IN NEW YORK STATE WHICH ARE DEPICTED OR REFERRED TO IN THE LAST OF THE MOHICANS.

Glens Falls, in the New York town of the same name, just south of Lake George, kindled Cooper's imagination. Though somewhat disappointed that there is a dam there today, our imaginations were allowed to run wild while contemplating what these Falls may have looked like in his day. This would be the scene of Under The Falls in the movie.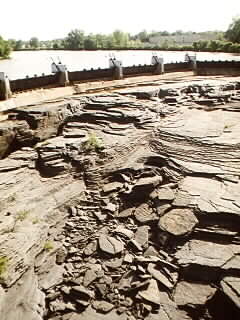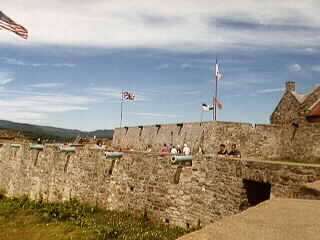 Montcalm launched his massive force of French, Indians & Canadians against the British at Fort William Henry from this impressive fortress. Guarding the portage between Lakes George & Champlain, Fort Ticonderoga evokes images of the 18th century. The pristine setting much resembles what was when the French built this place they called Fort Carillon.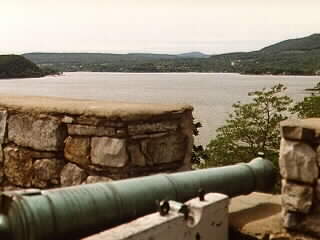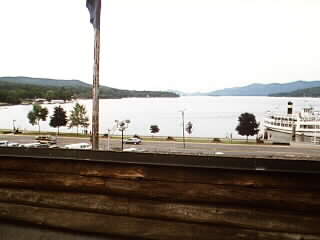 Lake George seen from the north wall of Fort William Henry. The main French force came down from Fort Carillon via the lake. A smaller force of over 3,000 made their way along the west (left) shore, lighting signal fires to aid in guiding the fleet. Montcalm paraded his army across this portion of the lake, in full view of the Fort - but safely out of cannon range - and landed just behind the small peninsula on the left of this photo, where Indian allies launched an assault against some unsuspecting English boats scouting the lake. From there, he began his series of entrenchments along the west shore to assault the Fort at its NW bastion (below left).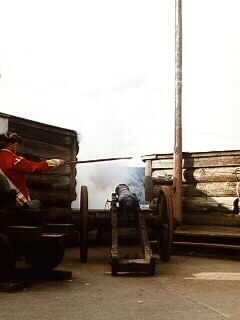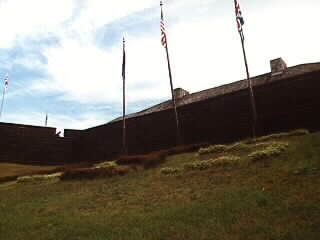 General Webb can burn in hell. We'll go back and dig our graves behind the ramparts!
The north wall (above right).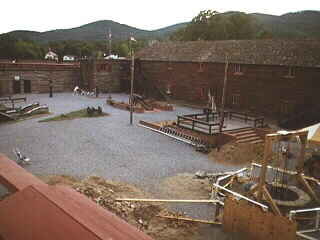 The interior of Fort William Henry (above). Archaeological excavations were being done on the site, thus the clutter.

A more tranquil view of Lake George, midway between the two forts (looking south towards Fort William Henry).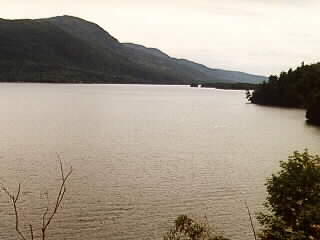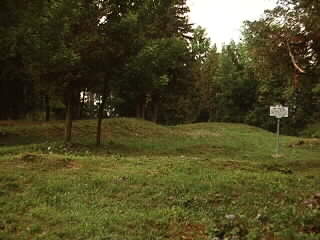 The actual site of the Massacre Valley scene. Due to the space limitations of Fort William Henry, most of the British force was actually occupying an entrenched camp less than a half mile east of the Fort. This is where the so-called "massacre" occurred.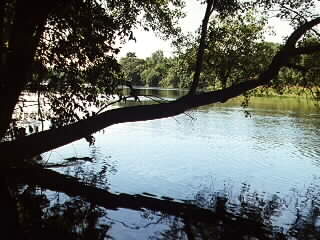 The Hudson River (location of Canoes in the film) adjacent to the site of Fort Edward, where General Webb was stationed during the siege of Fort William Henry.

MORE HISTORY? TRY:
LE MARQUIS DE MONTCALM ... Adieu a France et Candiac
COLONEL MONRO ... The Scotsman
DANIEL WEBB ... A General Webb of Deceit?
FORT WILLIAM HENRY ... The Siege & Massacre
FORT WILLIAM HENRY ... Digging for Clues
THE MAHICAN CHANNEL ... Forts, Tales, and Legends
THE MOHICANS ... Children of the Delaware
THE HURONS ... Allied To The French
WAMPUM ... America's First Currency
ISHI: A Real-Life Last Of The Mohicans
COLONIAL ERA PHOTOS ... Glimpses Into The Life & Times
THE FRENCH AND INDIAN WAR ... Mohican History Links
F&I WAR SOURCES & REFERENCE CORNER
FRENCH & INDIAN WAR HOT SPOT MAP
Looking for related books? Go to the MOHICAN PRESS BOOK STORE