The Cliffs
(refer to pages 42-46 & 49 in On the Trail of the Last of the Mohicans)
Chimney Rock Park, Hickory Nut Gorge, Rutherford County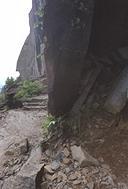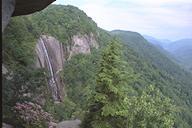 It was Easter Sunday, 1993 and I was unknowingly beginning what would soon become a nearly all summer long quest for the sites used as film locations in The Last of the Mohicans. Even before beginning, I was acutely aware that Chimney Rock Park was one of them. Upon viewing the film, I was able to tell which portion of the movie was actually shot there. Fittingly then, CRP was the first place I set out for - simply because it was the easiest.
To my surprise, and delight, Park personnel handed me a little two-sided brochure - and still do to this day to all visitors! - which pointed out the key shooting locales on the Park property on one side and a few nifty photos of Daniel Day-Lewis & Madeleine Stowe, on-set, on the other. Perhaps, right then and there, the idea was subconsciously planted in my brain to enlarge that to create a full color photographic guide booklet to all the sites. I'll never know for sure, but upon seeking out one or two other locations early on during that month of April, it had become apparent that such a project could, and should, be undertaken. Folks were indeed out there searching for the film's locations, and even with Park brochure in hand, most didn't have a clue!
~~~~~~~
This site is freely accessible, a privately owned public park, and includes all the amenities associated with such - rest rooms, souvenirs, food, and more. Allow 2 hours for a full exploration of the upper trails. Admission fee is charged.
UPDATE! STATE OF NC PURCHASES THE PARK!
~~~~~~~
or