THE WORLD OF SOLDIER #2 ... Conclusion


THE WORLD OF SOLDIER #2 || THE WORLD OF SOLDIER #2 ... Part 2 || THE WORLD OF SOLDIER #2 ... Part 3 || THE WORLD OF SOLDIER #2 ... Part 4 || SOLDIER #2 PHOTO GALLERY

... continued!
MP: OK, so what was the most stressful part of the entire process?
EH: There were a lot of bad days ... [long pause] I guess, mentally, it was the canoe scenes because of all the tension that was going on. Physically, it was the boot camp. All in all ... the early mornings, the late nights. Through the whole process the only time I ever really got sleep was during the weekend. And then the problems that I was having at home ... all of it together. I can't really look at the movie, even today, and get involved in the storyline. It's hard. The first time I watched it I was, "Who's who? Where's where?" I don't see the fascination in the love scene ... I can't see it like everyone else. I wish I could, because it is a very good movie. The one thing that hits me more than anything is to see the background and to know that it's my backyard. It's my home. I'm very proud.
Did it win any Academy Awards?
MP: It was nominated for, and won, Best Sound.
EH: I mean for the scenery.
MP: No!
EH: Not EVEN nominated?
MP: Only Best Sound. That's it!
EH: Well, they've got a really good soundtrack.
MP: No, not even for the soundtrack! Not the musical score, just the quality of the sound ... guns popping, tomahawks slamming into flesh, stuff like that.
EH: Oh ... I actually auditioned for some of the music for the movie. I was playing dulcimer. The guy that was with me in the band, at the time, was playing acoustic guitar. We had a few things that we kind of played ... We were in a rush and played it very sorry. Just gave him [Mann] the tape and said, "Can you listen to it?" And, he DID listen to it. The production assistant told me that he was very meticulous about things like that, and he will, and he did, listen to it. Thought it was very good, but a little too modern for what he had in mind ...
The scenery, especially seeing it on the Board, how people talk about the scenery and everything ... it really gives you a feeling of pride. And, to stand back and look at how much urbanization's going on really hurts me. I mean, I grew up around here, I seen it when it was nothing. I can remember Morganton had nothing more than one Hardees [fast-food burger joint]. When we got our first Roses [discount department store], we thought we were BIG time! Our first 4-lane highway ... it hurts to see it grow, and start to lose this beauty. But to know that we still have sites like the Linville Gorge area - and hope that it STAYS that way - though, I found out from the State that 105, which goes up the side of Linville Gorge, is to be paved within the next year. So, here it comes. A lot of outsiders, and when I say "outsiders" I mean outside of North Carolina, are coming in with beaucoups of money, buying up all this land that's been in families for a long time. They're paying out all kinds of money to buy up this land to subdivide it, and sell it to more outsiders ... You get a lot of the rich Floridians. All the Floridians are moving to North Carolina. All the retirees from North Carolina are moving to Florida. Don't understand it, but, it's happening. I hate to see the land go. It really hurts me. The movie, in general ... there's so many bad points, for me in my life, that happened along that time, BECAUSE of the movie, because of my time there. I missed my son's second year of growing up. Due to my daughter being the same age now as he was then, I'm THERE for her. I'm trying to put absolutely every bit of attention into her now, because of what I missed out on ... because I was not there.
MP: So, you have bittersweet memories?
EH: Yeah. I mean, the bonding, the family connections, the people that I met, could not be replaced.
MP: Would you do it over again?
EH: That's a very tough question ... Having the three kids that I've got now? No way.
MP: Well, let's say the same situation came up, but you know what you know now?
EH: Yeah, knowing what I know now, I could do it, because I know what the signs are to watch for. Basically, I lost my wife at that time, which continued on till now. We still haven't regained what we had before the movie started. And it was because of what she thought was happening while I was out in the movie, and seeing her ... I mean, I would get home, she's in bed; I would leave, she's STILL in the bed. I would leave, and get there, while she was asleep. Even though I came home thinking I was being the good husband that I was ... I don't know, she needed someone to be there, to hang on to ... I was not there for her. I feel that I lost my son at that point, though I have since regained that. It hurts a lot, but, like I say, knowing what I know now, I would STILL do it again. I would do it differently. I was making enough money, at that time, that my wife would not have had to work. I would have dragged her with me. Her and the kid both. We would've had us a little trailer, or something. We'd pull it around, a camper, or something, and we would have lived on the sites. Or, they gave us motel rooms. They could have easily given me and my family a motel room. No problem, whatsoever. They had the money, they would have done it. I'm pretty sure of it. I lost a lot of family connections there at that point. Didn't see my folks a lot. Only on the weekends, and I was having to get ALL the housework done in two days. I was never getting any rest. So, when they were doing the filming at the Indian Village for three weeks, I didn't work. [unlike Soldier #1, Curtis Gaston, who remained with the production during this time doing stand-in and other work] I made, basically, my financial quota for that year in five months. I didn't take another job. I got more into construction, which led to my own business later. So, it helped for that. Today, I have nothing to show for it, other than just pictures and memories. But, I know I'm not going to die when I die ... the pictures will go on. At least I know I am somebody ... kinda, sorta, maybe. [laughs] At least on the Board, anyway! I wish that I could watch the movie through your eyes.
We chatted for a bit longer, but that, in essence, is the interview. Eric has many hand gestures and sound effects at his disposal while he tells these tales ... things that were IMPOSSIBLE to transcribe. Minor editing was necessary at times because of this. We tried, for the most part, to keep the flavor of Eric's regional dialect intact. We thank Eric heartily, for being so free with his memories and time. It was fun.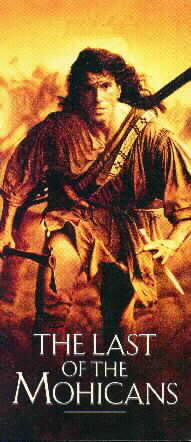 The back of the ticket to the LA premiere sent to Eric as the movie was being released.

Soldier #2 Update!
Eric Hurley will be appearing as a featured extra and trainer in the feature film, The Patriot, starring Mel Gibson. The film, to be shot in South Carolina in the fall of '99, is loosely about Revolutionary War partisan leader, Francis Marion, the Swamp Fox. Watch for it!
NOTE: THOUGH HE DID END UP WORKING, IN THE TRAINING ASPECTS, ON THIS FILM, SOLDIER #2 DOES NOT APPEAR IN The Patriot!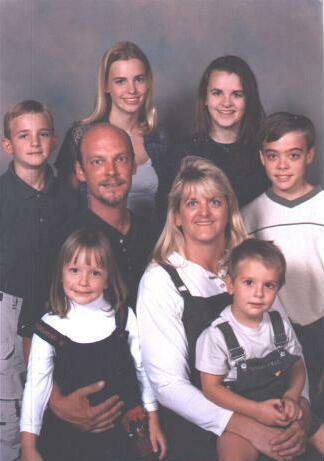 The Hurleys - Eric, Sharon & Family - Christmas, 2001

Visit THE EYES OF SOLDIER #1 || ON THE TRAIL WITH ... MARK A. BAKER || UNDER THE MAKE-UP TENT || ERIC SCHWEIG: AN INTERVIEW || MAURICE ROEVES: A HEART-TO-HEART WITH COL. MUNRO || CHAT WITH CHINGACHGOOK: THE RUSSELL MEANS INTERVIEW || MIKE PHILLIPS: THE SACHEM SPEAKS || MEETING MAGUA: A WES STUDI INTERVIEW
More Musings? MOHICAN MUSINGS INDEX