Rescue
(refer to pages 38, 39, 51 & 52 in On the Trail of the Last of the Mohicans)
Poplar Boat Launch, Pisgah National Forest (Toecane District), Mitchell County and High Falls, Dupont State Forest, Transylvania County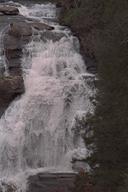 Talk about off the beaten path ... I had no idea. The Linville River? Maybe. The French Broad? Maybe. But, the Nolichucky??? Who'd a-thunk! Without the assistance of the fine folks at the now defunct Carolina Wilderness outfit, it might as well as been the Yellowstone!
"Past the dumpster, right at the crossroad ..." - the directions sound like you are heading off into deep Appalachia. This place is WAY apart from the other locations and requires a separate trip, for sure. Why?
Well, in the beginning, Michael Mann wanted a whitewater chase. One of the most spectacular gorges in this part of the country is that formed by the Nolichucky in North Carolina and Tennessee. And so it was ... sort of. Despite the scripted whitewater, Mann eventually opted for "over the falls" ...the Linville River ... Lake James ... Hooker & Linville Falls. Before that, however, footage was shot on the Nolichucky River - evidently without the cast & extras, as neither of our Soldier correspondents has any recollection of such a shoot - test footage, it must be assumed. So, the plans were for extensive shooting in this area, justifying using this remote location.
In the end, all that appears, is the segment of Hawkeye & Uncas pulling a tumbling Chingachgook from the rapids. As the strains of Clannad's I Will Find You rise above the scene, the three Mohicans are later seen running, in slow motion, up the slope to the left of Dupont's High Falls [see photo above].
~~~~~~~
Various outfitters offer whitewater raft trips through this area of the Nolichucky River Gorge. The National Forest Service owns the Poplar boat launch. There is an outhouse in the parking area. High Falls is open to the public - and best viewed from the pavilion nearby - as part of the newly expanded Dupont State Forest.
~~~~~~~
or