Under the Falls
(refer to pages 36, 37, 48 & 49 in On the Trail of the Last of the Mohicans)
The Upper & Lower Falls at Linville Falls, Blue Ridge Parkway and Bridal Veil Falls, Dupont State Forest .... Burke & Transylvania Counties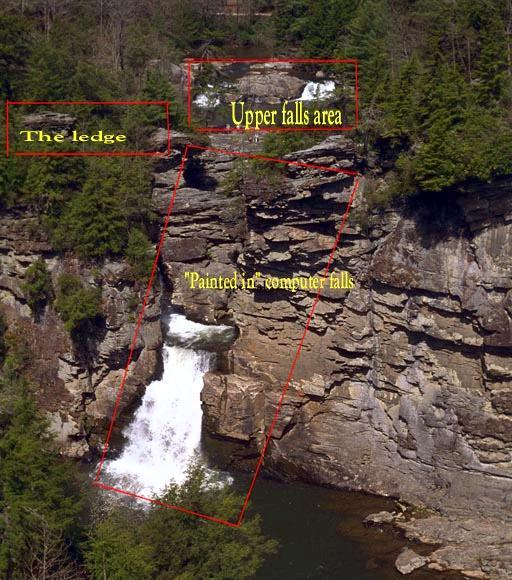 ABOVE: We see our heroes walk along "The Ledge" as they appear to be on the verge of entering the cave behind the huge waterfall which is, in reality a computer enhanced composite (and more) of the Upper & Lower falls at Linville!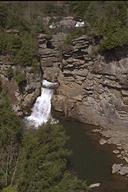 At our annual Great Mohican Gatherings, it has become a staple for me to describe the filming of this scene using the photos on display at the Linville Falls Visitor Center. Many people have an expression of sheer amazement as the process unfolds ... they, like me back in 1993, are seriously surprised at what they learn ...
Ok, now this was tough. Where in the world were these huge, thunderous waterfalls? Not in any of the six filming counties, I can tell you that. It took me some time to figure that out, and I wasn't really sure till a locations scout tipped me off, but, in reality, I eventually discovered that these falls existed on celluloid only. A bit of a letdown, I suppose, but I was intrigued with the ingenuity of the filmmakers! Using both the Upper & Lower Linville Falls as its foundation, these falls are the product of computer imagery.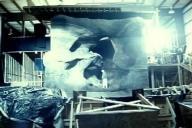 So, we go from Linville to Bridal Veil Falls (in Dupont State Forest), where we see the cast, and later Magua & his Hurons, walk behind the falls [and you can, too!], and finally end up in an empty Asheville warehouse where recycled river water and an interior set (the one & only in the film) form the backdrop for the rest of this scene.
This entire hodge-podge of a sequence was learned of not on the scene, as was just about everything else, but by word of mouth ... as mentioned, from a locations scout, and through our Soldier friends' tantalizing tales! The Under the Falls scene was the last sequence shot ... in October, 1991.
~~~~~~~
You can visit both Linville & Bridal Veil falls ... both are free and accessible.
~~~~~~~
or