Mohicans Memorabilia
... 4th Great Mohican Gathering

We had such a great time and enjoyed meeting such a great group of diverse people with some fundamental feelings, ideals etc that drew us all together ... A year ago when I found this site, I kept bringing it up not only for the words and information, but for the music. After the Great Mohican Gathering #4 which I am so glad I was a part of, I can hardly turn this darn computer off. The music means even more ... Rita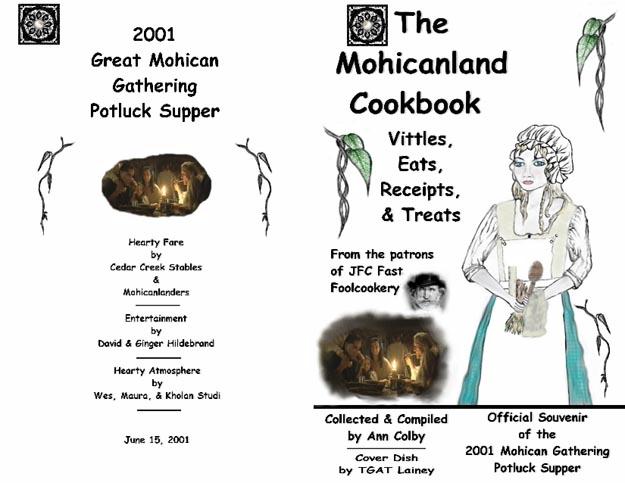 Another success, another one to explode my already full heart for the way I feel about everybody. Getting Wes and his family there was such an orchestration, and you pulled it off FLAWLESSLY! ... Diana S.

Thanks for all your hard work. You did a great job! I really enjoyed my time there and next? time I hope I'm able to be more fully involved ... Take some time off from this, but remember every great idea has a leader with a vision ... Tom
2001 Great Mohican Gathering Attendees List - * DENOTES NUMBER OF GATHERINGS ATTENDED!

MARY BJORK ****
TERI GOLDEN **
ROB KRUYS **
CECELIA SCOTT ***
CHRIS BOONE **
ADELE GRANDON **
JOAN LAMBERT *
MIKE SLEASE *
BERTHA BOUCHER **
ROS HADDON ***
JOHN LAMBERT *
BRYONY SMITH *
MARTHA BOUCHER **
ANDREW HAGENBUCH *
JAYNE LANGAN **
BELINDA STARNES *
KATHIE BRANSON ****
DAVE HAGENBUCH *
BILL MACLEOD **
JOE STARNES *
KATHLEEN BRODERICK **
MARK HAGENBUCH *
ILSE MANN ****
DIANA STRICKLAND ***
CAROL BUCKNER *
CHERIE HARBISON *
STEPHANIE MCCULLOCH **
KHOLAN STUDI *
DANNY BUCKNER *
MARC HARBISON *
EMILY MCGOWAN ***
MAURA STUDI *
DAR BURNS ***
JOHN HARKINS ****
KEVIN MCGOWAN ***
WES STUDI *
DAN CARROLL *
DAVID HILDEBRAND *
MARCIA MEARA ****
JO TISHLER ****
RITA CARROLL *
GINGER HILDEBRAND *
SARAH MELCHER **
KATHY WHITNEY *
ANN COLBY **
DEBBIE HO **
CASSIDY MENARD *
MARK WHITNEY **
TOM COLE *
SUSAN HOUCK ****
CLABERT MENARD **
NATHAN WHITNEY **
GLENN DANIEL ***
DAN HUFFMAN **
CYNDIE MENARD *
CLAUDE WILLIAMS *
LYNN DANIEL ***
YOLANDA HUFFMAN **
JACK MINCHEY **
THERESA WILLIAMS *
DONNA DESLAURIERS ****
ERIC HURLEY ****
ELLEN PARKER *
KAREN WILLIAMSON **
ARIANA FARFAN **
SHARON HURLEY ****
ALMA PARRISH ***
DIANNE WISHAM *
MELODY FARFAN **
SKIP JOHNSON *
PENNY PARRISH ***
ADAM ZENTNER *
ELAINE FEDERICI ****
DALE ANN JOSLIN *
KATE PENMAN ***
MARK ZENTNER ***
RICH FEDERICI ****
JOJO KEEN *
PATRICK QUINN *
SAMANTHA ZENTNER *
MIKE FITZGERALD *
WOODY KEEN *
PHIL RAGLAND *
SARAH ZENTNER ***
MARY GARLAND **
CHRISTINA KNAUSS *
STEVEN RAY *
JILL GIBBS *
KAREN KOHLES ****
BILL ROOKS **
STAN GOLDEN **
VINCENT KONG **
JO SAMPSON **
LAST MINUTE UNFORTUNATES WHO WERE FORCED TO CANCEL :(
TOM BRODERICK, JOHN, KELLI & LINDA EVANS, JENIFER HUEY, WILLIAM JOHNSON
"Thank you" just doesn't seem adequate enough to express my feelings regarding one of the most wonderful experiences of my life! It was so great to meet all of you (since I've heard SO much about you since last June). I finally understand why Nathan and Mark couldn't stop talking about their time with you all.
What started out as something we wanted to do for Nathan has ended up being something much more. The warmth and feeling of family is just as they said it would be, and for someone who is rather quiet (like me), I still felt welcomed. Thank you all ... for all you've done to make so many people feel connected, I'm amazed ... Kathy W.

I am STILL overwhelmed by all the emotions, sights, feelings, memories, funny happenings and comments, and of course our visit from Wes Studi. Everything is all jumbled up in my head, and I cannot for the life of me concentrate or get back to work, or sort them out with any great coherence. It was just a lovely time. Very special. You all are such a great group and a wonderful Mohicanland family ... Bill R.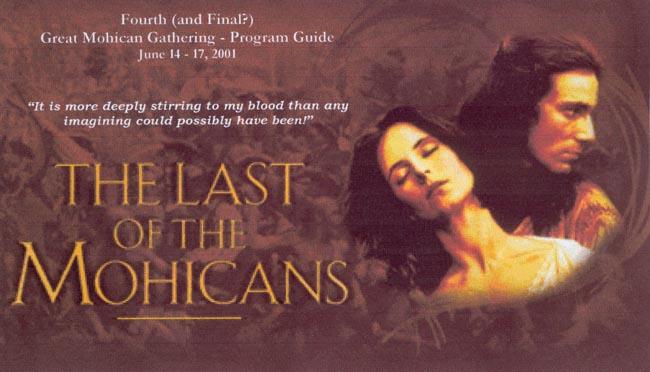 I'm struggling with all that took place those four days trying to sort them out. It's like I've just had Thanksgiving dinner I and I just need to let it all digest for a little while. I will say that Claude and I had one of the most memorable times of our lives ... Theresa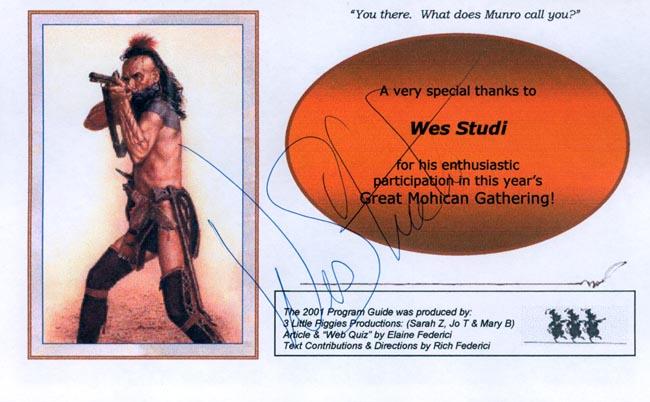 To say our expectations where exceeded would be the understatement of the
year ... Your efforts have provided us memories we'll never forget... and for that we
are both greatly indebted to you ... It's rare to see the effort, devotion, and
selflessness you have displayed ... Marc & Cherie

2001 Gathering Gallery ... Part II