The David Wright Prints
... one of America's leading painters of American historical subjects.
H. DAVID WRIGHT WAS AN EXTRA IN "THE LAST OF THE MOHICANS," AND DID THE COVER ART FOR MARK A. BAKER'S, "SONS OF A TRACKLESS FOREST". SEE BIO BELOW!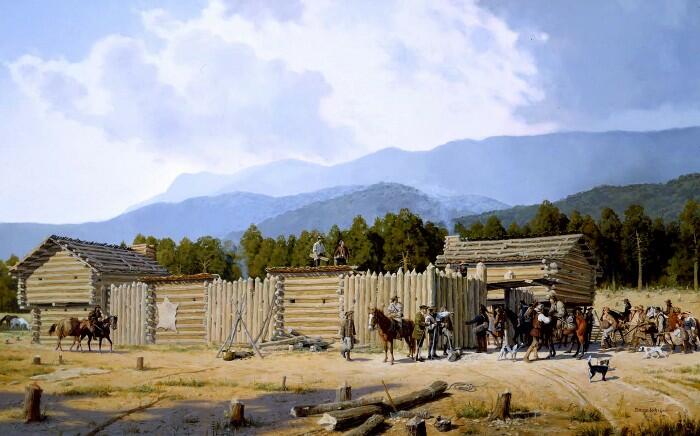 Martin's Station
For more work from David - and other fine Southern artists - click on this link: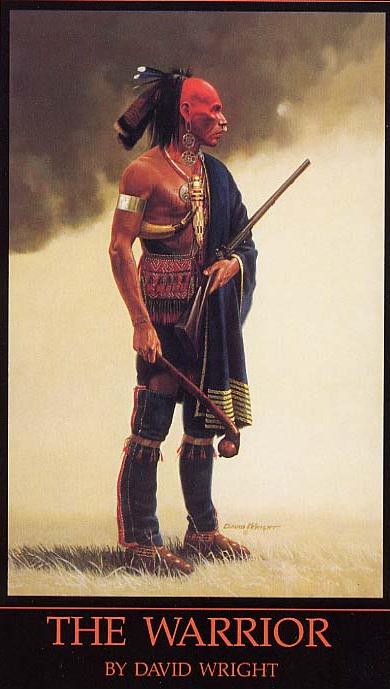 Limited Edition, Signed & Numbered Print - 25"x16" - $125
I did the painting after I came back from working on Mohicans. One morning, after working all night, Wes modeled for me and I shot a bunch of photos of him. From those, I did the painting ... Since the Mohican days I've done a number of paintings of Wes because I feel that he has the ultimate Indian look. Gray Stone has printed two of the paintings; The Warrior and The Huron ... David Wright, 11/12/00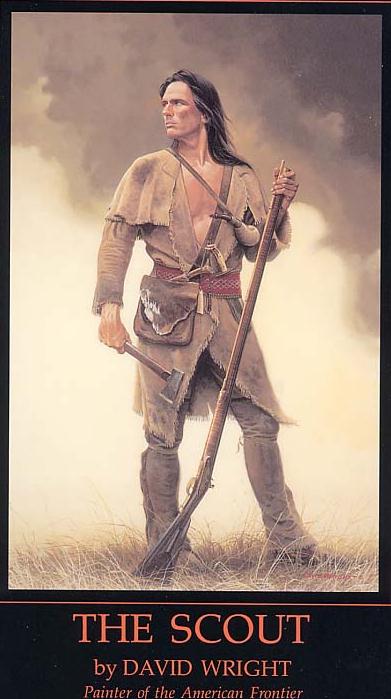 Limited Edition, Signed & Numbered Print - 25"x16" - $125
Later I did a companion piece titled The Scout. Since I didn't get to talk with Daniel Day-Lewis on the set, I didn't try to make the painting look like him but rather used a friend here, Mike Copeland, for the model ... David Wright, 11/12/00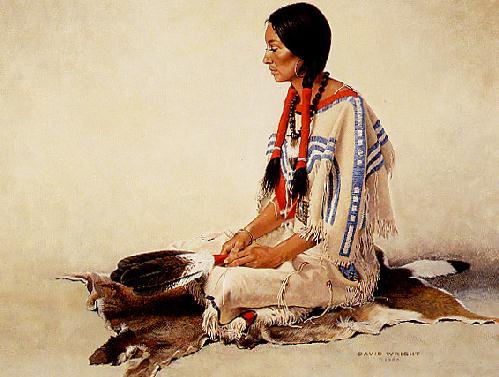 WAITING FOR HER WARRIOR
Limited Edition, Signed & Numbered Print - 26 1/2" x 21 1/2" - $150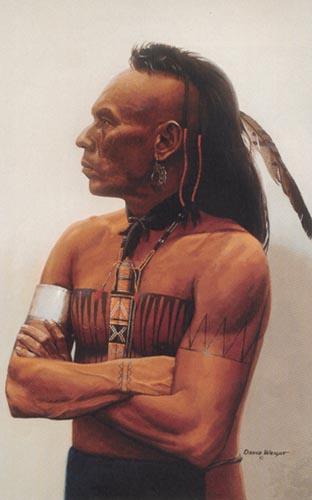 THE HURON
Limited Edition, Signed & Numbered Print - 18"x12" - $95
To Order:
Send check or money order, payable to
H. David Wright
to:
H. David Wright
1007 Lakewood Drive
Gallatin, TN 37066
All prints will be personalized upon request!
Be sure to include $15, for shipping & handling, on all orders of from one to ten prints. Specify clearly which print you are ordering, quantity desired, and, of course, your name & mailing address!

Color brochure available upon request!

MANY PRINTS ALSO AVAILABLE THROUGH GRAY STONE PRESS: 1-800-251-2664 - ASK FOR BETTY
Two more (NOT available for sale):



ABOUT THE ARTIST
Born in Rosine, Kentucky in 1942 and raised in Tennessee, David Wright has always had a close association with the two major subjects of his work; the rural landscape and American History.

Professionally trained as an artist with study in Europe, Wright entered the competitive field of commercial art as an illustrator and designer in 1962. His career was interrupted in in 1964 by two years of service in the U.S. Army, one of which was spent in Vietnam as an advisor and a helicopter door gunner. In 1973 he joined newly formed Gray Stone Press and five years later he phased out his commercial ventures and devoted his time completely to fine art landscape painting.

"Having grown up in the country, I've always hunted and fished and I've always been interested in the land. I feel that this and my parents' encouragement to study American history has greatly contributed to my interest in art and the history of our country," comments Wright.

In 1976 the interest in Wright's historical subjects of the American frontier began to garner national attention. Today, most all his paintings and limited edition prints by Gray Stone Press are of historical subject matter, primarily the American frontier period and the Civil War.

He continues, "The history of our country has always fascinated me. I paint the people, rather than the events, who made history ... the common folk - those I feel are the heroes. The explorers, the hunters, trappers, settlers, the soldiers, and the Indians are the subjects of my paintings."

Many of Wright's limited editions have sold out and demand premium prices on the secondary market. Such popular prints as Wind River Man, Sacajawea, and Golden Mountain Man command many times the original issue price.

Wright is listed in Who's Who In American Art and was commissioned to do six paintings for the bicentennial edition Nashville: The Face of Two Centuries during the Nashville Century III Celebration. He also created the poster for the Fine Arts Pavilion for the 1982 World's Fair held in Knoxville, Tennessee. His subject for the poster - an 18th century frontiersman. His paintings have been used as covers for numbers of magazines and books and his research has enabled him to write many historical articles for various publications as well as contributing chapters in books written about the American Fur Trade. His paintings of Indian women are also reproduced as collector plates, figurines, and dolls by the Hamilton Group of Jacksonville, Florida.

H. David Wright currently resides in Gallatin, Tennessee.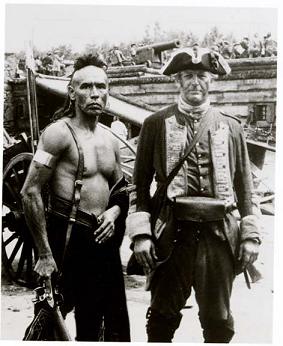 The artist with "Magua" on the set of "The Last of the Mohicans"
Available for Purchase! Song of the Long Hunter - Jim Bowman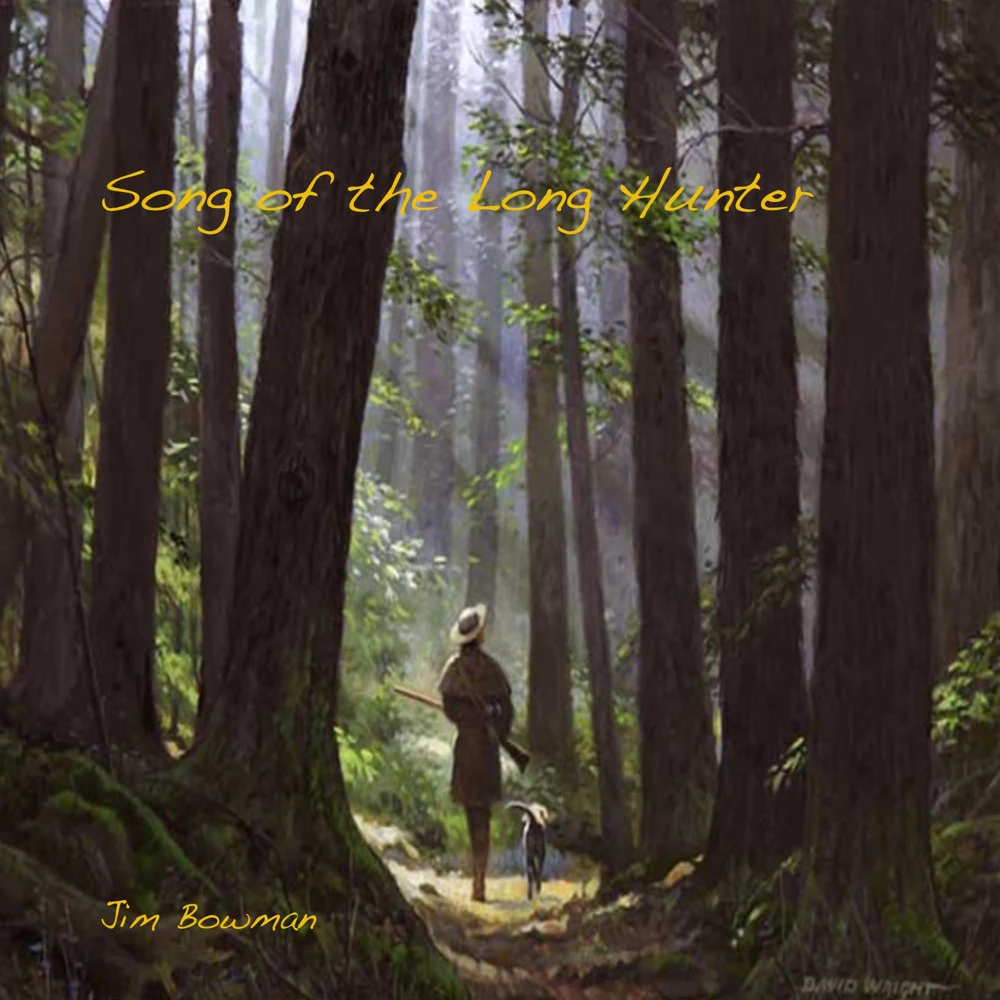 Cover Art by H. David Wright