SOLDIER #2 PHOTO GALLERY


Soldier #2, like his counterpart, #1, played a fairly prominent role in The Last Of The Mohicans. We are pleased to be able to present to you this collection of photos. To read the tale of this soldier, go to THE WORLD OF SOLDIER #2.

All photos on The World of Soldier #2 Page, unless otherwise noted, are courtesy of Eric A. Hurley.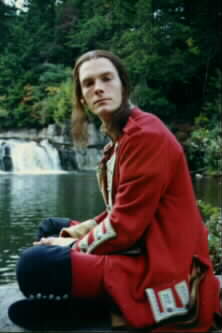 Eric A. Hurley as Soldier #2.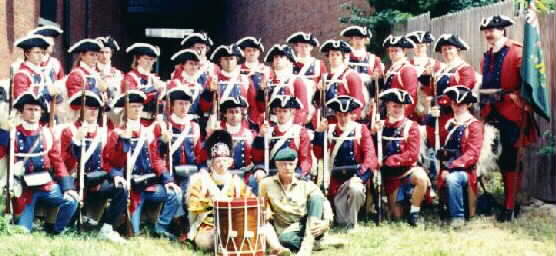 The 35th, dressed as the 60th Regiment, for the scenes at Albany, on the George Road, and the Ambush.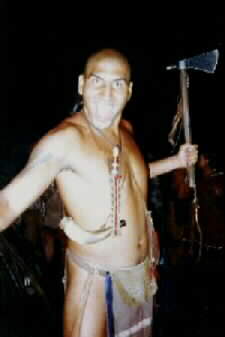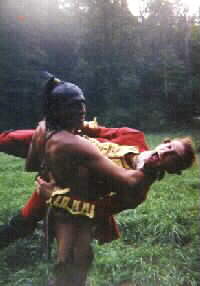 ABOVE Left: Leon Goodstriker, a Blackfoot Indian from Alberta, was listed in the credits as a stuntman. In the film, perhaps most noticeably, he gets to pull Madeleine Stowe around by the neck! - ABOVE Right: The "men of the regiment" were usually paired with an Indian warrior to fight it out throughout the movie. Leon became Eric's fighting partner, and eventually his good friend. In this way, the partners were able to rehearse all their moves of battle!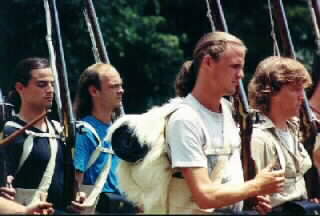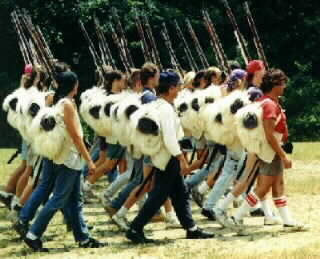 ABOVE Top: The credited members of the Cadre. From left to right, Curtis Gaston (Soldier #1), Eric Hurley (Soldier #2), Thomas Cummings (Colonial #2), and Guy Musgrove (stunts) - ABOVE Bottom: After 4 weeks of rigorous training, the 35th was in step.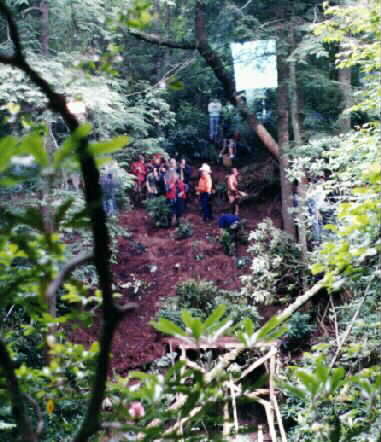 This shot, taken at the site of the Ambush, shows the platform - at bottom - that stunt men would fall on. Closed cardboard boxes acted as cushioning. There was an 18 foot drop from Trail to Platform, another 12 feet from Platform to Stream. On occasion, the boxes would slide off the platform, causing the stunt man to fall into the water. The man in blue here is attempting to climb back up the bank!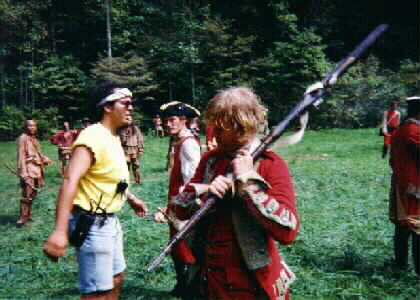 Apparently, there was some ill will between the production "weenies" and the Cadre & other extras. Here, at Massacre Valley, we see the makings of an argument.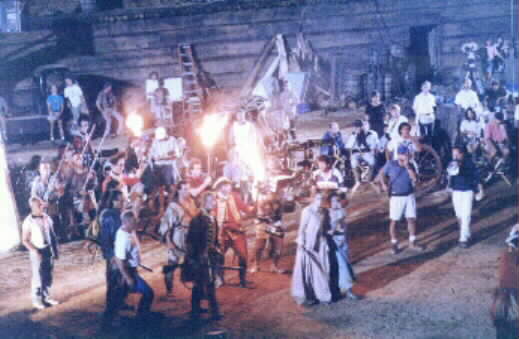 The cast as they arrive at Fort William Henry.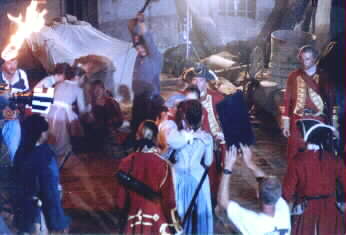 "Alice! Cora! Why are you here?" After 30 or more takes, pretty much everyone was wondering exactly that!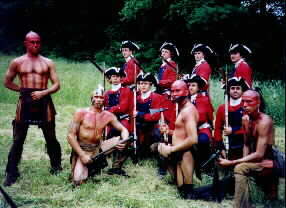 During a break of the filming of The Ambush, it appears the Hurons & Soldiers have found peace!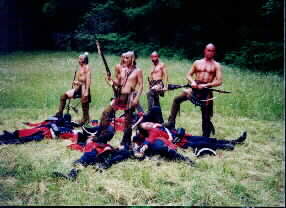 Uh-oh! Deception!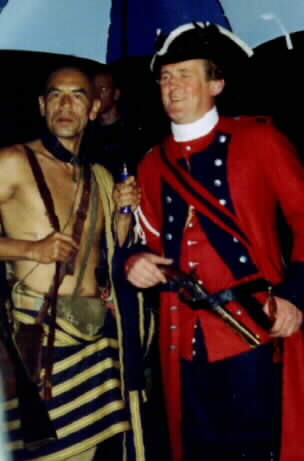 Wes Studi (Magua) & Colm Meany (Sgt. Ambrose)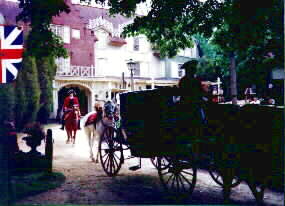 The coach arrives at Webb's HQ's in Albany.

Duncan shortly before disaster.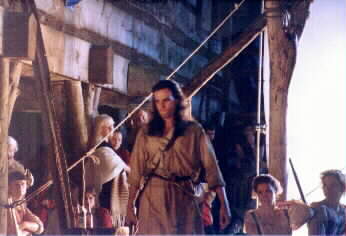 Looks like DDL is getting ready to pucker-up for The Kiss!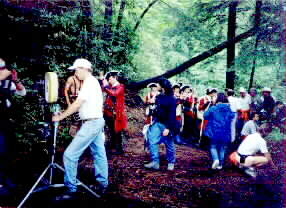 Setting up for a shot during the filming at Linville!

THE FORT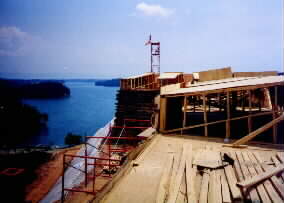 Building the ramparts.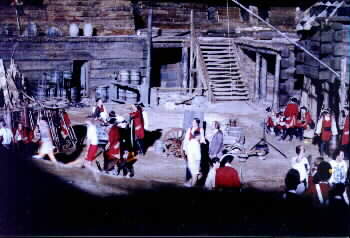 On the set of Fort William Henry.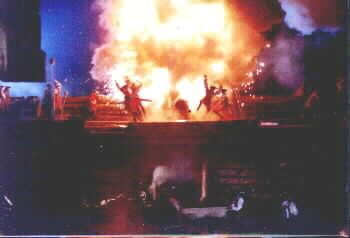 All that work, for this ...!!

To read about THE WORLD OF SOLDIER #2, move on!
Or, Look At The Filming Through THE EYES OF SOLDIER #1.
Be Sure To Visit ERIC'S LOTM PAGE