WALKING THE (RIVER) WALK

... A Pictorial Of LOTM'S Beautiful Falls ...

At the time of our preparing the guide book, On The Trail Of The Last Of The Mohicans, the four waterfalls described on this page resided on private property, that of the DuPont Corporation in Transylvania County, North Carolina. One of the terms I had to agree to in order to gain access to the property to photograph was that I would not disclose the location of these stunning waterfalls in the book. I didn't. A couple of years ago, the company property was sold to Sterling Diagnostic Imaging, and then, about a year ago, one of the falls, Hooker Mills, was transferred to the State of North Carolina Forest Service as a part of the newly created DuPont State Forest. As part of THE GREAT MOHICAN GATHERING OF 1999, Sterling has opened their gates to accommodate a group of LOTM fans, from all around the globe, to view these spectacular sites.
See Updates On The Back & Forth Ownership Situation At: DISPATCHES FROM AROUND THE FRONTIER: NEWS & NOTES
The four waterfalls of this feature can be found along a 2-mile stretch of the Little River, which meanders its course along the Transylvania/Henderson County line. Key scenes out of The Last of the Mohicans were filmed here. We'll share them with you now ... Some of these shots are contained within the pages of On The Trail ... Others are newly captured images taken on a recent excursion ... April, '99

Triple Falls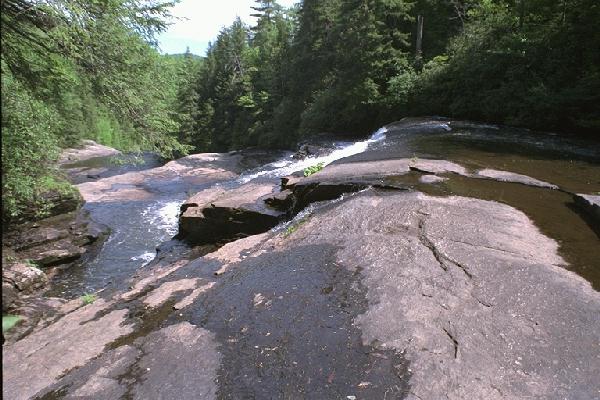 Triples Falls: The opening sequence of The River Walk.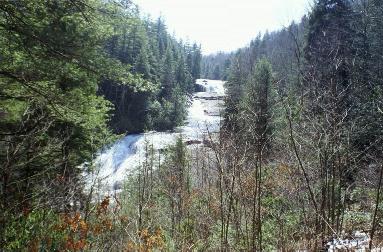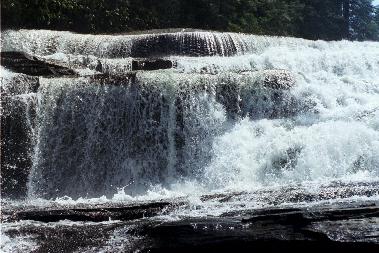 TOP
View of the cascades of Triple Falls from the Pavilion, a distance away.
BOTTOM
The Upper Cascade.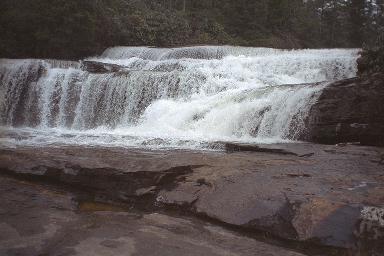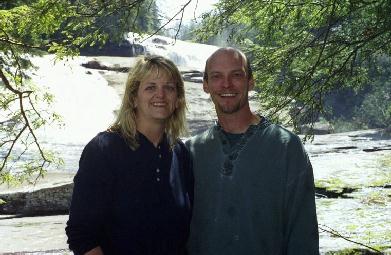 TOP
Another view of The Upper Cascade, as seen in the film.
BOTTOM
Two prominent Mohicanites, Eric (Soldier #2) & Sharon, at Triple Falls.

Bridal Veil Falls ... Part One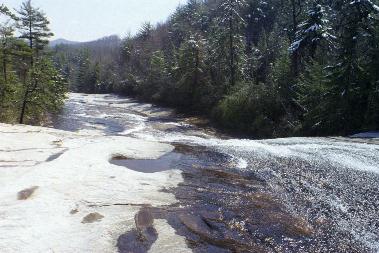 The River Walk along Bridal Veil Falls, between the two cascades.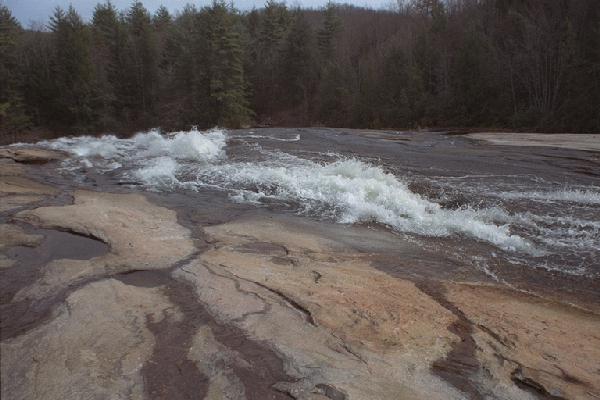 The River Walk!

Hooker Mills Falls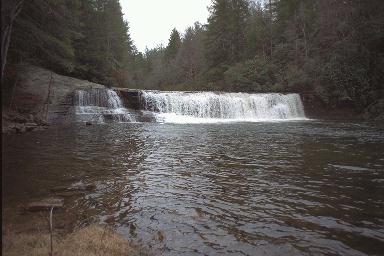 View of Hooker (Mills) Falls from the beach area. These falls are the waterfalls that the canoes are actually seen going over. Not to be confused with the Upper Falls at Linville!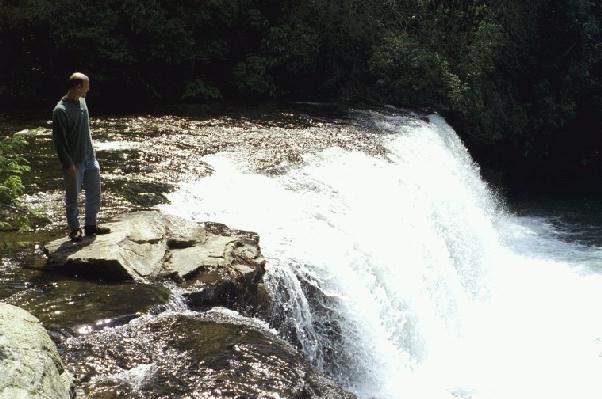 Eric describes the over-the-falls ordeal.

Bridal Veil Falls ... Part Two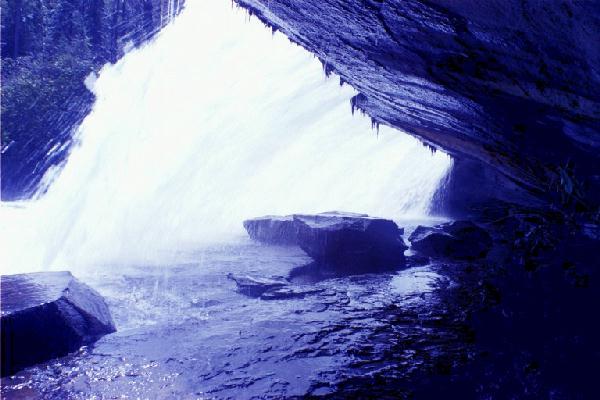 After a quick glimpse of Linville, the refugees enter the cave here (The Upper Cascade), before switching to the warehouse cave set.

High Falls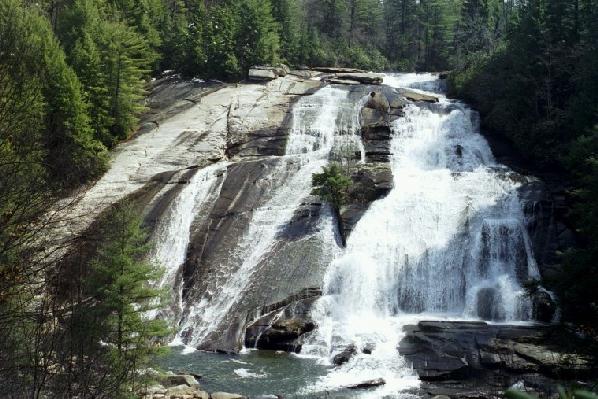 Though the actual falls, here at High Falls, are not seen in the movie, Hawkeye, Chingachgook, and Uncas can be seen running up the slope at left to the tune of Clannad's, "I Will Find You."

All photographs are the property of Mohican Press.
MORE ON THE FALLS?
COMPANION GUIDE PHOTO PORTAL

MOHICAN MUSINGS INDEX
FOR OTHER SPECIFIC LOCATION PICTORIALS:
THE FILMING AT LAKE JAMES || ON LOCATION AT CHIMNEY ROCK PARK