CAMERON'S CABIN ... (Night)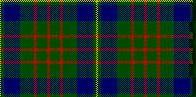 The Cameron Clan Tartan
[INTERIOR CAMERON CABIN - JOHN CAMERON - NIGHT
roasts potatoes on a stick in the stone fireplace next to CAPTAIN JACK WINTHROP, an American in very worn quasi-military gear. On a rough table in the tiny cabin ALEXANDRIA, his wife, is kneading bread. Three children climb on their father. He grabs their wild seven year old son, JAMES, who shrieks laughter and dodges away. The cabin has two primitive rooms, waxed paper windows, log walls. O.S. a dog barks. Others pick it up. Cameron & Jack are suddenly alert, reaching for weapons ...
CUT TO ...
EXTERIOR CAMERON CABIN, DOORWAY - CAMERON - NIGHT
appears warily, musket in hand.
FENCE: CHINGACHGOOK]
CHINGACHGOOK: Halloo! John Cameron!
[Doorway: Cameron towards the interior ...]
CAMERON: Alexandria! Set three more places. [to the fence] How is Chingachgook, then?
[Behind him, emerging from the dark trees are Hawkeye, Uncas, cradling flint locks, blankets and packs over their shoulders, leading a mule laden with skins and the elk carcass. Crossing the splitrail fence ...]
CHINGACHGOOK: The Master of Life is good. Another year pass ... How is it with you, John?
CAMERON: Gettin' along. Yes, it is. [warm] Nathaniel.
HAWKEYE: Hello John. Cleared another quarter, I see.
CAMERON: [shakes hands with Uncas] Yes, I did.
[JAMES CAMERON
tears past his father & runs full bore. Just before he's going to collide into Uncas, he leaps into the air and Uncas snatches him with one hand and swings him up onto his shoulders. The kid screams with delight and rides back towards the cabin that way. Alexandria comes to the door.
CUT TO ...
INTERIOR CABIN - CHINGACHGOOK - EVENING (LATER)
lights & smokes a clay pipe. The scene says: this is a rustic, frontier home and these people have known each other & live in dangerous circumstances.]
ALEXANDRIA: If Uncas is with you, that means he has not found a woman and started a family yet.
CHINGACHGOOK: Your eyes are too sharp, Alexandria Cameron. They see into my heart.
UNCAS: Your farm good to you this year, John?
CAMERON: It was a good year for corn.
UNCAS: Mohawk field we saw was 5 mile long on the river. Chief Joseph Brandt's field.
CAMERON: You take much fur?
HAWKEYE: That we did. John. But the horicane [sic] is near trapped out.
JACK: Tradin' your skins in Castleton?
UNCAS: No, Schylerville. With the Dutch for silver. French & English want to buy with wampum & brandy.
[Pause, then ...]
HAWKEYE: So what is it, Jack? What brings you up here?
JACK: A French & Indian army out of Fort Carillon's heading south to war against the English. I'm here to raise this county's militia to aid the British defense.
HAWKEYE: Folks here goin' to join in that fight?
JACK: We'll see in the morning ...
CHINGACHGOOK: Fathers of England & France, both, take more land, furs, than they need. They're cold & full of greed ...
JACK: Few'd deny that? Where you headin'?
HAWKEYE: Trap over the fall and winter among the Delawares in Can-tuck-ee.
UNCAS: So I can find a woman and make Mohican children so our father will leave my brother & me in peace.
[Alexandria laughs. So do Hawkeye & Chingachgook.]
JAMES: A son like me?
[Uncas grabs James & suspends him upside down.]
UNCAS: NO. You are too strong. Turn me old too fast!
[Hawkeye grabs the kid from Uncas. The kid's laughing & can't stay still. Chingachgook watches, content, smoking his clay pipe.]
ALEXANDRIA: That's what he's doin' to his mama ...
[She ruffles his hair and lifts the heavy iron pot off the tibbet. Uncas goes to help her, she shrugs his hand away and carries it to the table herself. The men gather around. There's pan-baked bread, a dish of salt, and the pot has venison and yellow cornmeal in a kind of stew. Everyone waits.]
CAMERON: Dear Father, thank you for rewardin' the fruits of our labor with plenty. Amen.
[As they start to eat ...
CUT TO ...]