COLONEL MONRO ... The Scotsman

"Webb is determined to assist you as soon as possible with the whole army if required,...sincere wishes for your safety till we can come to your assistance." -George Bartman, Webb's aide- de- camp August 3, 1757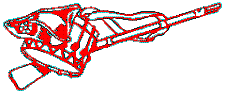 Lieutenant Colonel George Monro appeared suddenly from the shadow of obscurity to have his name recorded in history's register, then just as swiftly disappeared into oblivion. An accidental footnote to a voluminous period of conflict, the aging officer had nothing to commend himself to our recollections other than his brief, yet fateful assignment as commanding officer of the doomed garrison at Fort William Henry.
Having arrived in the American colonies the previous year, Monro had little time to acclimate himself to the wilderness frontier he was to defend. Born in Ireland (Monro's family hailed from Scotland, whose own history of tribal warfare and English domination compares to a dress rehearsal for the American stage, highlighted by the conflicts among the colorful clans of the Scottish highlands), and a career soldier in service to the British crown, Monro's life had been one of order, discipline, and predictability. His actions and expectations reflected those experiences and therefore left him unprepared for the events that were to take place during and subsequent to the upcoming siege. The colonel's disposition favored the loyal, unquestioning, and disciplined fulfillment of his duties in the interest of England's rights and defense; these 'rights' being defined by Parliament, and orders for defense being issued by his superiors. His dutiful acceptance of those orders led him to the embattled soil of New York's Hudson Valley in 1757. Colonel Monro's unswerving fidelity and sense of honor would soon be tested, as would his opinion of a fellow officer, General Daniel Webb.
The Thirty-fifth of Foot, or Otway regiment, was outfitted prior to its departure to the American colonies in 1756 with new, inexperienced troops. Five companies from this regiment, along with two companies of rangers, were assigned to Fort William Henry in the spring of 1757. The strategy was to entice Canadian Governor Vandreuil into stationing a large force at Fort Carillon, at the northern end of Lake George (so named only two years earlier by William Johnson, its previous name being Lac du St. Sacrement). Neither Fort William Henry nor Fort Edward were expected to have any real significance in the present campaign for control of the "Mahican Channel". At least not by the English commanders. The French gave far more importance to the two forts. Thus, Lt. Col. Monro took command of the wilderness outpost and his place in history.
The hitherto unknown officer has been described as experienced, capable, and steady. Though nothing remarkable stands out in his military record, he was a reliable choice for Fort William Henry's command. His character contrasts greatly with that of his commanding officer. Monro's immediate superior was Gen. Daniel Webb, who himself was headquartered at Fort Edward (approx. seventeen miles away). Despite the fact that Fort William Henry had been attacked the previous March, was under siege for four days, had been engaged in an ominous parley during the siege, and that there were several reliable reports that the fort was to be attacked again soon, Webb did virtually nothing to prepare. In April, Webb had information that there was an unusually high concentration of troops gathered at Fort Carillon amidst a great deal of activity. In July a French captive revealed that the Marquis de Montcalm was expected soon at Fort Carillon "...with the main body of the army" and still, Gen. Webb did nothing to counter what was beginning to look like an imminent assault. On the 25th of July, Webb and three officers inspected the fort, surveyed the situation, sent out a scouting party, and held council with other officers. 4,000 troops were camped nearby. While still at Fort William Henry on the 28th of July, Gen. Webb received the report from Captain Israel Putnam that Montcalm was only sixteen miles from the fort. Did the high-ranking British commander dig in and prepare to engage the enemy? No! When Webb learned of the close proximity of the French forces that had been seen on the lake, he was struck "...with such panic, that he resolved to retire to Fort Edward that same night; but with much persuasion was prevailed upon to stay till next morning: when he marched off early, with a strong artillery, leaving the defence of the fort to Colonel Monro and Colonel Young with 2,300 men." While the cowardly general scurried off to the safety of Fort Edward, Col. Monro assumed responsibility for the defense of Fort William Henry, requesting reinforcements from Webb before he left.
Including the detachment under Lt. Col. Young (which arrived late on the 2nd of August, leaving no time to properly set up camp), Monro's troops numbered 2372. (He would have had a larger Iroquois contingency to bolster his strength had Webb not previously behaved so cowardly in the face of enemy attack; he had developed a reputation for being 'cautious'). Monro knew the location of a garrisoned fort such as Fort William Henry would allow him to withstand a siege of three times the number of his forces. He was facing a force of 7,626 troops, higher than his 3 to 1 odds, but nearly in the range. However, the intelligence that had been gathered previously regarding French movements and strength had been so poor that the English erroneously believed Montcalm's forces numbered 11,000. Monro was compelled to seek additional troops. In one of three letters sent to Webb on the 3rd, the Colonel wrote, "..we know that they have cannon." This statement, at such late date, along with the numerical miscalculation, is indicative of both the effectiveness of the Indian allies of the French in screening the activity at Fort Carillon, as well as the incompetence of the English. Monro did what he could while awaiting the reinforcements' arrival, which he had every reason to expect shortly. A detachment of 100 Massachusetts troops were sent in an attempt to retake the road which Montcalm had cut off by encircling the fort, but were driven back. This French barricade effectively cut off communications with Fort Edward, though couriers were sent out at nightfall and successfully delivered some of the dispatches. Monro continued to hold out, expecting Webb to respond accordingly to his statement, "I make no doubt that you will soon send us a Reinforcement." For the next six days he held out, exchanging cannonades, sending sorties to protect the water supply, and dispatching couriers to Webb. What Monro did not know was that Gen. Webb had sent a letter on the 4th of August advising Monro "...to make the best terms left in your power." The letter was intercepted when a party of three rangers were discovered attempting to return to William Henry. One ranger-courier escaped, another was killed, and the third was captured. The dead ranger was the carrier of Webb's letter, which was found in his jacket lining and promptly turned over to Montcalm. (The blood stained note is on display at The Huntington Library in San Marino, California. According to the curator of the library's historical manuscripts, the letter was found in the courier's boot rather than his jacket, thus their designation of the document as "the boot letter". It is more probable that the letter was in the jacket.)
"That is sedition!"
Col. Monro and his brave garrison continued their defense of Fort William Henry, though one can imagine the waning courage as each passing day brought forth no relief. There must have been talk of surrender (and there were some deserters), enough so that Monro felt compelled to post "...his orders to all in the Fort that if any person proved cowardly or offered advise giving up the Fort that he should be immediately hanged over the walls of the Fort." Apparently, the courageous Scotsman was not fond of cowards, and surely, not of Webb, chastising him for his carelessness in abetting the enemy by revealing sensitive British intelligence in his letters. On the 7th of August, following three hours of heavy firing, Montcalm's aide-de-camp, Capt. Bougainville, brought forth a flag of truce and offered the terms of capitulation, first informing Monro of the intercepted dispatch from Webb. By the following evening, hope for reinforcements was sufficiently faded to allow Monro's senior officers to agree that they should advise Col. Monro to surrender. Before dawn on the 9th of August, Monro and his officers met and agreed to capitulate. A parley was held and the terms of the capitulation were offered. (These terms were extremely generous, especially in light of the journals of French officers, including Capt. Bougainville. Apparently they were convinced the Fort William Henry garrison could easily have been taken.) The agreement was made; the siege was over. Fort William Henry had fallen to the French. Monro had contemplated leaving on the night of August 9th rather than await the protective guard promised for the following day, but decided against it when hearing of a large party of Indians on the road. Fearing they would attack the defeated column, Monro opted to wait until the morning. (Monro was advised to wait by French officers; a point to consider when one ponders the possible complicity of the French in the massacre the next day. Had they entered into an agreement with their Indian allies to allow an attack, here was the perfect opportunity. Had Monro chosen to leave prematurely without protection, the English could not have accused Montcalm of collaboration.)
The infamous massacre that followed on the 10th day of August will forever be remembered as a tragic episode of the French and Indian War; a tragedy that brought forth the name of Fort William Henry and its commander, Lt. Col. Monro, to the forefront of American history. Yet, there remains a small irony in the tale. On August 8th, the day Monro's officers had decided upon surrender, Gen. Webb had written a letter informing Monro that he expected one thousand militia troops to arrive the next day, and interestingly, he requested from Monro an estimate of how much longer he could hold out. It seems Webb was finally ready to march to the relief of Fort William Henry! "We wish most heartily that you may be able to hold out a little longer." Unfortunately for the besieged garrison, the letter was intercepted. They never knew reinforcements would finally be at hand.
During the following day's immemorialized events, Col. Monro was taken to the safety of the French camp, then escorted halfway to Fort Edward several days later. Contrary to popular belief (due, largely, to 1992's film version of James Fenimore Cooper's fictitious account of Fort William Henry's surrender), Col. George Monro did not die during the massacre. He went instead to Albany where he had the opportunity to strongly protest General Webb's actions and consequently, destroy Webb's reputation. On November 3, 1757, just three months after the fall of Fort William Henry, Monro died suddenly. According to one source "he was stricken with apoplexy in the street." The Reverend John Ogilvie recorded that Col. Monro "departed this Life suddenly" and on the 4th of November he "was decently buried in ye Church." (St. Peter's Episcopal Church in Albany, New York.) Monro departed as suddenly as he entered. His contribution to American history was completed.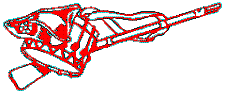 ~~~~~~~
Additional Information on Lt. Col. Monro

Following the surrender of Fort William Henry, the political climate in the American colonies, England, and France was aggravated with hellish fire. Britain's position was that since the terms of the capitulation were violated she was not bound by the agreement. In France, a campaign of damage control was launched to vindicate French officers from accusations of responsibility. In the colonies, outrage was carefully cultivated by a massive propaganda campaign. Lt. Col. Monro went to Albany where he had the opportunity to provide his report of the siege, surrender, and massacre. Things were said, no one was spared, but it was Gen. Webb who emerged most unfavorably.
As stated above, Monro died in Albany on November 3, 1757. Reportedly the Lt. Colonel was grieved to the point of depression over his "failure" to rescue all colonial prisoners. A request was included in his will that no marker of honor be placed upon his grave, nor location of his burial be made public. His property was left to two sons and a daughter who remain, along with their mother, a mystery.
A relative of Monro's eventually located the burial place; St. Peter's Episcopal Church in Albany, New York. A sketch of the Scottish soldier's background was compiled and recognition by way of a plaque was finally achieved.
Born about 1700 to Colonel George Monro and Margaret Bruce in Clonfin, County Longford, Ireland, young Monro was destined to follow his father's footsteps in a military career. He had an older brother named Alexander and a sister Margaret. His father's service included captaincy in Cameron's Regiment, the 26th of Foot, and as Major in Graham's Regiment of Foot. He was promoted to Colonel in 1716. George 'the younger' entered service in Otway's Regiment, the 35th of Foot. He was promoted to Lieutenant on August 9, 1718; Captain on September 27, 1727; Major in August 1747; Lieutenant Colonel on January 4, 1750. His career included stations at Belfast, Nova Scotia, and finally the New York frontier at Fort William Henry. This was the first and last major battle of Monro's military life.
Monro was promoted posthumously in January, 1758 to full Colonel. In November of 1984, the defender of Fort William Henry was honored by the 35th Regiment of the Queen's Own Riflemen of Kent, England with a memorial plaque in recognition of the Colonel's bravery, loyalty, and honor. His resting place at St. Peter's is beside that of the great English hero, George Augustus Lord Viscount Howe...
- Courtesy of William P. Stevens, Historian Archivist of St. Peter's Episcopal Church, Albany, New York

NEXT BIO: DANIEL WEBB ... A General Webb of Deceit?
Looking for related books? Go to the MOHICAN PRESS BOOK SHOPPE