Northern Nights Dreamcatchers

Originating among the Ojibwa, Dreamcatchers were traditionally hung over cradles to protect sleeping children from nightmares. As the child slept, bad dreams were trapped in the web while good dreams were allowed to pass through the open center. Eventually, the tradition of the Dreamcatcher was adopted by other northern Algonquian people, including the Cree.
Our Dreamcatchers are handcrafted in the Northern Territories of New France by Kihew, a Canadian Cree woman. These beautiful creations are traditionally designed, and specially woven for Mohican Press. The smaller size Wa-ta-wah Dreamcatcher is especially nice for children. The larger Tachwana Dreamcatcher is our "love" weave! Perhaps just the right thing for those who dream special dreams? Each web is artfully woven with simulated sinew. The metal hoop is bound with leather. Kihew does not use brightly colored feathers; only white or natural colored as they are more subtle and finer looking.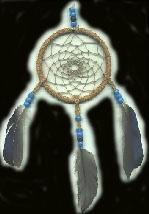 Trail Dreamcatcher
4 inch traveling dream weave to hang in your car,
Narragansett, or canoe.
Order Item # mo004
$12.00