SMOKE & FIRE NEWS ONLINE STORE!


Tell 'em MOHICAN PRESS SENT YA!

Mohicaan Bounty Mercantile

Trade Goods, Gifts, & Sundry Items

Wooden Mirrors ...
a common 18th century travel necessary. Measuring 51/2 inches, these pine mirrors are a perfect size for frontier travel. The handle has a hole to suitably hang on a Chatelaine.
Item # MB-1 $9.00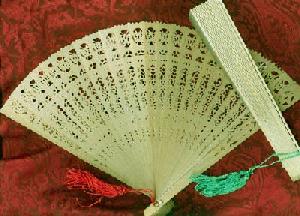 Sandalwood Fans ...
always popular, these delicate, pretty fans were used by ladies up & down the frontier! Obviously handy for fanning oneself, they have the added benefit of repelling insects with their pleasant Sandalwood scent.
Item # MB-2 $10.00

German Trade Silver

Chatelaines ...
a most practical 18th century invention. Women's clothing lacked pockets yet there were always 'necessaries & accessories' to be carried about. Chatelaines solved the problem in a fashionable manner. Clipped to the petticoat waistband or apron bib, a Chatelaine was the place to keep needles, mirrors, scissors, etc. by hanging the items on the accompanying chains.
As pretty as it is practical, this engraved Chatelaine is hand cut filigree German Silver with a soldered clip & five chains.
The next big fashion trend? You bet!
Item # MB-3 $55.00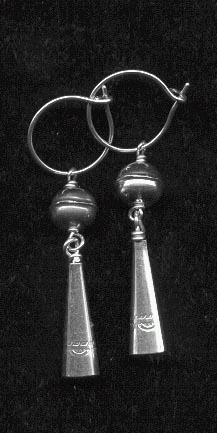 Sterling Silver Ball & Cone Earrings ...
These are the earrings everyone asks about! Uncas' Ball & Cone earrings... a classic example of an 18th century trade commodity, earrings such as these were in high demand. Wear them proudly!
Item # MB-5 $22.00
Possibly available through Smoke & Fire!.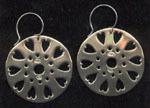 Trade Silver Ear Wheels ...
As worn by Magua & Chingachgook in The Last of the Mohicans, these are proto-typical wares of the day! Each pair varies slightly!
Item # MB-9 $30.00

Porcupine Quill & Bead Earrings ... Porcupine Quill & Bead Earrings Still Available!
Strung Wampum Jewelry ...


Trail Provisions
Oolong Tea
A true necessary for trail life, this Black Tea from China comes in a really nice tin.
Item # MB-6 $4.00

Mexican Chocolate
Sweet Ibarra chocolate lightly spiced with cinnamon. You have to try this!
Item # MB-8 $1.00 per cake - $5.00 per 6 cake box.

Visit our other Shoppes by returning to the menu page!