French Trader's Post ...
Woven Wampum Trade Goods
Le Francais Trader offers Hawkeye's Wampum Sash, Chingachgook's Wampum Choker, and

Wampum Bracelets for sale at the Store on the Frontier!

In our never ending quest to locate new trade goods for our frontier trading post, we've negotiated with the French Trader to sell two of his most prized trade items; Hawkeye's Wampum Sash and Chingachgook's Wampum Choker.

Le Francais Trader now offers these beautifully crafted LOTM style goods at our Mohicanland Main Square!
Using imported glass 'wampum' beads from the same Czechoslovakian producer of 18th century wampum, these items are hand crafted true to their era. Owned by the same family since its days as a leading manufacturer of trade beads, the Czech plant produces the glass wampum on the same machines used over 200 years ago.
Why glass instead of shell wampum? Glass is and was cheaper than shell and as such, found a large market in the Americas allowing trade of the new 'wampum' beads to flourish. As glass wampum became readily available, more Indian people utilized it for jewelry. By the close of the 18th century, many wampum adornments were no longer woven from shell but from the easily obtainable Czech glass. Even today, a shell wampum sash would cost several thousand dollars ... evidence of the value wampum still maintains centuries later. The French Trader is able to offer the superbly woven wampum choker and sash at such fair prices because of the fine glass wampum beads he has traded for.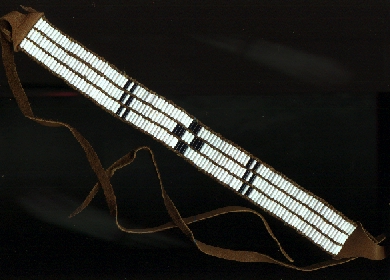 A replica of Chingachgook's Wampum Choker as seen in The Last Of The Mohicans

Measuring 11 3/4" long, with 16" leather ties, the choker is three rows wide, 115 beads long ... that's 345 hand strung wampum beads! It is tightly woven with imitation sinew and leather. Expertly crafted, this Wampum Choker is sure to please LOTM fans, collectors, & reenactors as well as admirers of traditional eastern Indian culture. (Colors can be reversed.)

$45.00 plus S & H

Item # choker1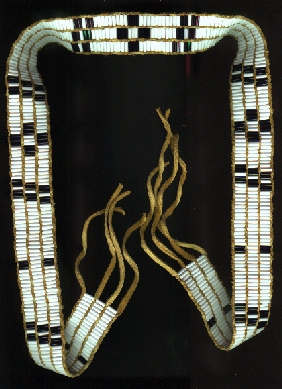 Hawkeye's Wampum Sash

The sash is exactly like the one worn by Hawkeye in LOTM. Beautifully woven, it measures over 35 inches! Three strands of 304 tightly woven wampum beads ... 912 beads in all! Like the choker, the sash is woven with imitation sinew and leather strips. It is gorgeous! A unique item to own!

$120.00 plus S & H

Item # sash1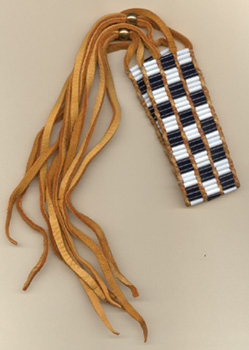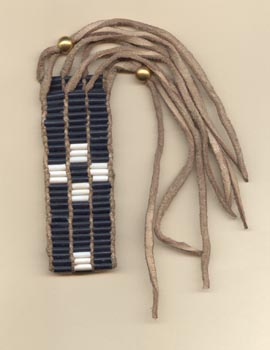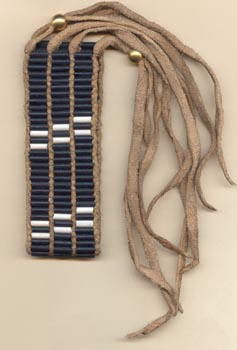 In response to the popularity of his woven wampum goods, the French Trader now offers three styles of Woven Wampum Bracelets. All are three-row wampum measuring 7" tight weave & 22" to 24" including the leather thongs. Two solid brass beads on each bracelet can be slid to allow for fit adjustment.
Item # wamp-br1: (Shown On Left) The common "Checker Board" design was popular.
Item # wamp-br2: (Shown In Middle) Three white crosses with a dark background, this "Cross" design can be woven in reverse. Please specify 'white crosses' or 'blue crosses.'
Item # wamp-br3: (Shown On Right) The "Friendship" design is blue with four white diagonal lines. Can also be done in reverse. Please specify.
$25.00 plus S & H per total order.
Note: Chingachgook's "Lightning Bolt" choker can also be done as a bracelet & colors can be reversed.

ORDER NOW DIRECTLY FROM THE FRENCH TRADER'S SITE!
Tell 'em MOHICAN PRESS sent ya!
NOTE: Prices may vary!

Keep a runner out for more trade goods from our Francais Trader!

Visit our other Shoppes by returning to the menu page!