Tattoo Tantalizers!
... the most asked for gallery in our existence!
... the unseen artistry ...


Through the years, we, here on the Mohican Press Web Site, have presented photo galleries from the make-up department, hair dressers department, pre-production, various sets from some featured extras ... many excellent galleries ... now, we have one from the tattoo department ... and that's more than interesting because we often get asked about the tattoos seen in The Last of the Mohicans ... who did 'em, how were they applied, and do you have any close-ups? Well, we'll let the tattoos speak for themselves, courtesy of one of the artists, Rick Martinko.
All photos the property of Rick Martinko & Mohican Press!

First a little background. My name is Rick Martinko and I was unhappily working as an assistant manager of an Ohio movie theater in June, 1991. One evening, I got a call from a former instructor and friend from Penn State University named John Bayless. John was the head of the student theatre's make-up department before he moved to Charlotte, NC and I used to be a theatre house manager and assistant make-up artist for the various productions. He said he was working on a big budget film that "had Oscar potential" and wanted to know if I would be interested in helping out on it. I asked "When do you need me?" and he said "Yesterday." So I quit my job, packed up a bunch of clothes in my car and headed out for Banner Elk, NC (you have to look really close at a map, but it's there... trust me). I got in on the evening of Sunday, June 23 and was told that we were heading to the set at 6AM the next morning.
This was the second week of shooting, so I unfortunately can't give any insight into the details of pre-production of "the first day of principle photography", but the first location I went to was Linville Falls. The scene where Cora and Alice's party is first attacked was being shot, and the first few days really dragged. I didn't know anyone, I was bored and it seemed like it was would never stop raining. I don't have any pictures of that scene, but I didn't really see much worth shooting and no one else was taking pictures so I didn't either.
Our next location was Biltmore Estate. For those of you not familiar with Biltmore, it's a HUGE privately owned estate in Asheville, NC and is probably as close a you will come to a royal castle in the US. Forward Pass Productions (our production company) was paying big bucks for the rights to shoot on the estate, and we had to wear white crew t-shirts and black baseball caps to look as close to not being riff-raff as possible. Well, I drove to Biltmore for the first day of shooting there, and discovered that we were on strike! Apparently there were a bunch of issues that needed to be resolved, and the crew decided that with Forward Pass forking out serious cash for a few limited days at Biltmore, this was a perfect time to get the producers right where they wanted them. My account differs from that of Russell Means, who claims that the crew went on strike during the first day of shooting, but he's wrong. Here are the pictures from the Biltmore entrance: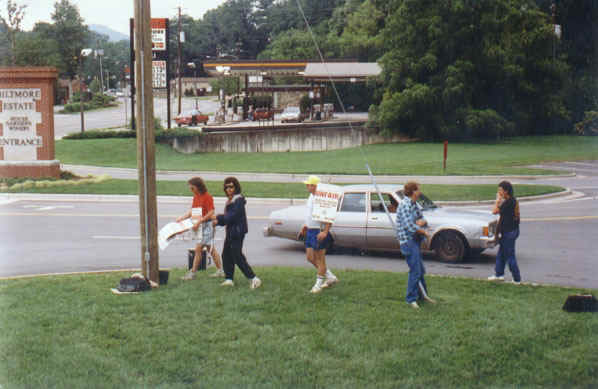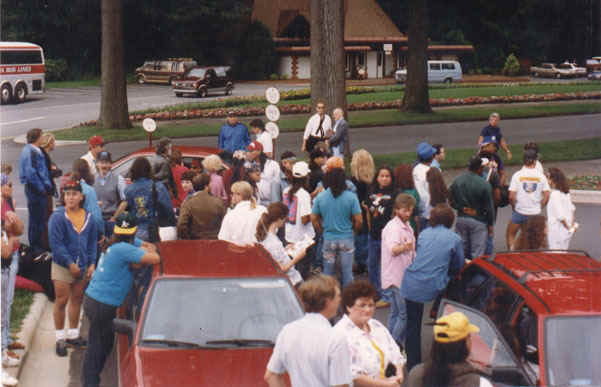 I didn't know much about the specifics, but I did know that based on the number of hours I was working and with a set weekly salary, I was making less than minimum wage. Also, there was a very high turnover rate for the department heads and people seemed to be pretty disgusted after only a few weeks of production. In any case, the powers that be hammered out the details, the crew went back to work happier and I was now on an hourly rate with overtime, double-time and meal penalties (bonuses for when shooting times cuts into designated break times) Woo Hoo!!
Biltmore was a very cool location. Almost all of the early colonial scenes were shot there, and the night scene where Hawkeye comes across a burial ground was shot there as well, but I have no idea where specifically. At this point I was doing tattoos on the Indian extras, many of whom were from Oklahoma. They were a great bunch of guys, and several of them stayed on until the end of the production as a group known as the "Magua Core". I'll do my best to remember names accurately...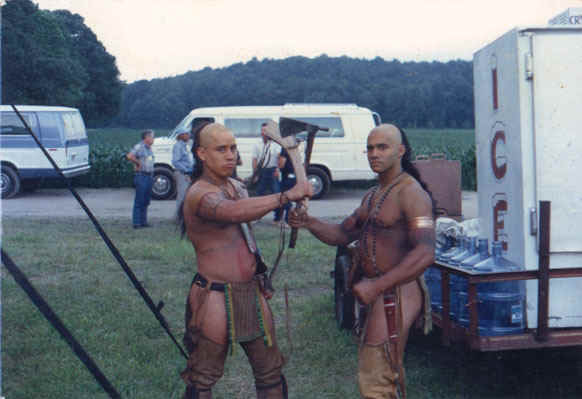 The one on the right is Jay, who's best remembered as the first Indian who attacks the group of people leaving the Fort. Jay was a city boy, and wasn't fond of the snakes and spiders living the in the high weeds at "Massacre Valley", so when he ran down from the tree line to attack, he was high-stepping and moving at a VERY high rate of speed. He was a really funny guy, and kept the make-up/tattoo crew entertained.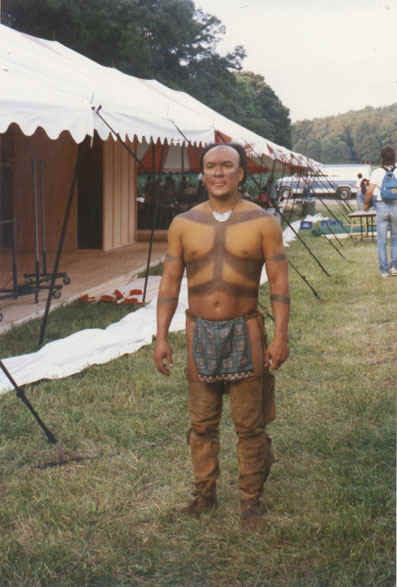 This is Elvis from Oklahoma City and he was one of the first guys I tattooed.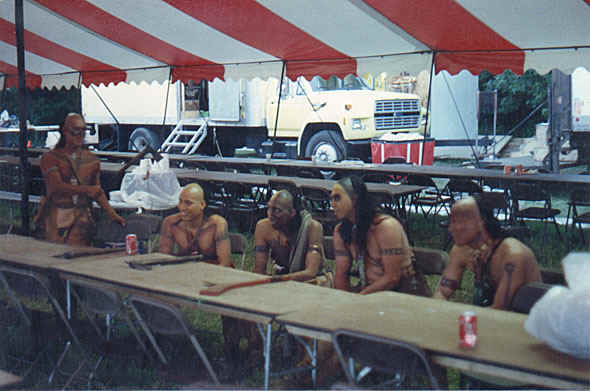 The Abenaki gang hanging out in the dining tent. The one to the far right was named Dennis. Sorry, I can't remember the names of the other guys...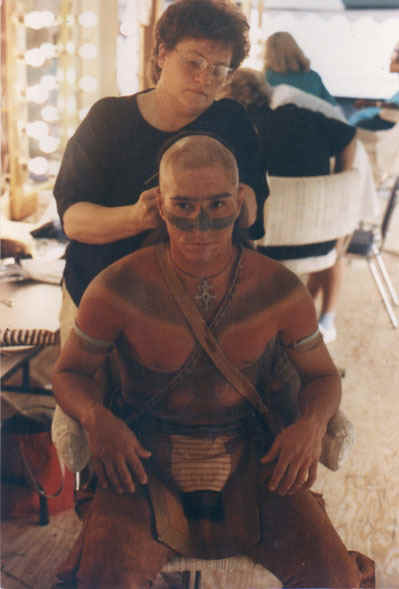 It's killing me that I can't remember this guys name! Any other crew people reading this, please throw me a bone...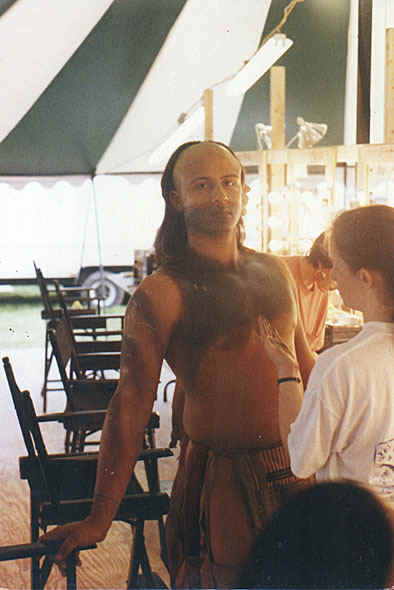 This was a quiet guy named Carey, who a couple to the tattoo guys affectionately called "Ham-head" because of the fishnet pattern of crossing lines from his nose up. I remember that he had a large real tattoo of a woman on his upper arm that needed to be covered up with make-up every day.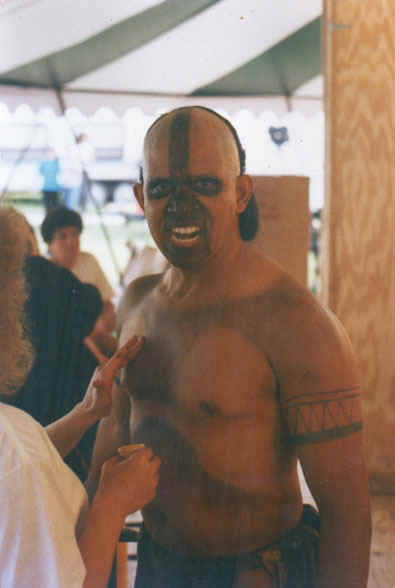 Another Abenaki whose name I can't remember.
We shot at Biltmore for about a week, and aside from the stressful and typically LOUD meetings with Michael Mann and his ADs (better known as "Show & Yell" sessions), the shooting there was pretty relaxed. I was getting to know a few people, and was beginning to think that quitting my managing job to come down here wasn't such a disaster after all.
UP NEXT: ALBANY || BACK TO INDEX OF TATTOOS

MORE TATTOOS!
TATTOO TANTALIZERS ... Part 2 || TATTOO TANTALIZERS ... Part 3 || TATTOO TANTALIZERS ... Part 4
TATTOO TANTALIZERS ... Part 5 || TATTOO TANTALIZERS ... Part 6 || TATTOO TANTALIZERS ... Part 7
TATTOO TANTALIZERS ... Part 8 || TATTOO TANTALIZERS ... Part 9 || TATTOO TANTALIZERS ... Part 10
For More On the Locales See: COMPANION GUIDE PHOTO PORTAL