MOST RECENT [UP-TO-THE-MINUTE] GATHERING-RELATED POSTS ON OUR MOHICAN BOARD!
JOIN THE DISCUSSIONS!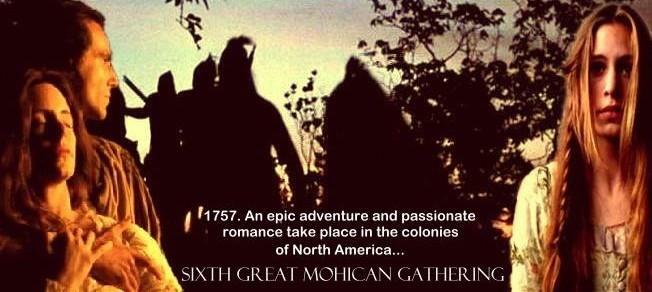 Image by Vittorio ... Ongewasgone on our Mohican Board!
SPECIAL GUESTS:
RUSSELL MEANS || ERIC HURLEY || MICHAEL A. WILLIAMS, PHD. || TIM CORDELL (canceled)

The ala Carte Gathering!

This was my first Gathering, and it exceeded my expectations. I knew that the people that I would meet would be nice, but not only were they nice, they made me feel like I was really part of the family!!!
On Sunday, I had a rough time at Chimney Rock. You never quite realize how "out of shape" that you are until you hike up a mountain. The poor muscles in my thighs and calves that never get a workout were screaming in pain , but did I really mind the pain. Nah, not as long as I was with my fellow Mohicanlanders. We also went to Pisgah, and when we were through there and ready to come home, Cindy, Phyllis, and I found out something that nobody had ever enlightened us about before. Never, and I do mean NEVER follow the Sweetser sisters. If they turn left, then the please turn right if you want to go the right way. But it was fun getting lost with them.
On Monday, I did wimp out of going Linville Gorge. I had a few too many people tell me that Linville was a lot harder than Chimney Rock, so I decided that my aching muscles would take a day off. Well, I didn't actually have the day off because I went shopping with Cherie, Tonya (Cherie's sister), and Karen W. We had fun shopping and then decided to grab a bite to eat at a local restaurant and had to top it off with an ice cream cone.
On Tuesday, I had fun going to the Biltmore. It was very interesting. Our guide, took us all around and showed us the different locations where LOTM was shot. She is a die-hard Daniel Day-Lewis fan. Can you blame her? I also got to visit the winery, and since I don't drink alcoholic beverages very often, I got to taste their grape juice. It was pretty good!!! Later that evening, we went to eat at Spirits on the River and listened to the beautiful voice of Joanne Shenandoah!!! The concert was the highlight of the trip for me and especially for my friend Kim. If you go to SOTR, then you must order the fry bread sundae with berries. It was delicious!!!
Wednesday was Nolichucky. Another event that I wimped out on. The raging river and I just don't get along, so I figured that if I left it alone, then it would leave me alone. I had a lot of R&R on Wednesday.
Thursday was Cherokee. We got lost and we weren't even following the Sweetsers!!! We missed the museum but arrived just in time for lunch. After lunch we went to the Ocanuluftee Village. After the village, we were on our own until it was time for our guest speaker at the museum, so Phyllis, Cindy, Kim, and I decided to see if we could still do the museum tour. The guys at the desk were very understanding and let us in. Then about an hour later, it was time for our guest speaker, Bo Taylor, and I have never enjoyed listening to someone as much as I did with him. We topped the night off with an outdoor drama, "Unto These Hills." It was great, but I was so sleepy that I really couldn't appreciate it the way that I should have.
Friday was Dupont. I thought that I was getting myself into another uphill climb, but it really wasn't too bad. The waterfalls were beautiful, and even though it started to rain, it was worth going out there. Later that night was the movie. It was wonderful as usual, and we got to listen to Russell Means speak and answer our questions. I always thought that Russell was too somber and serious, but he showed his humorous side to us too. It was very enjoyable listening to him speak.
Saturday, our last day was Games Day and the pig roast. I didn't participate in any of the games but just milled around and talked to the friends that I had met during the week. We also had the raffle and Ariel's auction. It was fun to see people bidding against each other on certain items, especially knowing that a very sweet girl would be helped out by their generosity and determination to get that special item that caught their eye. I didn't want the day to end, but as they say, "All good things must come to an end." I will never forget my week with all of my fellow gatherers.
Thank you Rich for all of the hard work that you did to put this Gathering together, and thanks to all of the other Gatherers that helped him out. It was a fantastic week, and I can't wait for the next Gathering!!!
... Kay Dennis

DAY ONE: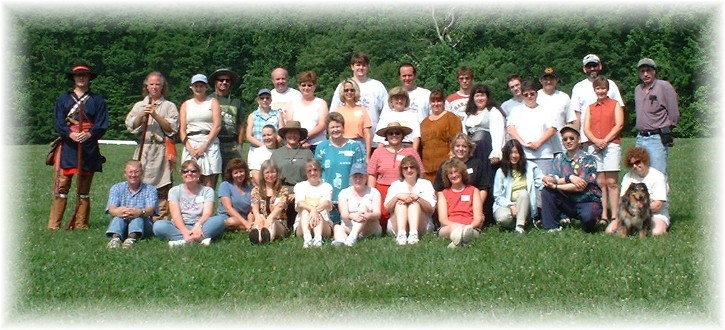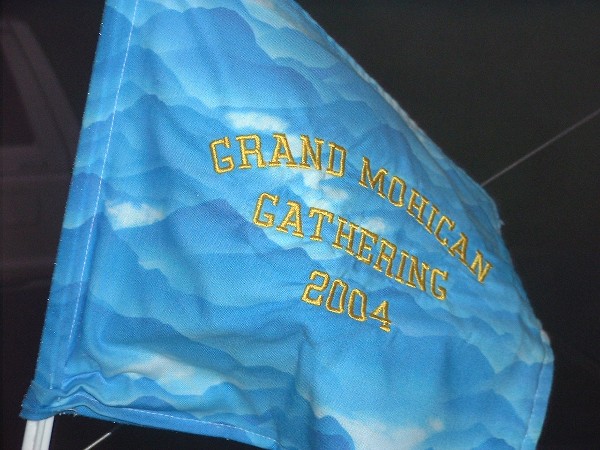 CLICK ON FLAG TO FOLLOW THE "CARAVAN"

DAY TWO: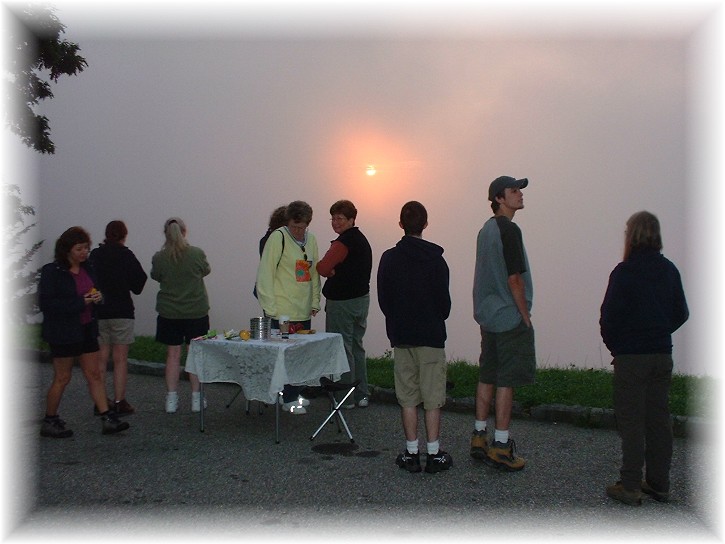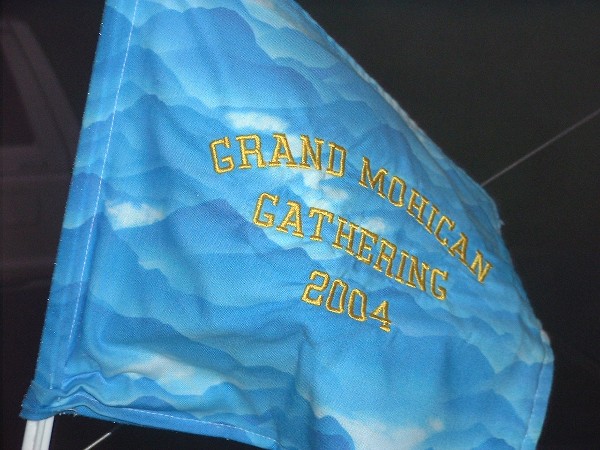 DAY THREE: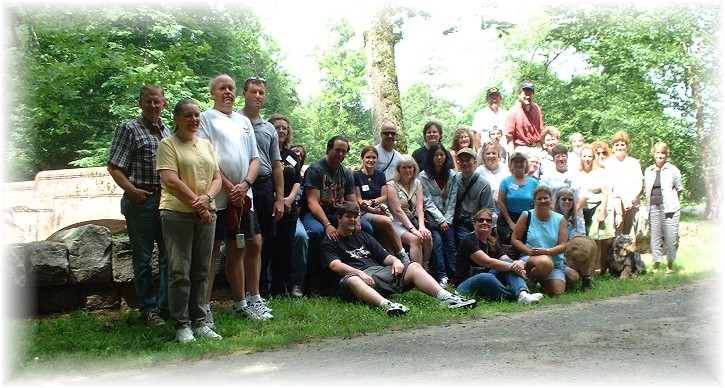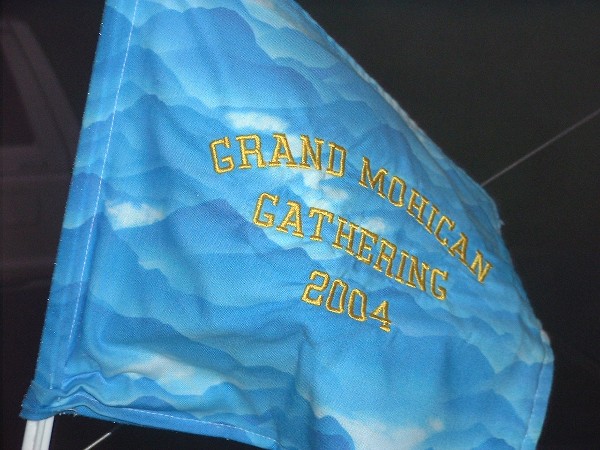 DAY FOUR: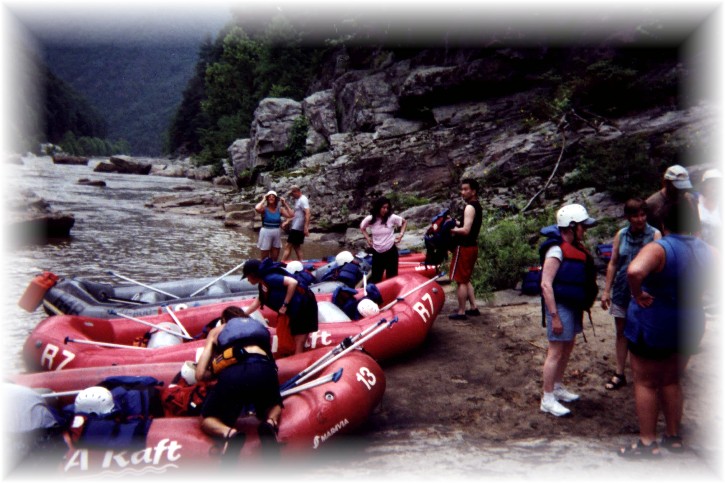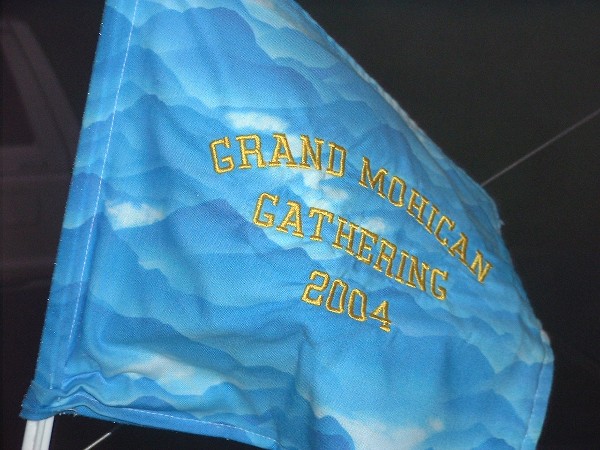 DAY FIVE: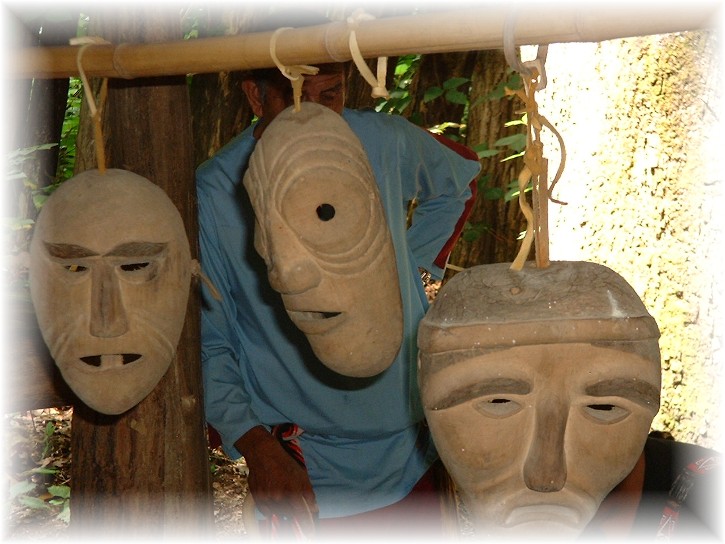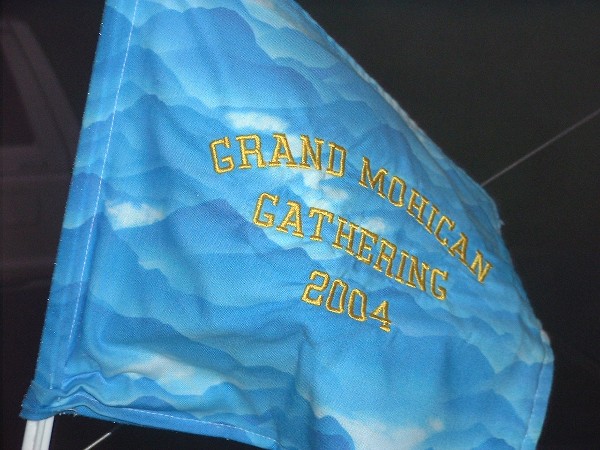 DAY SIX: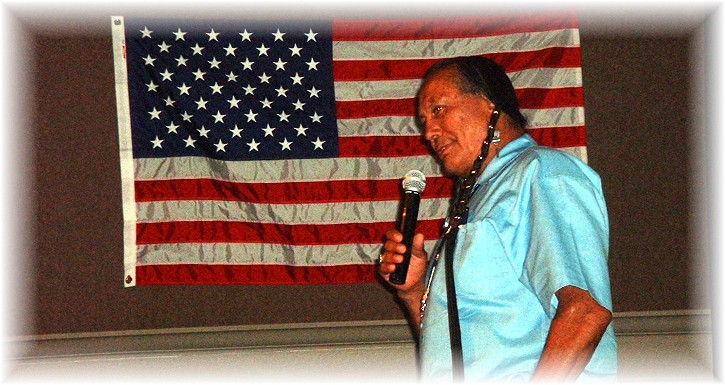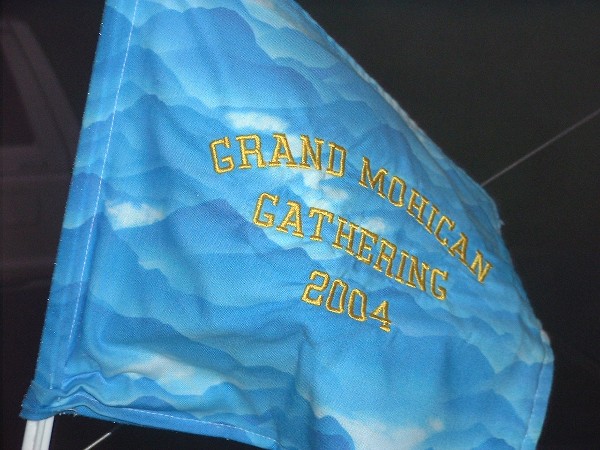 DAY SEVEN: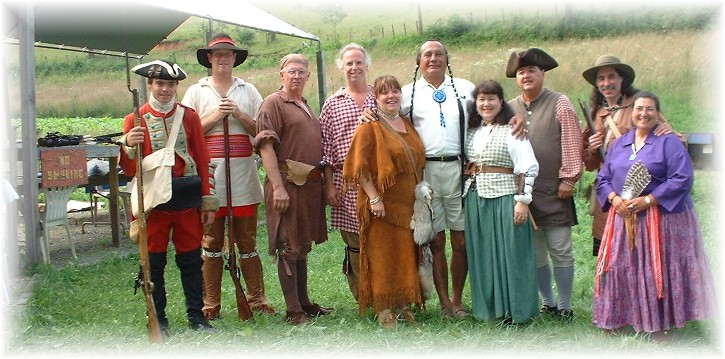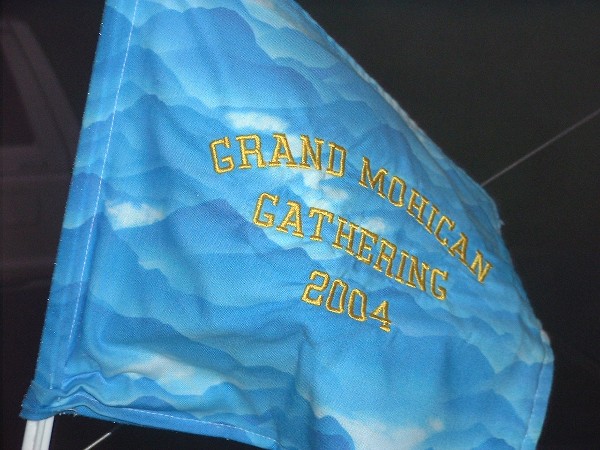 Dear Rich and the Mohican Group:
Russell and I would like to express our appreciation to the Group for your gracious warm welcome at your annual gathering last month. We had a wonderful time. The bar-b-que was delicious, many thanks to those that organized and to all that gave us gifts, the bar-b-que sauce, Vermont syrup, apple butter, etc. etc. (and yes, Russell persuaded me [to] carry the left over short bread and ginger snaps on the plane home)! You can take the man off the rez, but you can't take the rez out of the man!
You are a great family. May the Great Mystery continue to guide and protect the paths of you and your loved ones.
... Pearl and Russell Means

the bottom line
THIS GREAT MOHICAN GATHERING WAS PUT TOGETHER BY:
Ann Colby ... The Mohican Games Day coordination & arrangements, Spirits on the River shindig
Kay Dennis, Cindy Rodgers & Diana Strickland ... Caravan flags
Rich Federici ... Overall coordination & arrangements, itinerary, movie theater, Biltmore & Nolichucky arrangements, publicity
Ros Haddon ... Ching's Chauffeur
Cherie Harbison Raffle coordination w/assistance from Theresa Williams, name tag creation
Marc Harbison ... Chimney Rock Park coordination & arrangements
Eric Hurley ... T-Shirt design & all the duties associated with a good Soldier #2
Sharon Hurley ... T-Shirt arrangements & design
Jayne Langan Miller ... Ariel's Auction w/assistance from Kay Dennis, Patrick Quinn, & Karen Williamson
Stephanie McCulloch ... A Day in Cherokee coordination & arrangements
Diana Strickland ... Games assistance, feedin' us PIG w/assistance from Dale Wasson, and Group Lodging coordination w/assistance from Theresa Williams
Mary Garland, Jo Tishler, Sarah Zentner ... Program Guide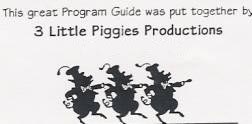 Inspiration ... All of you!

Who is Ariel ... and why an auction for her?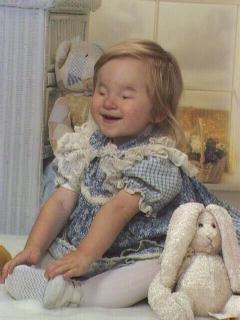 Ariel Jacqueline Lauren Boutette was born with Bi-lateral Anophthalmia ... she has no eyes. A multitude of other problems, both physical and otherwise, present this young lady with a set of obstacles most of the rest of us will never know. Yet, she smiles. She has been an inspiration.
ARIEL'S LITTLE CORNER OF MOHICANLAND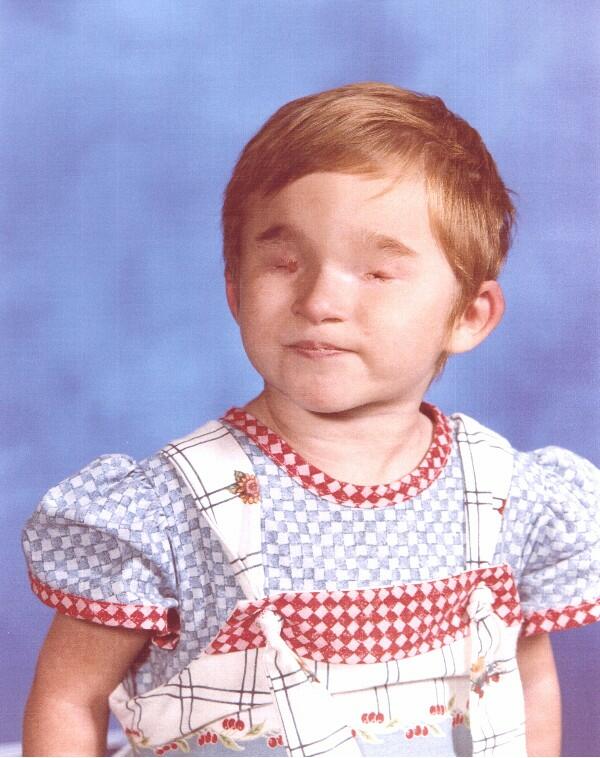 2004 COLLECTION AMOUNT: $1,843!
All proceeds from Ariel's Auction go directly to her and her family.
PARTICIPATION IN ARIEL'S AUCTION IS STRICTLY VOLUNTARY!
If you might have a raffle item to donate to help this little girl, or should you wish to discuss particulars, please contact Jayne Langan Miller!
The 2004 Edition included items specially donated - and personalized - by Wes Studi & Eric Schweig!
Your participation is greatly appreciated!

"There is always one moment in childhood when the door opens and lets the future in."
(Graham Greene)

FOR VIEWS OF THE 8 GATHERING T-SHIRTS, SEE: T-SHIRT DISPLAY

Gatherings Past & Future:

THE GREAT MOHICAN GATHERING OF 1998


THE GREAT MOHICAN GATHERING OF 1999


THE GREAT MOHICAN GATHERING OF 2000


THE GREAT MOHICAN GATHERING OF 2001


THE GREAT MOHICAN GATHERING OF 2002


THE GREAT MOHICAN un-GATHERING OF 2003


2006 GREAT MOHICAN GATHERING


2008 GREAT MOHICAN GATHERING


THE GREAT MOHICAN GATHERING OF 2010
For more on the locations: COMPANION GUIDE PHOTO PORTAL || HOW TO PURCHASE THE BOOK ... Ordering Information

Questions? Use the E-Mail Button below! We'll be happy to assist!