Joanne Shenandoah
... the Iroquois Tradition

Shenandoah has become the most critically acclaimed Native American singer of her time ...
Associated Press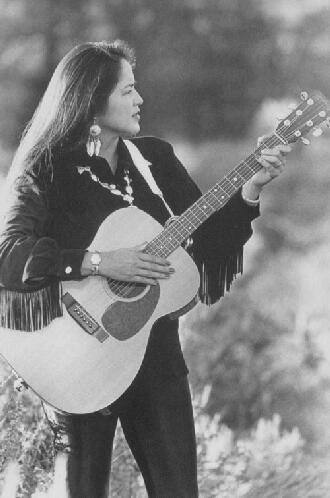 And we have her, and her alone - a solo performance - at the 2004 Great Mohican Gathering! Long ago, at the annual Hunter Mountain Pow Wow in the Catskills of New York, we got to see this talented performer as a young lady [see photo below right]. Some 15, or so, years later, we have her - thanks to the tenacious prowess of one of our Gathering coordinators, Lady Ann Colby - all to ourselves in the intimacy of Asheville's Spirits on the River restaurant.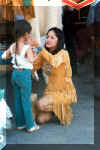 We're not talking just any run-of-the-mill singer here ... this woman is the real deal. Nominated for a Grammy in 2001, there is a whole string of nominations & awards she has accumulated during her career. She's mixed with the likes of Neil Young & Robbie Robertson and performed internationally. We are lucky enough to have her, very up close & personal, on a deck overlooking the Swannanoa River, on June 22, 2004 - dessert after a very fine & hearty Native dinner. Join us!
ABOUT JOANNE
Of the Oneida band [Wolf Clan] of the Iroquois Nation, Joanne's name, in her native tongue, is Tekalihwakhwa - She Sings. Most all her songs - and she is "known" as a Native American Enya - are in the Iroquois language.
LISTEN TO JOANNE - A SAMPLE:


DAY THREE ITINERARY || 2004 GREAT MOHICAN GATHERING