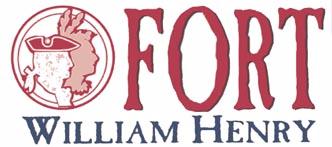 FROM THE RAMPARTS ... The First Dispatch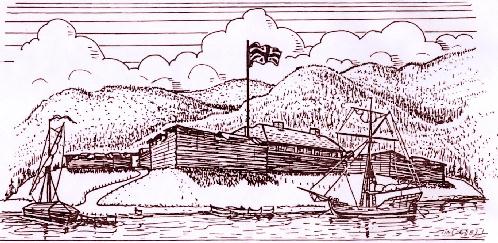 It's early February and the snow is falling but still not enough cover to warrant snowshoes. We have had our January thaw and two men went through the ice on Lake George last week. Thankfully, they had "ice grabbers" and were able to scrabble onto safe ice and be rescued. Ice grabbers are like miniature ice picks-worn around the neck with a leather strip, one for each hand. If you go through the ice you punch the grabbers onto the nearest ice shelf and haul yourself out of the water. Lake George is spring fed and can have weak ice where the springs erode it from the underside. I haven't read any journals where these ice grabbers were used by the troops at Fort William Henry. They were issued ice creepers however and we have some from the period on display at the Fort museum. The ice creepers are not much different from the ones that we use today. The basic design hasn't changed much these past centuries. I think about the men back then, out on the lake ice and I know what they experienced having done it myself. Still, it's hard to visualize those people. They have been dead for so long and there are no photographs of them.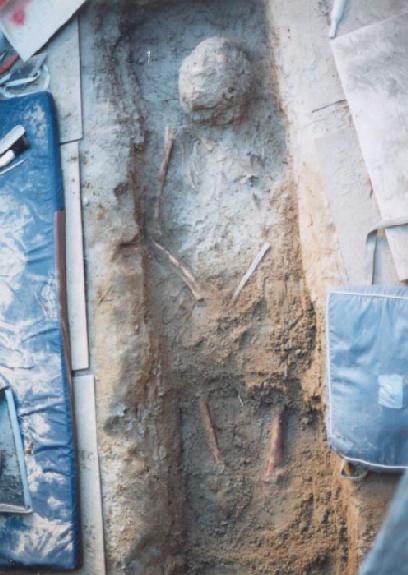 The only way to actually see an 18th century soldier is to watch one come out of the ground. In the fall of 1995 Mariah Liston directed an exhumation of three bodies from the Fort military cemetery. The first grave was rather easily outlined and then the archaeologists began the meticulous uncovering work. All of the dirt removed had to be carefully sifted in order to save any artifacts that could help in identifying the body - like military buttons, etc. It took 2 days of careful brushing and troweling to uncover this soldier of the French & Indian War. Parts of the skeleton were uncovered and the skull was outlined and took shape. It looked like a big mud ball and I viewed it with detached curiosity. But as the teeth and eye sockets were uncovered, I became very emotional. Here was a poor human being who died so far from home. He was buried with dignity but without a coffin or even a shroud. An unknown soldier. After observing this I felt an affinity for this person and for all those who participated in our "Old French War".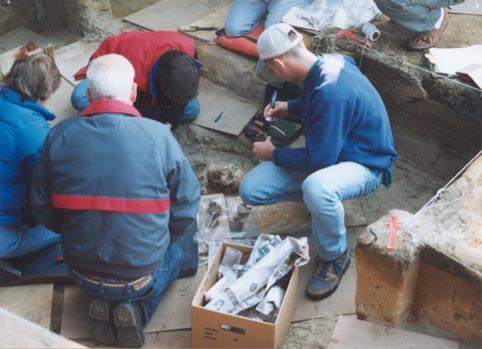 Back to February.
Wood smoke is pervasive. Now the imperative is to stay warm. In that winter of 1757 game would have been scarce and the Garrison would be conserving rations as supplies could be cut off at any time. Although military action is possible, surviving the winter is now paramount for the troops, Rangers and non combatants.
This weekend featured F&I reenactors at Shepherd Park in Lake George Village. Shepherd Park is the high ground where Montcalm mounted his long-range cannon on the first day of the siege. From this vantage point Fort William Henry is the prominent feature as you look to the south. Today's reenactors are spending a good part of the time huddled around campfires, like their counterparts would have 244 years ago. Stay warm...Stay alive.
Regards, Tim Cordell - February 11, 2001
A brief dispatch from Fort William Henry...Late February

How can the Almighty allow this? This terrible cold weather that we are experiencing? A cold so fierce that it will kill you within minutes if you are unprotected. Even dressed with wool clothing the cold will only allow a half hour outside at most. If there is a wind you can't breathe. The world is frozen and inhuman. Inside the Fort and the huts surrounding it the living would have been close and the tempers raw during a cold snap as intense as this. The British and Ranger officers would have had to overlook most of the constant fighting and other breeches of discipline because there would be no solution until the brutal cold ended.
Regards, Tim Cordell

OTHER COURIER DISPATCHES:
ON THE SCENE AT FORT WILLIAM HENRY
LAKE GEORGE/FORT AREA MAP & WALKING TOUR
FROM THE RAMPARTS ... SECOND DISPATCH
FROM THE RAMPARTS ... THIRD DISPATCH
FROM THE RAMPARTS ... FOURTH DISPATCH
FROM THE RAMPARTS ... FIFTH DISPATCH
FROM THE RAMPARTS ... SIXTH DISPATCH
FROM THE RAMPARTS ... SEVENTH DISPATCH
FROM THE RAMPARTS ... EIGHTH DISPATCH
FROM THE RAMPARTS ... NINTH DISPATCH

OTHER RELATED LINKS WITHIN THIS SITE:
FORT WILLIAM HENRY ... The Siege & Massacre
FORT WILLIAM HENRY ... Digging for Clues