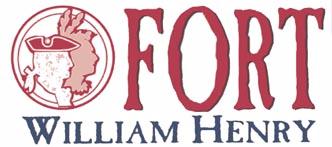 FROM THE RAMPARTS ... The Seventh Dispatch



The New Rogers' Island Visitors' Center
A dispatch from Fort William Henry, late winter 2002
We expected a traditional winter here at the Fort and I had wanted to show you some of our historic sites as they would appear in a "normal" winter.
For the first time in anyone's memory, Lake George has not frozen over. The lake tries to make ice but the warmth of the daytime temperatures thaws any skim ice made overnight. There is no snow. Only the high peaks have snow. The scenes depicted in this report have more of a late April look to them rather than late February when they were taken.
PHOTO GALLERY: OUT & ABOUT FORT WILLIAM HENRY

PHOTO CAPTIONS/DESCRIPTIONS
left to right
#1 A view of Rogers' Island from the site of Fort Edward.
#2 A view of the actual site of Fort Edward-taken from Rogers' Island.
#3 See above ... under title
#4 Death site of Colonel Ephraim Williams 4 miles south of Fort William Henry. Williams was killed during the "Bloody Morning Scout" 1755.
#5 Fort William Henry looking east. The north and west barracks roofs are visible and French Mountain is in the distance.
#6 The North West Barracks of Fort William Henry. Ice free Lake George and snow free French Mountain in the distance.
#7 A phenomena...Lake George with open water in late February! Fort William Henry is 75 yards to the east (right) of this spot.
#8 View if the over- grown high ground where a suspected French mortar battery was positioned in 1757 to bombard Ft. Wm. Henry. This site is also on period maps which show a Ranger camp here in 1758-'59. This is located on family property, Birch Avenue Lake George.
#9 A view from the Fortified Camp looking west. Fort William Henry lies 1/2 mile west (beyond the Sir William Johnson/King Hendrick monument. Rattlesnake Cobble juts out left of center in this view.
#10 The ruins of the large south bastion of Fort George on the grounds of the Fortified Camp.
#11 Inside of the south bastion of Fort George.
#12 Looking east through the forest on the site of the Fortified Camp. French Mountain is in the background through the trees.
#13 This ground is the "probable" massacre site. This view is looking south by west and the military road is just beyond the trees. (This view is within 300 yards of the Fortified Camp).
#14 A south view of the "probable" massacre site.
#15 The modern way to get to Montreal...The daily Amtrak special to Canada crosses Rogers' Island and the Hudson River.
... Tim Cordell, March 11, 2002
Rogers Island Heritage Development Alliance, Inc.
POB 208 - 11 Rogers Island Drive
Fort Edward, NY 12828
518-747-3693 - rogersisland@adelphia.net
A LETTER FROM THE FORT
The head of Lake George
My dearest wife, Diane.
It is ten years since I was last here at Lac Du Saint Sacrement (now called Lake George). As you may remember from my letters to you back then the army never got any further north. We still have not. I have been assigned the task of training the provincial ranger corps as I am one of the only men up here who remembers the lay of the land and trails. Captain Rogers, who you may have heard about by this time, has enlisted woods-men to range for the regulars. The French have hundreds of Indians for this purpose but our army has only a few Stockbridges and Mohawks for scouting and they are not enough. Besides, some of them are not enthusiastic in their role.
This new Fort William Henry is becoming more tolerable thanks to the return of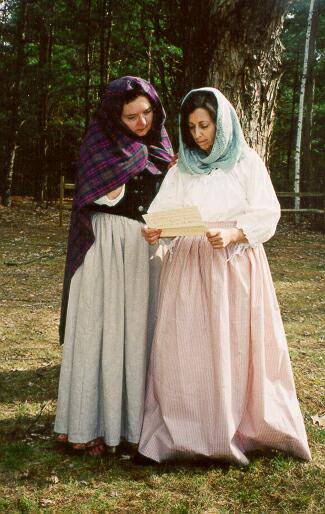 Major Eyre but the place is still unsanitary. The ranging companies have set up camp just to the east of the curtain wall but the men will not enter the fort because they fear disease. One of my duties is to teach the newly enlisted rangers how to see the enemy first, smell him first and kill him first. Please take assurance in knowing that I do not go out on patrols as I can not keep up with the younger men. So, I am relegated to the role of training officer. Captain Rogers, who arrived the eleventh instant, is pleased with my results with the men and has used my maps and memories of the land and water routes to good advantage. You probably have heard of Rogers' great courage, audacity and success in battle and he is all of that. He is also sometimes a bully and he and I have had strong words. Rogers is twenty five years old and I am fifty five. I remind him that he is the best wrestler in North America but that beating me would be no feather in his cap and that if I bested him, he would have no recourse but to slink off to New Hampshire -- never to be heard of again. He laughed heartily at that! Still, though, I feel that this terrible war is his great stepping stone to success. As long as I am not one of the stones he can go that course if it suits him.
The death smell is here even though Johnson's fight was ten months ago. This is the most dangerous place to be in all of our country and make no mistake. I must also tell you that I am also not getting along with His Majesty's red coats. I do not like them and they do not like me. It is not their fault though. They are wonderful battlefield soldiers-perhaps the best in the world. But there are nor battlefields here, only the trackless forest and it scares them. They imagine a Frenchman or savage behind every tree and they get lost after entering the woods only a little ways. After all, they come from the treeless lands of England, Scotland, Wales and Ireland and they are confounded by our American forests. I think that they envy me. It may seem to you that I am making enemies on both sides but that is not so. This struggle, to me, is the one way that I can help to make sure that this warfare does not reach our home or our town or our neighbors. The French and especially their destructives will kill our people without mercy and so they must be stopped here. To that end I will make every effort to ensure your and our country's safety by helping to drive the enemy back into Canada.
Your most loving husband, Timothy
The camp at Lake George, May 1756
OTHER COURIER DISPATCHES:
ON THE SCENE AT FORT WILLIAM HENRY
LAKE GEORGE/FORT AREA MAP & WALKING TOUR
FROM THE RAMPARTS ... FIRST DISPATCH
FROM THE RAMPARTS ... SECOND DISPATCH
FROM THE RAMPARTS ... THIRD DISPATCH
FROM THE RAMPARTS ... FOURTH DISPATCH
FROM THE RAMPARTS ... FIFTH DISPATCH
FROM THE RAMPARTS ... SIXTH DISPATCH
FROM THE RAMPARTS ... EIGHTH DISPATCH
FROM THE RAMPARTS ... NINTH DISPATCH

ORIGINAL TIM CORDELL HISTORICAL FICTION:


See a relic from the bottom of Lake George!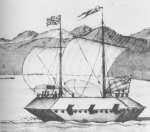 FOR A DETAILED LOOK AT SOME OF THE ARCHAEOLOGICAL WORK AT FORT WILLIAM HENRY- AND OTHER F&I WAR SITES - GO TO:



SEE ALSO:
FORT WILLIAM HENRY ... The Siege & Massacre
FORT WILLIAM HENRY ... Digging for Clues
New book on Fort William Henry!