The 2001 Great Mohican Gathering
... a Mohicans Odyssey


In a darkened theater, some 90, or more, pairs of eyes are fixed on their duty ... the screen in front of them. On the horizon, for the morrow, is a hike along the Cliff Trail of Chimney Rock Park, but there it is, larger than life, before us right now. Uncas has been killed. One of the most poignant moments of a stirring film is unfolding. A lifeless lover has been tossed from the cliff by a ruthless villain. The remaining partner, dazed and confused by the horrors of frontier warfare, has come to grips with her ever downward spiraling situation and has, finally, taken control. She will plunge over the cliff to join Uncas. That villain, Magua, startled by this development, beckons Alice to come back ...
[voice from the theater] "I'm coming honey!"
Funny, I don't remember THAT particular line ... I'll have to go back and check the script.
The film rolls on ... a father violently reaps his revenge. Yes, Chingachgook, father of Uncas, has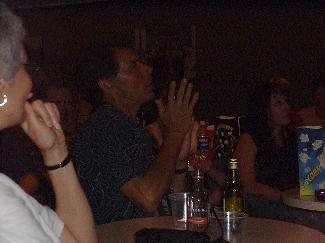 caught up with the Huron war party and stands face to face with his adversary ... Magua. A brief, but brutal, struggle ensues and Magua collapses, broken & dead, on the rock, as Hickory Nut Falls gushes by. His head smashes to the ground, blood gurgling at his mouth. The audience cheers. After all, he IS the villain!
"Thank you, very much!"
Huh? Surely, THAT line's not in the film! No, it's not. But on this night, it is there, clear as day. It is the voice of "Magua," emanating from right there in the center of the theater, come to life. We found we really were watching the film with Wes Studi ...
... And that's the kind of Gathering this was!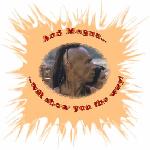 Our "caravan" flag!

When does 10 minutes really equal 21? When is 2 miles really 4? Why would a lone car be sitting at a remote airstrip in the western North Carolina mountains? You see, these are all really excellent reasons to attend a Great Mohican Gathering. You learn the answers to questions like these!

Once, there were many cars here - Gatherers' cars. Now, there was but one ... the little car who thought it could ... fly!? Why? WE'LL never tell!


Some of the many 2001 Great Mohican Gatherers!

So, where to start? Two "intros" already, yet I have no feel as to where to go. It is just so easy to follow previous years' formats, but how boring is that? That's probably where I'll end up, but, allow me to ramble, for I believe that's what this will be, mostly.
We expanded to 4 days, and it seems that first day is so very far back in the recesses of my memory. We grew ... I don't have a final tally here in front of me, but we certainly did break 90 participants. We visited more sites than ever before. In fact, if you have been to both the '00 & '01 Gatherings - and partaken of every hike - well, then you've been to every location in the film, short of Webb's HQs, Camerons' Cabin, Massacre Valley, & the river Chingachgook is rescued from. Maybe some other time. We Met Magua. We saw the movie. We rode horses. We listened to some of the best music I've heard in years. We were on TV; we made many a newspaper. We laughed; some of us cried. We hiked & sweated & cursed & hugged. We had a potluck to beat all potlucks. I was amazed. We raised money - lots of it - for a little girl named Ariel who was born with no eyes. It seems everyone who gets involved in this thing feels compelled to help in that regard - the Hildebrands & Studis were no exceptions. We had another good time!
I was humbled. You guys, on that final evening, made a grown man cry. You know, there was a reason we chose "Ashokan Farewell" as this year's Gathering Page background music ... "farewell" ... get it? As in, "goodbye". You know, "No mas!" But then those stinkin' rats, er, Piggies, the Program Guide crew, Jo, Mary, & Sarah Z., had to go put that little question mark in the Guide's subtitle, "The 4th & Final [?] Gathering." So, now, we have the 5th & Final [?], and then, I suppose, the 6th & Final [?], and then the ... well, I think you get the idea. Anyway, next year is the Tenth Anniversary of the release of the film - 1992 - 2002 - How can one turn their back on that? If only we can survive!
In any event, there was a tumultuous blend of emotions & happenings over a 4 day period,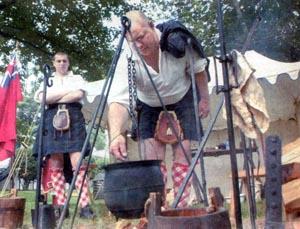 that really felt like one long continuous one to me, that has made mashed potatoes of my thought process. What happened? I have no earthly idea. At times, I felt that I was at a different Gathering than some of the other attendees. There were some I hardly saw the first day & a half of hard hiking. One or two, for one reason or another, that I hardly saw at ALL! I can tell you what DIDN'T happen, though. Poor old John Evans, along with wife, Linda, and daughter, Kelli, had to cancel at the absolute last moment. The Evans had been with us every other year, and I felt the loss, especially at Chimney Rock Park where John usually displays - and had intended to do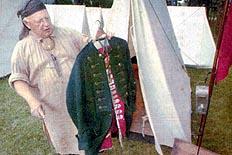 he same this year - his impressive array of LOTM props. We failed to have a bonfire going on Sunday night, but with the flame burning at the encampment [see the two accompanying photos] the nights prior, I think not a soul noticed. OK ... so the River Walk hike might have been more like 4 miles, instead of the announced 2 ... Hey, more bang for your buck! And, only a handful of us made it to Hooker Falls, I'm quite sure. It also didn't rain [hardly, anyway - but when one considers what had been the forecast for us, we were pretty darn lucky. And, our impromptu wet T-shirt (or, whatever you happened to be wearing at the moment) contest was an instant success!]. WoooHooo! And, it WAS good to have the MacWilliam Clan with us!

That was our 4th Linville Gorge "tour," and I do believe we have that down pat ... plenty of practice. We advertised lunch at 2PM. I walked in to Louise's at 2:01 ... not too bad! But Friday! Virgin territory, the whole day. Somehow, we maneuvered our vehicles around the Elk Hunt/Tracking the War Party territory, saw the locations (or, most, anyway) and made it all the way back to Cedar Creek in time for the 1:00 riders to mount up. From there, I was in total amazement. The folks at Cedar Creek did a splendiferous job. We did 'em one better! I could not believe the spread of food stuffs we had put before us. A FULL and a BALANCED meal, not to mention DELICIOUS. I even had some squirrel stew, for the first time! And the music ... One of the emotional moments of the event for me came when David & Ginger Hildebrand broke into the beautifully haunting piece we use on our Mohican Board, known simply, to us, as the "Tran-Snow-Stacks-midi." To hear that live; to be in the company of the very many who utilize our Board ... I don't know, there was a sense of achievement that built up within me as I looked around at your faces ... it was all I could do to keep the tears from flowing. I was very proud! Saturday, too, posed logistic nightmares, especially when I learned the hike was going to be double the length I had understood it to be. I cannot thank Woody & JoJo Keen, of Friends of the Falls, enough for helping to guide us through. I know it was a bit much for some of you, but once over, I hope you can allow your mind to linger on the sheer beauty of it all! I will never, ever ... not in my lifetime ... forget the look of utter contentment on one Gatherer's face, one recovering from cancer & barely able to hike, when she finally, long after the rest of us, made it to gaze at Bridal Veil. That moment, that smile, made this a very special Gathering for me. The movie, as always, was a treat, but perhaps more so this year because of our guest. Sunday, we had our usual exquisite CRP weather. That day, because of the efforts of the staff there, seems to pretty much take care of itself.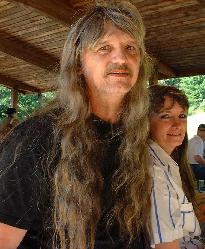 Danny Buckner, with wife, Carol, join us at
Chimney Rock Park. Danny, with more of a beard
& a bit darker & shorter hair, can be seen in several
scenes in LOTM - standing guard while the colonials
plot their escape; shackled next to DDL as the English
evacuate Fort William Henry; and doing battle along side
DDL & Eric Schweig at Massacre Valley.
Then we culminated everything with our customary raffle fun & games, joined this year by Wes & Maura Studi. It was a lot of fun. Wes is about as hilarious as they come. Pair him up with the Sweetser 4, and the trouble really starts! Oh, what I'd do for a video of what occurred between them, behind closed doors, at the Geneva! :) I do believe they might be kin!
So, our list of Gatherers who have attended every Gathering continues to dwindle ... Elaine & I were here; Mighty Mohican Mama Marcia, our co-organizer for 4 years, was back; Eric & Sharon; Susan; the Sweetser 4 - Jo, Mary, Kathie, & Karen; Ilse, our original Dutch Trader; John H., our original long hunter; Donna ... is that it? I think so, but then again, we had Dar, and Lynn & Glen, Chris, Ros, and Emily & Kevin ... all back from that very first experiment of a Gathering. So, the list of Gatherers, of every description, gets longer & longer! I sit back now, in a state of euphoric melancholia, and am amazed, truly, at what has transpired over the past 4 years plus ... we, as a group, as well as individually (Elaine & I, at least), have been called "elitists," among the bitter diatribes hurled our way through the years. Never have I understood where any of this came from. I hope & wish that the folks who have come to feel so alienated, distrustful, threatened, by us, can one day open their eyes & see this all for what it is. Maybe, someday, they might even join in! Wouldn't THAT be something!
Our young friend Nathan said it best, on our Board just this day ... Tired and whipped after that 13 hour drive... and is it just me... or was anybody else still looking for the stream of little white flags soaring down the road trying to find our way home?
I sure am!
... Rich, Mohican Press
June 19, 2001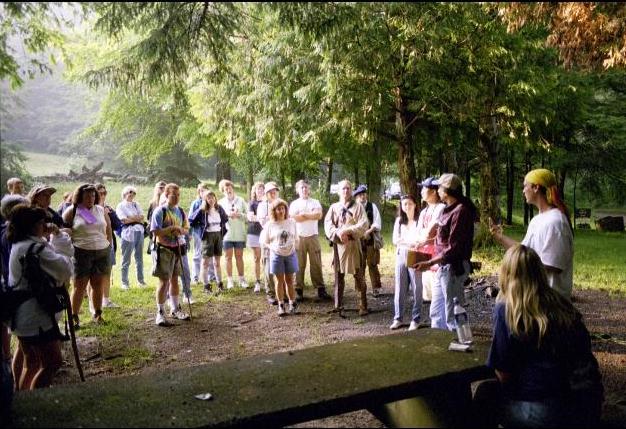 Getting oriented at Pisgah ....

~ There are several media clips found throughout these Gathering pages. You will need REAL PLAYER to fully enjoy these videos! ~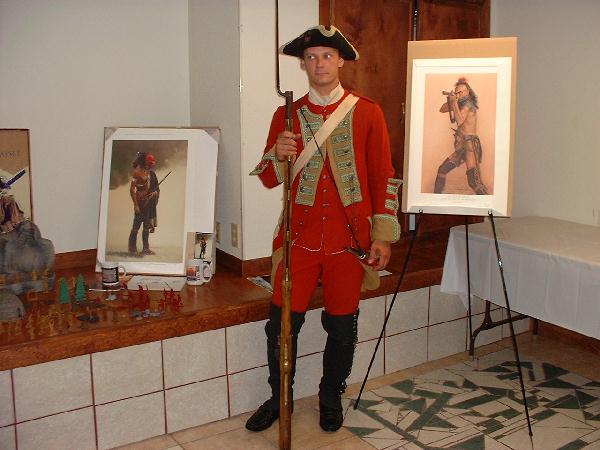 THIS GREAT MOHICAN GATHERING WAS PUT TOGETHER BY:
Rich & Elaine Federici ... Overall coordination, itinerary, movie arrangements, communication/publicity
Marcia Meara ... Chimney Rock Park & group lodging coordination, general raffles
Sarah Zentner, Mary Bjork & Jo Tishler ... Program Guide
Kate Penman ... Ariel's Auction coordination
Sharon (Cagle) Hurley ... T-Shirts
Eric Hurley ... All the duties associated with a good Soldier #2
Ann Colby ... Sundry stuff, including music arrangements & potluck supper!
Dana Steckler (MIA), Adele Grandon, Cecelia Scott & Diana Strickland ... Invaluable aid & moral support
Clabert Menard ... Trading Post coordinator
Inspiration ... All of you!
Very Special Thanks to ... Wes & Maura Studi and David & Ginger Hildebrand!
Read of our GATHERING MUSICIANS
ARIEL'S AUCTION FUNDS RAISED
$1,953.15
_______
Combined total from both the Auction & Potluck Raffle.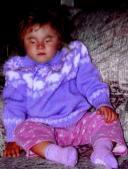 FOR MORE ON THIS GATHERING:
2001 Gathering Gallery ... Part II
AND:
THE COURIER ... BREAKING NEWS
Yes, it's true! The Courier Editors have found us out! Read all about it!

GATHERINGS PAST:
THE GREAT MOHICAN GATHERING OF 1998
THE GREAT MOHICAN GATHERING OF 1999
THE GREAT MOHICAN GATHERING OF 2000

SOME PERTINENT LINKS:

THE SONG, ASHOKAN FAREWELL, BY JAY UNGAR, USED BY PERMISSION.
All rights reserved!
Tune appeared in the PBS documentary, The Civil War, by Ken Burns. Mr. Ungar has played widely, in many circles, with many people ... including, Cat Mother & the All Night Newsboys and David Bromberg.